Chicken is a ubiquitous protein. The average American consumes over 100 pounds annually. In an increasingly health-conscious world, chicken is considered healthier than most red meat. If you're a foodservice operator (or planning to be), you should consider expanding chicken options on your menu. Chicken is nutrient-dense, relatively inexpensive (at the moment), and can be prepared in many ways.
The equipment you'll need to prepare the chicken depends on what kind of chicken you plan to serve. Operators should consider three categories of industrial kitchen equipment when expanding their chicken offerings: fryers, ovens, and holding cabinets.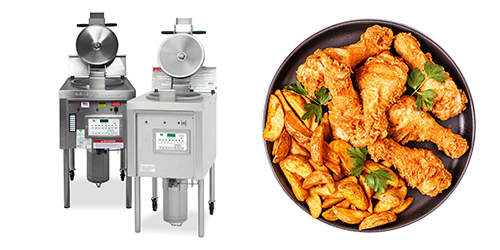 When we think chicken, most of us probably think first of fried chicken. It's a large share of the fast food market. In an industry survey, eight of the top 50 restaurants in the United States are fried chicken concepts.
If you anticipate offering fried chicken, you'll obviously need a fryer. Pressure fryers are a great option. There are multiple advantages to using pressure fryers. They cook faster and more consistently than open fryers. Cooking oil lasts much longer. And customers often prefer the taste and texture of chicken prepared in a pressure fryer, according to some fast food operators.
 Pressure frying is ideal for breaded bone-in chicken, wings, filets, or tenders with traditional breading. Winston's Collectramatic® pressure fryers check off all the boxes. They are highly efficient, available in 4-head and 6-head capacities, and have minimal moving parts. They are true workhorses with decades-long lifespans.
Any Winston pressure fryer can also be used as an open fryer by simply removing the lid. An open fryer may be your best option if you primarily serve more delicate or super crispy foods, such as fish, seafood, double-breaded chicken, fries, onion rings, etc. Your specific menu will determine the best choice. Of course, the Winston team will be happy to advise you on your decision.
Commercial fryers are available with either gas or electric power. Your local energy infrastructure will determine which is a better option for you. However, Winston's Collectramatic Fryer line is only available as electric.
Whatever type of fryer you choose, you'll need to filter your cooking oil periodically. Some fryers have the filter integrated into the fryer itself. Winston offers a stand-alone shortening filter. The advantage of this is that a single filter can be used to service multiple fryers. The Winston filter is easy to move and has a low profile to make it easy to store out of the way when not in use.
Of course, fried chicken isn't the only chicken consumers crave. Chicken lends itself to various preparation methods, such as sous vide, roasted, poached, baked, grilled, and more. It can be the main entrée or the base of a delicious stock – the possibilities are almost endless. Fortunately, so are the applications you can accomplish in a CVap oven!
CVap ovens use controlled vapor heat and dry air heat to create the ideal cooking environment for almost any type of food. CVap can replace most of the cooking equipment in your operation. Importantly, CVap ovens allow you to scale up your production. Capacities of up to 14 shelves allow for high production in a small footprint. Imagine trying to match that production scale with immersion circulators, woks, or kettles.
Do you serve barbecue? You can add the Winston Smoker Box accessory to your CVap oven to convert it into a traditional smoker. Bear in mind that once you add a smoker to a CVap oven it will no longer be a ventless oven and will either need to be under a hood or rolled to a safe outdoor spot.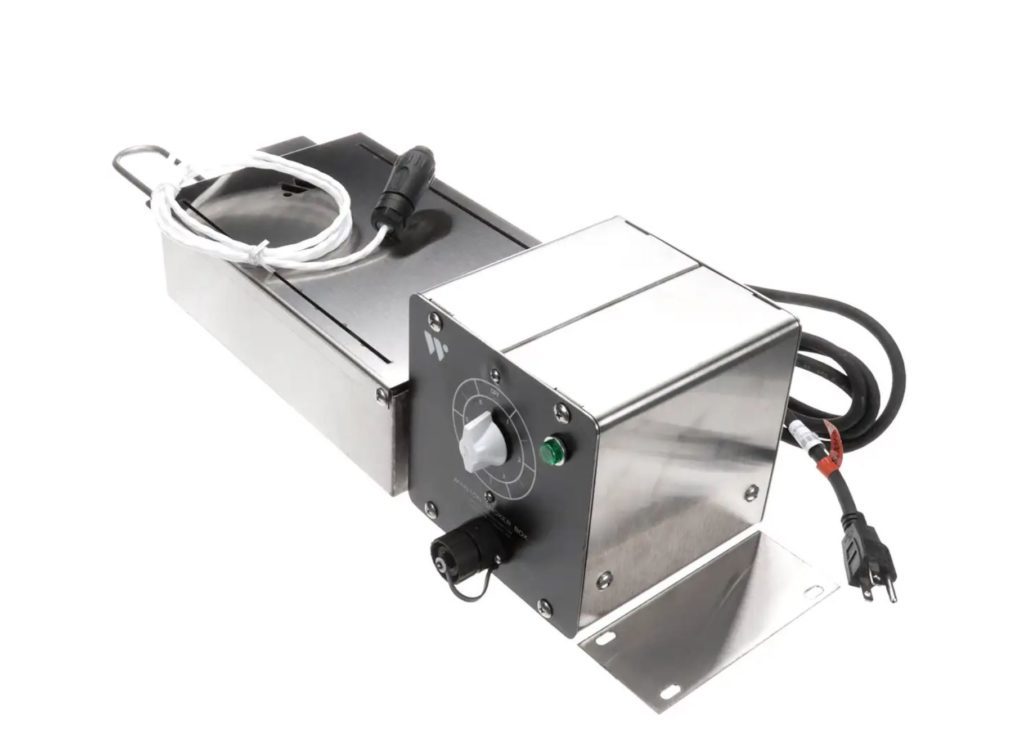 Staging chicken is another great application in CVap.  Simply put, staging is cooking food to a temperature just below the serving temperature and holding it there. When an order comes in, the food can be pulled from the oven, finished on a grill or skillet, and served to the customer in a fraction of the time it would take to cook from raw. This is an effective process no matter what your center plate protein is, but it's particularly powerful in a chicken program.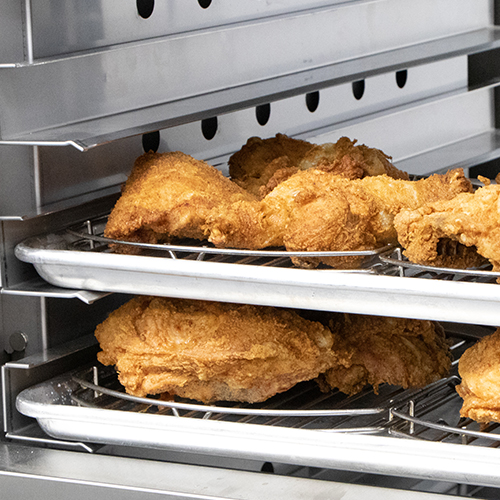 CVap technology was initially developed for holding cabinets. Of course, the technology has evolved as an incredibly precise cooking technology. Hot holding continues to be a critical process in most kitchens.
CVap Holding Cabinets offer the same incredible precision as CVap ovens. CVap cabinets are also a perfect partner for fryers. For example, fried chicken can be held in the cabinets for extended periods, making it possible to build up inventory for rush periods. CVap cabinets offer a superior hold by keeping chicken crisp without making it soggy or drying out, especially when compared to chicken in lower-tech holding appliances, such as heat lamps or dry, hot boxes.
Holding isn't limited to fried chicken. CVap cabinets are also great for holding more succulent dishes. They can simultaneously hold sides, such as mashed potatoes or mac & cheese, with the same precise hot hold.
CVap ovens can do double duty as holding cabinets. This prevents food from overcooking and frees staff from constantly monitoring the oven. It also makes it possible to cook overnight, removing the need for staff altogether. Holding serves a double function. It maintains product quality over time, improving service and reducing waste. It also improves efficiency by keeping the high-quality product at hand and accessible.
According to poultry industry reports, consumers have fundamentally changed their habits, compared to the pre-COVID-19 world. Consumers are spending more now, to regain opportunities they missed during the pandemic. Experts recommend that chicken brands should position themselves as a splurge, rather than highlight chicken as the value protein, to attract these consumers.
The report went on to say that brand loyalty took a hit during the pandemic. This may provide an opportunity for other chicken concepts to charm customers away from the more established operations. Perhaps there's never been a better time to expand your chicken offerings. Contact us to discuss how Winston can help your operation take advantage of the changes in chicken.
Want to Know More?
We've done a fair bit of research into chicken. Here are a few of our chicken blogs to get you pondering poultry.