CVap® Holding Cabinets incorporate incredible temperature precision with the ability to control how crispy or soft you want your food to stay.  Serve the hottest, freshest food, fast, while maintaining food quality and that just cooked taste.
CVap® Series 7 Holding Cabinets are our top-of-the-line cabinets. Built with brains and brawn, Series 7 cabinets will be the rock star in any commercial kitchen.
Capacitive Touch Controls
8 Adjustable Preset Channels
Audio Port, HACCP Data Download
Switchable Convection Fan
CVap Wireless Programming  (via NFC device or USB)
If you're looking for a warmer or hot-holding solution, you've found it here.
The Series 7 feature set is also available in CVap cook and hold ovens and retherm ovens. 
CVap® Series 5 Holding Cabinets deliver serious performance. Series 5 cabinets offer fantastic features.
Capacitive Touch Controls
8 Adjustable Preset Channels
Audio Port, HACCP Data Download
Convection Fan
CVap Programming  (via USB)
These really are the champs in the hot-holding and warmer market.
The Series 5 feature set is also available in CVap cook and hold ovens and retherm ovens. 
CVap® Series 3 Holding Cabinets are a great entry-level unit for CVap technology. Built to be economical, Series 3 cabinets don't scrimp on performance.
Membrane Controls
Convection Fan
Low Voltage Operation
Foodservice operations looking for an economical solution for their warmer or hot holding needs would do well to check out these great cabinets.
CVap® Holding Cabinet HC4009 is a half-size under-counter model. It features simple, easy-to-use B-Series differential controls to maintain precise food temperature and texture.
Uniflo airflow design provides even heat distribution.
Holds up to six full sheet pans.
Easy to move on its 1" wheels.
Operate on a 120-volt circuit.
Like all our holding equipment, the HC4009 is powered by CVap technology.
What is a Holding Cabinet?
To explain, holding cabinets are heated appliances designed to hold cooked foods at a safe serving temperature.
Some holding cabinets do this job well and some do not. Of course, the quality depends on the manufacturer and design. Also, holding cabinets are sometimes referred to by other names. For instance, they are called a hot box, warmer, insulated warmer, hold and serve, warming cabinet, and other phrases.
Winston's CVap® technology started as a holding technology. The challenge was to create an appliance that could keep foods hot and fresh. For example, operations with a drive-thru service rely on holding units to keep food hot and ready for fast delivery. Winston's founder, Winston Shelton, saw the benefit of the technology. He worked out the science behind the challenge. As a result, CVap technology has been an industry leader ever since.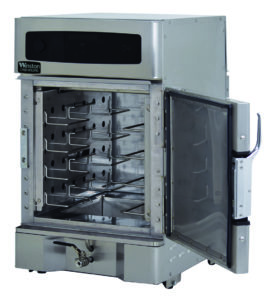 What are the Benefits of CVap Holding Cabinets?
INCREASED FOOD QUALITY
Foods held in CVap equipment maintain the aesthetics and nutritional quality customers require. Achieve this by maintaining moisture and succulence in foods. The controls allow for flexibility. This enables serving from kiosks, cafeteria lines, chains, and QSR markets.
Maintain precise food temperature
The CVap process controls food temperature precisely. It keeps food safely out of the temperature danger zone. We program CVap equipment controls in compliance with all USDA guidelines. We can assure operators that CVap holding equipment will assist in maintaining safe temperatures. It also enables the documentation and monitoring of food safety plans based on HACCP.
Decreased Food Cost
CVap technology locks in the moisture of food from the start of the holding cycle. This process extends hold times and provides more time for production. Food costs decrease because there will be less low-quality food waste. 
CVap Equipment Versus the Competition
Three categories define CVap's competition: dry cabinets, passive humidified cabinets, and humidified cabinets.
Advantages
Food product is held in a hot atmosphere, facilitating quick service during busy periods.

Utilize this cabinet for dehydration (dried meats and vegetables).

Minimize cleaning time.

Simple to operate.

Cost is generally lower.
Disadvantages
No humidity means decreased hold times.

Heat rises, therefore causing food temperature differences in the cabinet.

Utilizes thermostat, which requires calibration and is only accurate within 10°F.

Cannot control food temperature precisely.

Food quality is not a primary focus.
Passive Humidified Cabinets
Advantages
Food product is held in a hot atmosphere, facilitating quick service during busy periods.

Increased humidity level in the cabinet, therefore causing better hold times than dry cabinets.

Utilize this cabinet for dehydration (dried meats and vegetables).

Unlike most holding cabinets, cost is generally lower.

Generally better yield than that of dry units.

Units are simple to operate.
Disadvantages
Small evaporator used, which limits the amount of humidity within units.

Water is not heated by a separate heat source, causing uncontrollable food temperatures.

Food quality is still secondary compared to other holding cabinets.

Unit has significant hot/cold zones throughout the cabinet.

Utilizes thermostat, which requires calibration and is only accurate within 10°F.
Advantages
Food product is held in a hot atmosphere, facilitating quick service during busy periods.

Large, heated evaporator is adjustable and allows the user to control food better.

Extended hold times on all food products (compared to dry and passive units).

Good temperature stratification throughout cabinet (minimal hot/cold zones).

Better overall food quality than dry and passive humidified cabinets.

Increased yield and higher food temperatures.
Disadvantages
Cannot control water temperature precisely, therefore resulting in inaccurate food temperature control.

Adjust the Humidity level by 0-10 setting, which doesn't give an exact water temperature.

Insulated evaporator will climb past desired settings, which leads to food temperatures overshoot (in some cabinets).

Utilizes thermostat, which requires calibration and is only accurate within 10°F.

Determine settings by trial and error and for this reason can be confusing.

Recommend daily draining and cleaning of the evaporator.

Cost is higher than dry and passive humidified cabinets.
Advantages
Food product is held at desired serving temperature, facilitating quick service during

Hot and ready during busy periods and maintaining safe temperatures during slow periods.

Uses differential control to manage food temperature and food texture independently.

Differential control adjusts its air temperature to compensate for the water temperature, therefore optimizing texture.

CVap system creates a vapor pressure in the cabinet, eliminating hot/cold zones of food temperature.

Control has base settings, therefore making it easy to get an initial setting for the customer.

Microprocessor eliminates calibration needs and is notably accurate to within 2°F.

Best overall food quality and also the most extended holding times in the industry.
Disadvantages
Cost is higher than some competition.

Some customers don't require long hold times.

Appearance is also similar to humidified cabinets (for example Cres Cor's Aqua Temp).

Recommend daily draining and cleaning of the evaporator.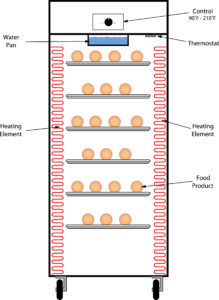 Passive Humidified Cabinets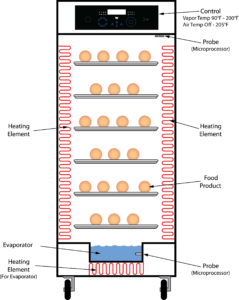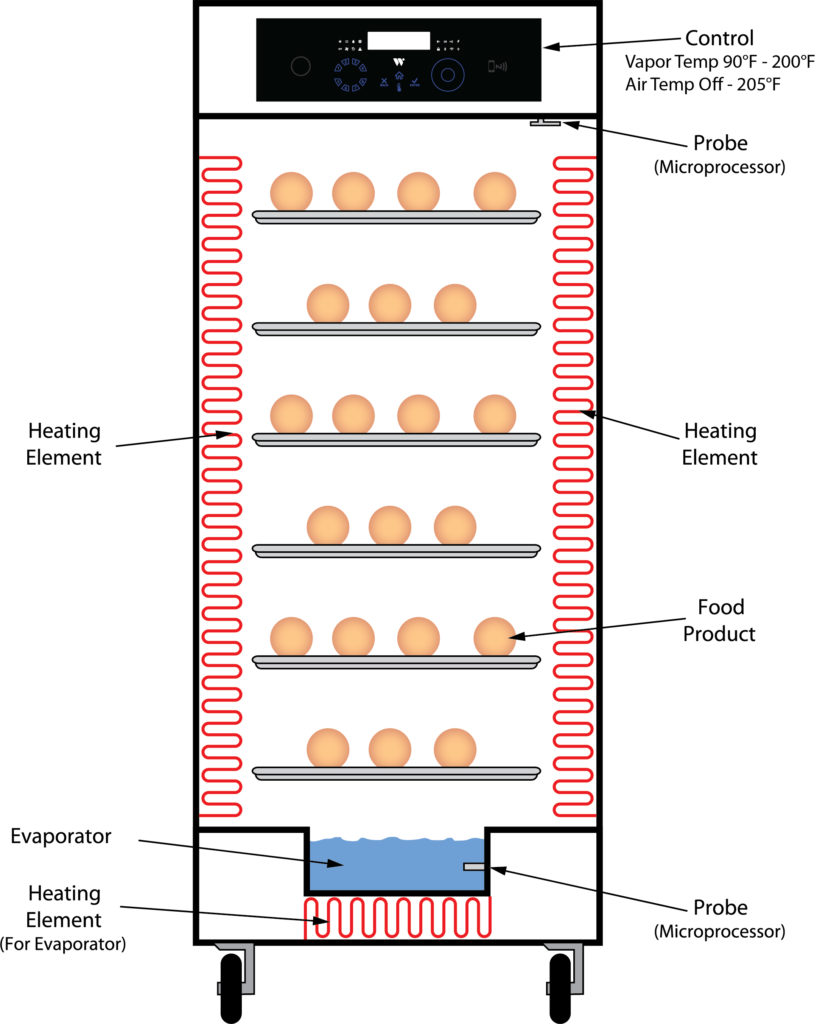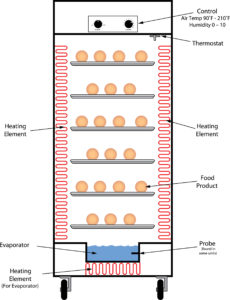 Does CVap Equipment Use Humidity?
All CVap cabinets utilize humidity (the amount of water vapor in the air). However, CVap cabinets do not use humidity the same as some competitors' equipment. Unlike some competitor models, CVap cabinets generate humidity using a vapor bath. This bath is located in the equipment's base. CVap holding cabinets function with a three-gallon vapor bath. It is also independently heated. The basin heats to the exact temperature that customers choose to hold the food.
Problem Areas – and How CVap Holding Cabinets Can Help
The time it takes to serve the desired customer order. The longer the ticket times are the fewer total customers they can fill in one day. Indeed, CVap reduces ticket times, which enables users to seat more people. As a result, businesses make more money.
Poor food quality can result in loss of sales. For example,  poor quality includes dried-out or tough food. Additionally, food that is too chewy or has poor color can turn away customers. Food that is soggy, hard, or overcooked also can cause food waste and loss of revenue.
This is how much the product reduces weight during holding and deals directly with food costs. In most cases, food products in a dry or humidity cabinet continue to lose weight while holding. Foods that show high shrinkage also are perceived as lower quality.
Most kitchens today have trouble finding highly skilled employees. Many employees overcook or burn food, increasing food costs. This problem can also result in poor food quality, long ticket times, or an inability to service high volumes of people. Solutions for these problems translate to increased profits!
Again, it is tough to get good employees, and many restaurants overstaff to make sure that the job gets done. CVap products allow restaurants to reduce the number of employees on staff, thereby lowering labor expenses.
Food Safety/FDA Compliance
Many facilities are implementing HACCP (Hazard Analysis Critical Control Points), a system developed to minimize risks of injuries and foodborne illnesses. Those establishments who choose not to utilize HACCP must still follow FDA guidelines. CVap equipment is particularly effective in HACCP temperature compliance.
All restaurants have some form of kitchen limitation. Operators may not have space for more equipment, although they have trouble keeping up with their business. Other operators may want to get more equipment but don't want to spend the money to get ventilation systems.
The establishment may be utilizing inefficient equipment related to higher gas, water, or electrical costs. Providing equipment that solves this helps the bottom-line for profit earnings.
Features, Advantages, and Benefits
CVap technology holds foods at precise temperatures for an extended time without losing quality. Cook your food ahead of time. Also, eliminate quality changes in food. Significantly reduce long ticket times.
Feature: CVap Technology.

Advantage: Cooking or holding for extended times without losing quality.

Benefit: Reduce long ticket times
CVap technology utilizes a dual-heat source. CVap precisely controls the large evaporator in the bottom of the holding cabinet and the ambient air temperature in the unit. Therefore, you can adjust your desired food temperature by controlling that evaporator temperature precisely. Also, managing the ambient air temperature lets you adjust the food texture. You can decide if you want the food to be soft, crispy, or any desired consistency. In conclusion, by having this dual-heat source, you can hold rare steaks or crunchy chicken, and your staff should be able to keep up with the rush.
Feature: Dual heat source.

Advantage: Control food temperature and texture precisely.

Benefit: Staff can keep up with the rush (employee skill and ticket times).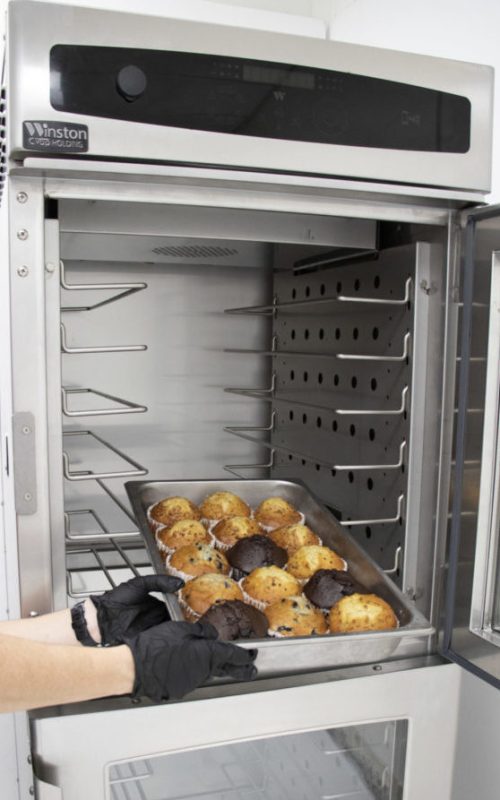 The key to quality food sustainability is more than the simple heat application. Adding simple humidity isn't the answer, either. The real key to quality holding is to preserve as much natural product moisture as possible. That's precisely the gentle holding capability of CVap Technology.
CVap keeps hot foods at safe, even temperatures while retaining the maximum amount of product moisture, the natural moisture found in most foods you need to hold.
Whether your holding needs are large or small, CVap hot food holding solutions are available in a wide variety of models and can support any food preparation or service by extending the sustainability of the food.
Holding units are a mainstay for any successful foodservice operation because they maintain precise food temperatures. CVap doesn't "soak" foods with moisture. Instead, it helps foods retain their natural water for hours without overcooking or drying out.
CVap Hold and Serve Drawers can fit anywhere you need production items held hot because they are available in one- and two-drawer configurations, in both standard and narrow widths. Therefore, you can place them on top or under countertops, on carts, or near serving stations.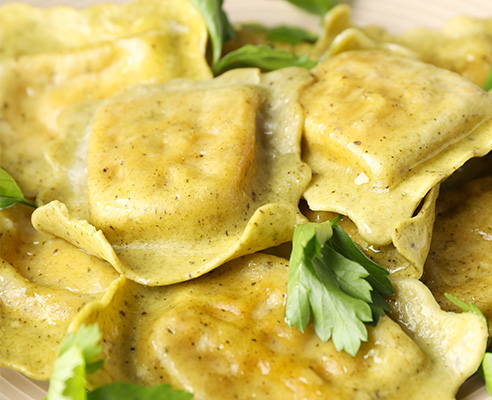 Some competitors may attempt to convince you that utilizing water vapor to hold food lessens taste and results in washed-out food. Frankly, that isn't true. Heating food causes evaporation. Evaporation is a cooling process. So, if a competitor tells you that no vapor is needed, they aren't being truthful. If the cabinet isn't providing moisture, the food is. Overall, no matter how "gentle" they describe their technology, it doesn't escape the fact that food loses heat and quality when it loses moisture.
Proofing in Holding Cabinets
Every CVap product, from holding cabinets, warming drawers, and ovens, makes excellent proofers! Since these units can operate as either a holding cabinet or a proofing cabinet, they're ideal for small operations that only have space for one piece of equipment in their kitchen. 
All CVap cabinets are insulated. Insulated cabinets help preserve heat within the cabinet more efficiently. As a result, this helps save energy and reduces costs. Use insulated cabinets for transporting food items. For instance, if you need to move a large quantity of product from one place to another, an insulated cabinet is the best way to accomplish this task. An insulated cabinet reduces heat loss and energy consumption by heating the unit and cooling its kitchen environment.
Pros:
Energy efficient
Great for off-site events such as catering, weddings, etc.
Cool to touch exterior
Less radiating heat leaves the kitchen cooler
Cons:
Higher initial investment

CVap holding cabinets are available with either capacitive touch or membrane controls. Both are easy to use and highly accurate.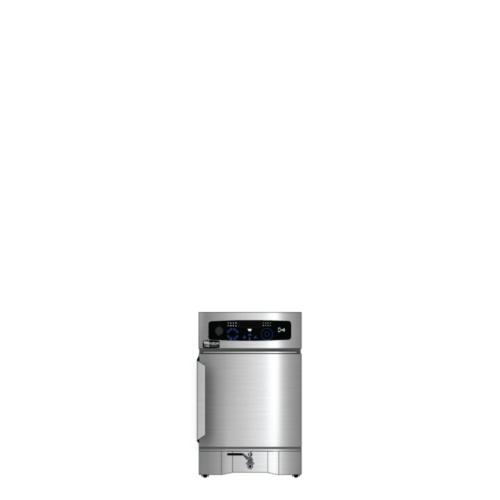 Undercounter
34″ tall or less

Fits under counters

Best for small kitchens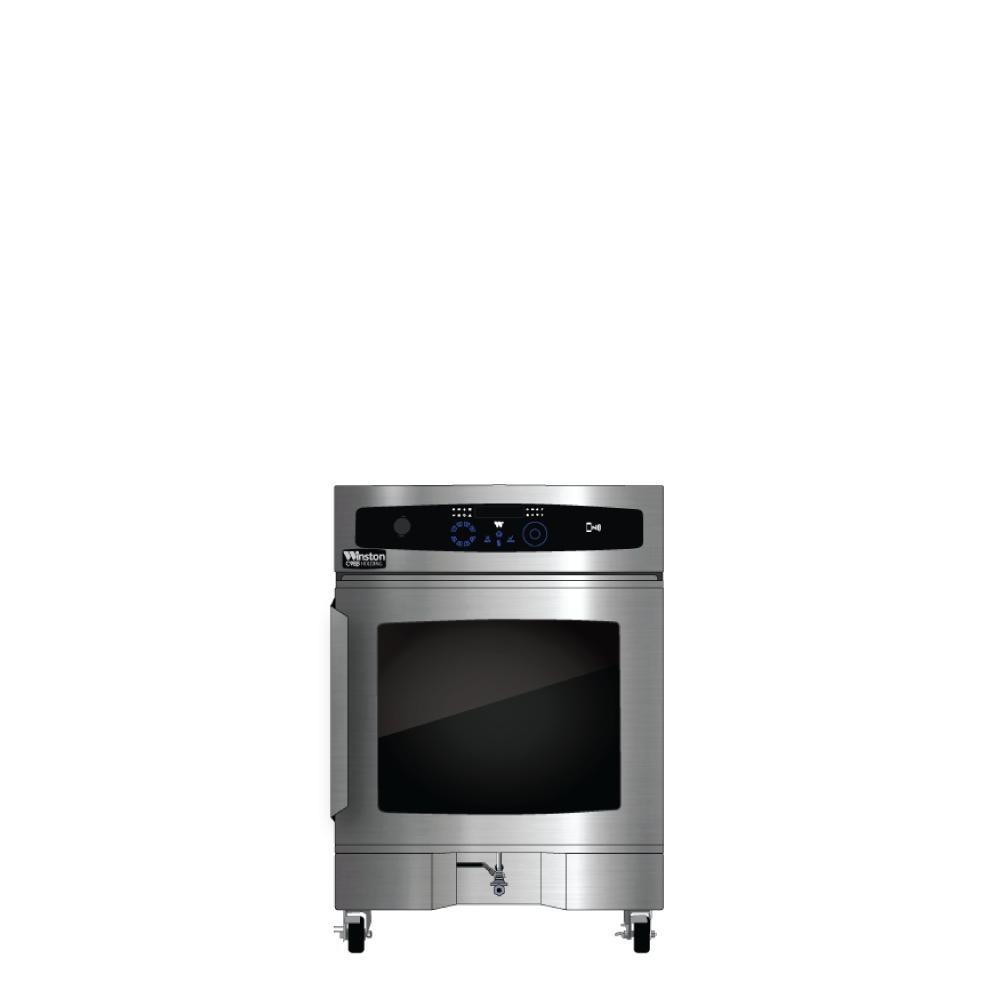 1/2 Height
36-41″ tall

Best for low volume kitchen operations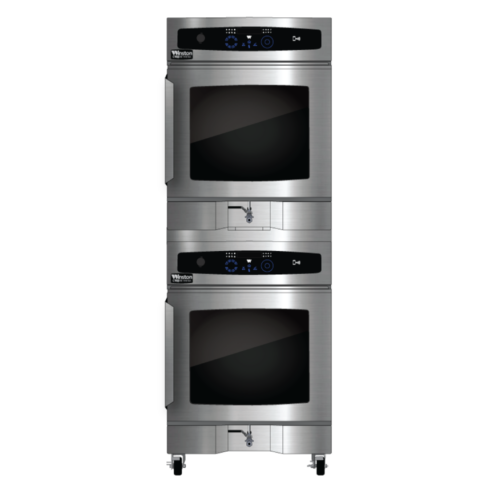 Full Height
At least 65″ tall

Best for high volume kitchen operations
CVap cabinets offer three types of doors: glass, flip-door, and solid. Glass doors allow operators to see the product without opening. As it happens, opening and closing the door frequently causes the cabinet to lose heat. Winston also offers a flip-door configuration on some cabinet models. Similarly, you can see the product through a flip-door. But unlike a glass door, a flip-door model allows quick access to foods without opening the door. Meanwhile, solid doors are extremely energy efficient and create minimal ambient heat.
Holding Cabinet Door Configuration
Full height warmer cabinets are better for high-volume operation kitchens. CVap full-size cabinets feature Dutch doors because they minimize heat loss when the doors open. A pass-through configuration is also available. You can open a pass-through cabinet from both sides. Not only the front of the line can access the cabinet, but also the back of the line. Further speeding up the rate of production and service.
Holding Cabinets and the New Normal
The COVID-19 pandemic left a lasting impact on restaurants — a stronger emphasis on safety, convenience, and delivery. Improving food safety is an important goal for all foodservice operations. The right equipment can help accomplish this.
Holding cabinets are critical in preserving food temperature and safety in commercial kitchens. In fact, these cabinets help limit exposure to people when cooking for delivery or take-out. Foodservice professionals have incorporated this equipment to improve food safety practices and keep food fresh for take-out and delivery. Also, you can use holding cabinets to limit exposure to circulated air in a kitchen. Cabinets come in a variety of configurations.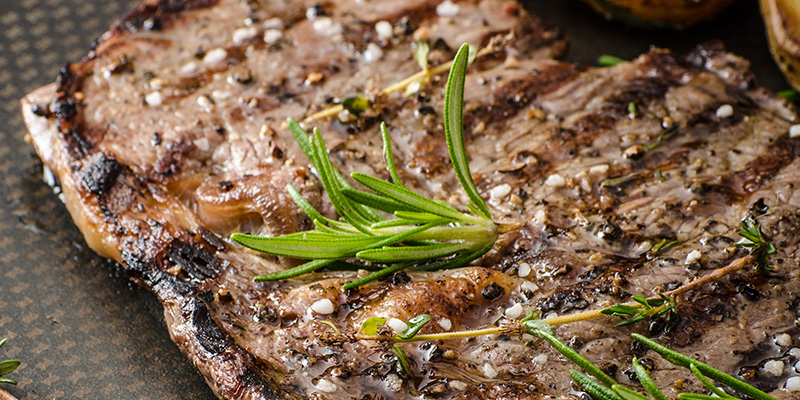 Holding Cabinets Can Benefit Your Restaurant
Restaurants can improve food safety, cut costs, and improve delivery during this time. Utilizing holding cabinets promotes limited contact with food and keeps safe temperatures. They also keep food hot and fresh for delivery and take-out operations.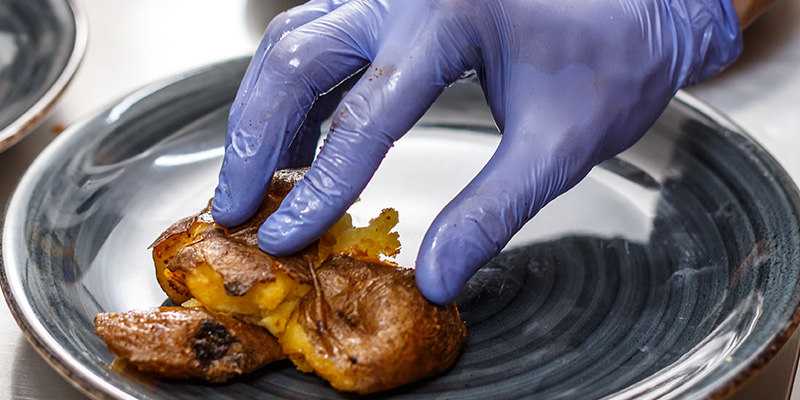 With the risks of COVID-19 still looming, limiting person-to-person contact is essential. Holding cabinets help cut down on exposure between kitchen staff and food. These cabinets also are designed to preserve safe food temperatures before eating. They utilize controlled vapor and fans to distribute heated air to keep food hot.
CVap holding cabinets keep food at safe temperatures for longer than heat lamps. A holding cabinet helps cut down on food waste and costs. They also keep food at desirable temperatures for delivery and take-out, which keeps customers happy.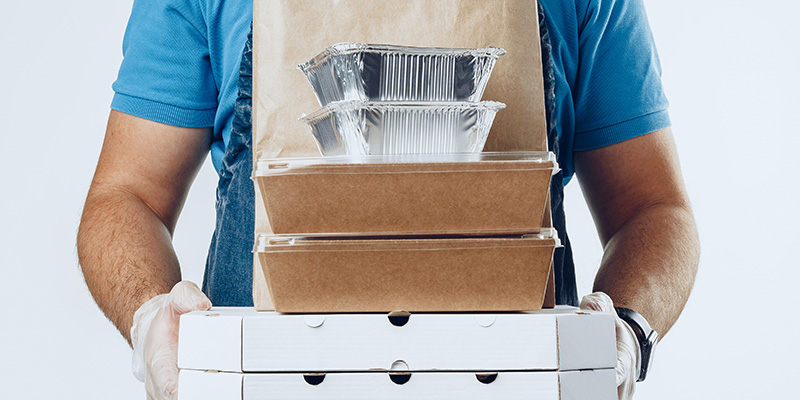 Improve Delivery Programs
Customers expect meals to be hot, fresh, and delicious when it's delivered. Therefore, keeping food hot and fresh as long as possible is essential to offering quality take-out and delivery. Holding cabinets can keep food hot and safe until it's ready for the customer.
Contact Winston Foodservice Today
For over 50 years, Winston has provided reliable equipment to help foodservice operators meet the growing demands of their customers. Our sales team and global network of sales representatives are happy to consult with you and help you figure out the best equipment to meet your goals.
Fill out a contact form, or call 800-234-5286 to speak with a member of our team.