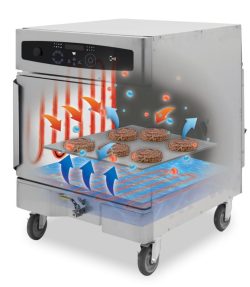 What Makes CVap Technology Great?
CVap technology (Controlled Vapor Technology) ovens and holding cabinets rewrite the rules of food preparation. What makes it different? Controlled water vapor! Most commercial kitchen appliances only use hot air to affect food. Some use humidity to indirectly attempt to improve the environment (that they created) and the amount of food quality control that they claim. Humidified cooking is the old way to impact food quality and eventually turns food to a soggy mess. Although CVap equipment utilizes heated water vapor, it isn't limited to moist foods. CVap is excellent for virtually any foods, from soups and sauces to crispy fried chicken.
Only CVap technology uses heated water vapor to directly control food temperature. Pair that with air heat to directly control food texture, and you have an unbeatable combo (no, we didn't say combi – we're not nearly that expensive or complicated). Bake, proof, stage, braise, roast, sous vide, hold, poach, stew and more using CVap equipment. CVap technology is available in cook and hold ovens, retherm ovens, holding cabinets, and hold and serve drawers. There's a size and configuration to fit every need, from 28-pan stretch models to countertop single pan drawers. Click on an icon below to discover the benefits CVap can bring to your kitchen.