Winter may be waning, but the popularity of Nashville Hot Chicken sure isn't. We decided to try our hand at preparing a big batch. It was as good (and hot!) as promised.
Nashville Hot Chicken's History
Nashville Hot Chicken's powerful poultry story originated nearly seven decades ago, at Prince's Hot Chicken Shack. Apparently Thorton Prince was quite the lady's man. Tiring of his late night escapades, his gal served him up a Sunday breakfast of fried chicken generously doused in cayenne pepper and other fiery spices. Her revenge backfired – rather than crying out in pain, he loved it. Consequently, the inspiration for Nashville Hot Chicken was born. If you're interested, read the whole story on Prince's website. Numerous other restaurants and chains, inspired by Prince's, have put their twist on this Nashville classic.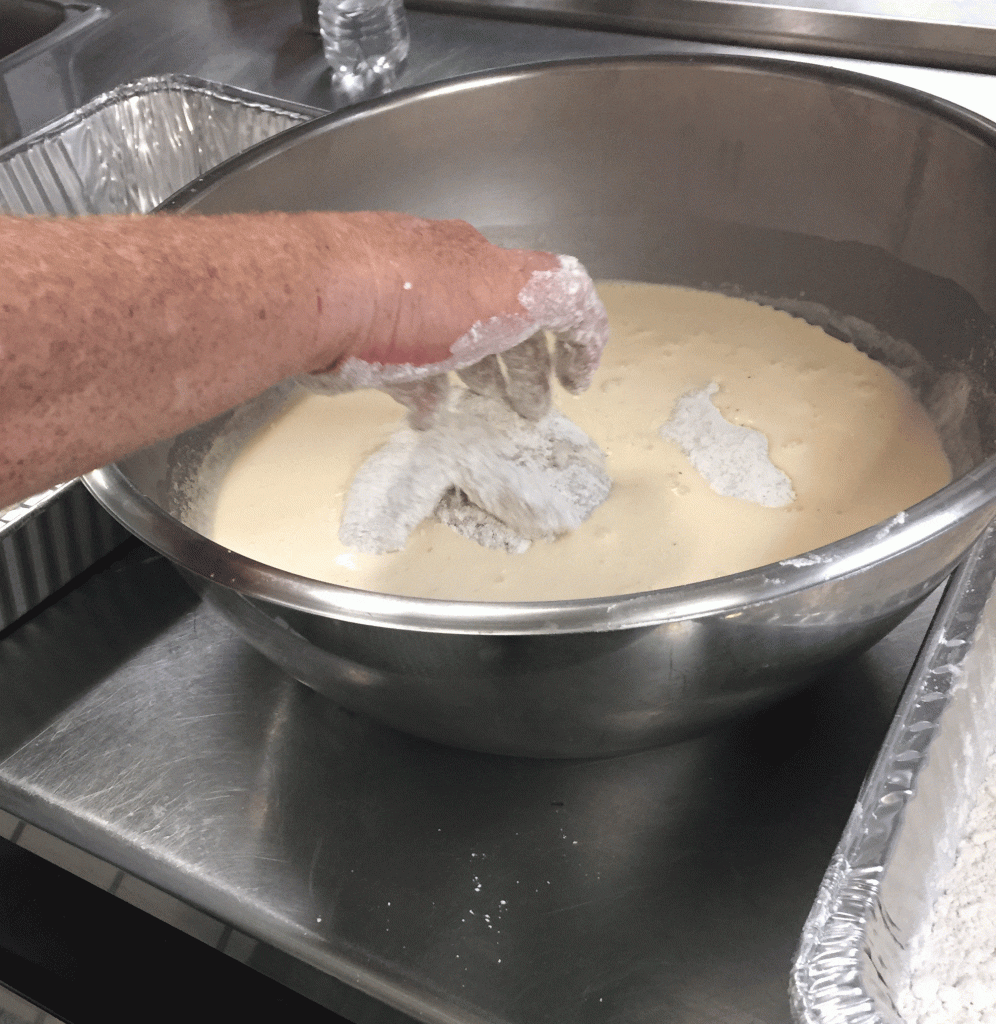 The Process
We brined the chicken in the fridge overnight using a simple 6% brine. Learn everything you need to know about brining on our friends' site Genuine Ideas (browse under their food header).
We lightly dusted the chicken with seasoned flour. After that we dipped it in a simple blend of eggs, buttermilk and hot sauce.
Subsequently, we tossed lightly again in breading mix, giving us a light double-breaded chicken. Double-breading creates a nice robust crunch once the chicken is fried.
Properly prepped, the chicken was ready for the Collectramatic® Fryer.
We fried the chicken for 15 minutes at 325°F. It emerged from the fryer a mouth-watering golden brown. After allowing excess oil to drip away, we painted the spicy special sauce on with a pastry brush.
The hot chicken was as good as we hoped, delivering a delicious heat that delighted our taste buds while making our faces flush and our brows sweat.
This chicken can be held for two hours in a CVap® Holding Cabinet. After frying, place it directly in a CVap set to 135 +50. Apply the sauce just before serving.
Here's a pared-down version of the recipe (in case you're not feeding an army).
Nashville Hot Chicken Recipe
2 – 3 1/2-4-pound chickens, each cut into ten pieces (breasts halved)
1 gallon of 6% brine
4 large eggs
2 cups buttermilk or whole milk
2 tablespoons vinegar-based hot sauce (such as Tabasco or Texas Pete)
4 cups all-purpose flour seasoned with salt, pepper and paprika. (You may use your own special flour mix if you'd like).
Vegetable oil (for frying; about 10 cups) (unless, of course, you have a Collectramatic fryer handy).
6 tablespoons cayenne pepper
2 tablespoons dark brown sugar
1 teaspoon chili powder
1 teaspoon garlic powder
1 teaspoon paprika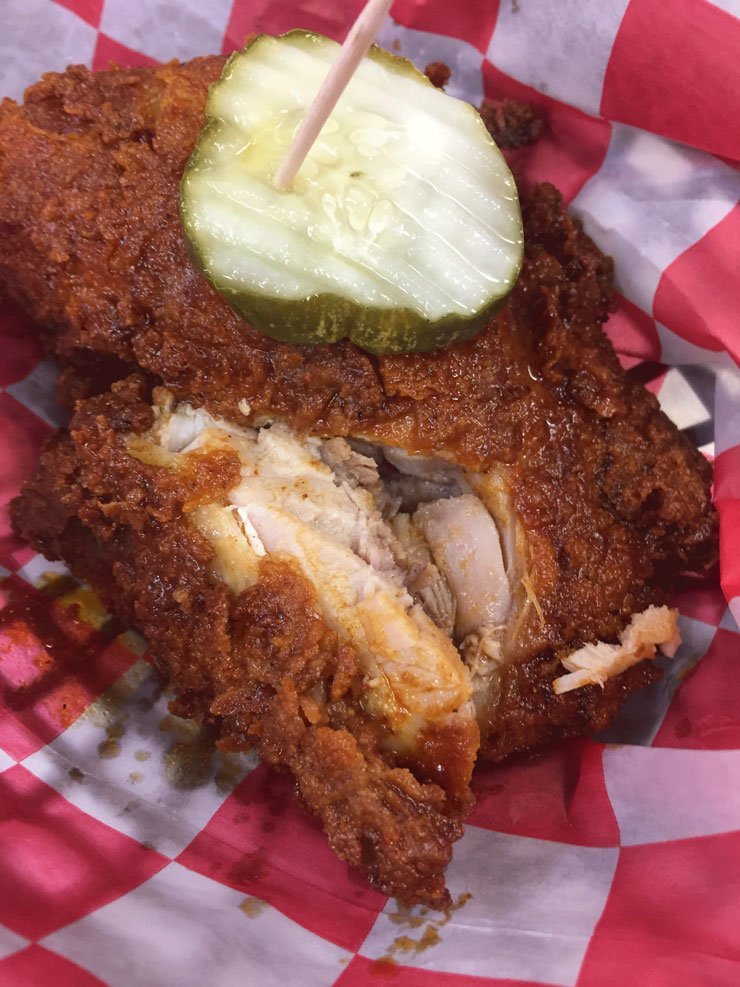 The Process
Whisk eggs, buttermilk, and hot sauce in a large bowl. Subsequently, whisk flour and remaining four teaspoons salt in another large bowl.
If you're not using a Collectramatic fryer, fit a Dutch oven with frying thermometer. After that pour in oil to about two inches depth. Heat over medium-high heat until thermometer registers 325°F.
Pat chicken dry. Working with one piece at a time, dredge in flour mixture, shaking off excess, and then dip in buttermilk mixture, letting excess drip back into bowl.
Subsequently dredge again in flour mixture and place on a baking sheet.
Working in four batches and returning oil to 325°F between batches, fry chicken, turning once after 15 minutes until skin is deep golden brown and crisp. Check with an instant-read thermometer inserted into thigh pieces to verify that the inner temp registers at least 185°F (165°F for white meat). This usually takes ten more minutes after the turn, for a total cook time of 25 minutes.
Transfer to a clean wire rack set inside a baking sheet.
After that, remove oil from heat and let it cool slightly.
Whisk cayenne, brown sugar, chili powder, garlic powder, and paprika in a medium bowl.
Carefully whisk in 1 cup hot frying oil or melted lard.
Just before serving, brush fried chicken with spicy oil. Serve with bread and pickles.
Enjoy!