I had just finished planning a three-course vegan dinner for some visiting customers. My goal was to demonstrate CVap® versatility with contemporary applications and menu trends. I had decided on a menu that included the following:
First Course – Southern fried chicken boa with kimchi
Second Course – Moroccan grilled lamb loin with Tzatziki and quinoa tabouleh
Dessert – Molten chocolate cake with Chantilly cream
I was pleased with the ethnic diversity represented by the meal, as well as the variety of CVap and Collectramatic® applications. With the menu in hand, I began organizing my ingredient list and production schedule. About 30 minutes into my planning (and two days before the meal), I received a note that one of our guests was vegan. What?! How was I going to make the above menu vegan? I certainly wasn't going to offer only salad and tofu! So I set my mental wheels in motion and this is what I came up with:
First Course – Southern fried cauliflower bao with kimchi
Second Course – Moroccan grilled beets with quinoa tabouleh
Dessert – Silken tofu Tzatziki vegan double-chocolate pistachio cake with whipped spiced coconut cream
Hurdles to Overcome
Making the kimchi without fish sauce, where do you get the umami?
Getting cauliflower to emulate the look and feel of a fried chicken thigh.
How to get tender beets without turning them to mush…
Whipped coconut cream?
With a little help from Alex Talbot and J Kenji Lopez-Alt and a lot of help from CVap, I think we did pretty well. Here are a few pictures from our luncheon and the recipe for the Southern Fried Cauliflower. If you'd like the rest of the recipes send me a note and I'd be glad to share.
Brine Recipe for Cauliflower:
Cold water – 3 liters
Kosher salt – ¾ cup
Sugar – ¾ cup
Bourbon Barrel Soy Sauce – ¼ cup
Celery – 2 stalks (thinly sliced)
Sweet onion – ½ (small)  sliced
Garlic cloves – 6 (smashed)
Bay leaves – 4
Peppercorns – 10 cloves
Ice – 1 liter
Directions: Place all ingredients (except ice) in a saucepan and bring to a boil. Remove from heat and add ice. Store in the refrigerator until you are ready to use.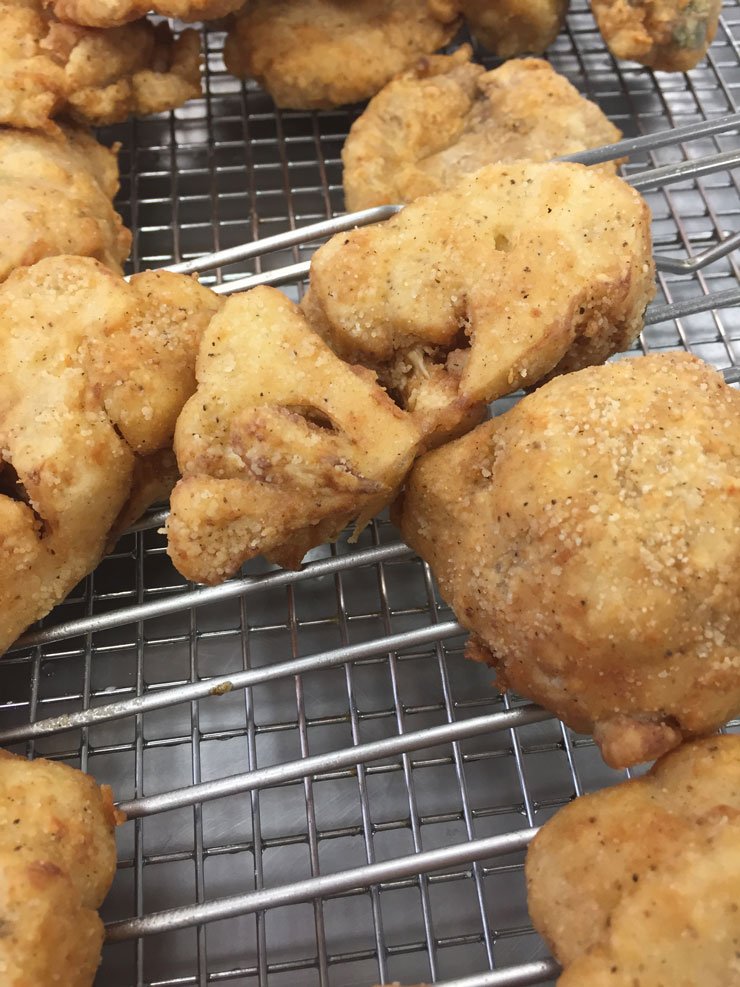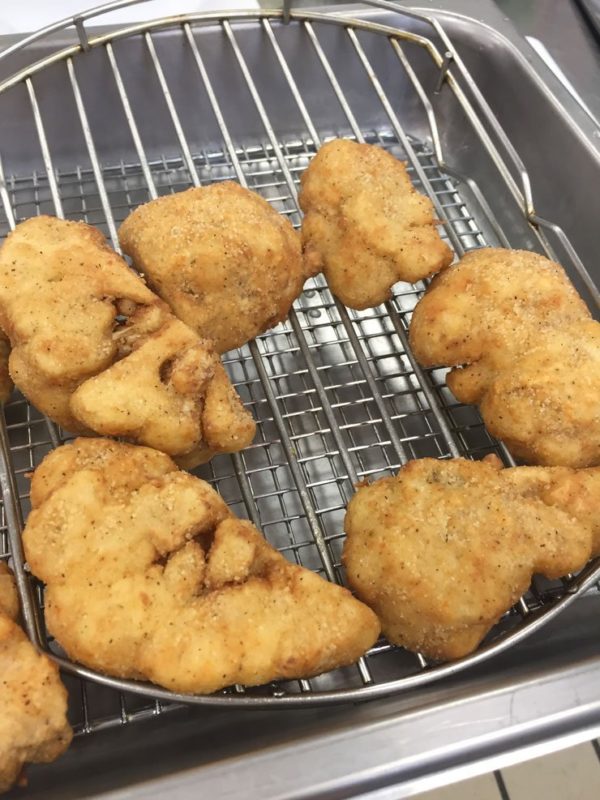 Cauliflower ingredients:
Cauliflower – 2 heads, cut into 2-inch thick steaks and then quartered
Savory brine – 1/2 cup
Bourbon Barrel Soy Sauce
Directions: Place cauliflower pieces in sous vide bags, cover with prepared brine, add soy, and vacuum seal. Place in CVap set at 185°F Vapor temp / 185°F Air temp. Cook for one hour. Immediately place in water bath to cool, and then place in refrigerator until you are ready to fry the cauliflower.
Breading and Frying:
2 cups of your favorite breading
½ cup brine
Dust cauliflower with breading, dip in brine, then bread lightly with breading mix. Drop into a Collectramatic fryer set on open fry 350°F for three and half minutes. Voila! Vegan fried "chicken"!