On a recent Friday afternoon, we cooked up a favorite dish – Fried Chicken and Waffles. This sweet and savory dish is increasingly popular, but has been around (in some variation) for hundreds of years. The familiar soul food version dates from the Wells Supper Club in Harlem, New York, in 1938. In order to really push this cardiac-busting meal over the top, we added a side of tater tots.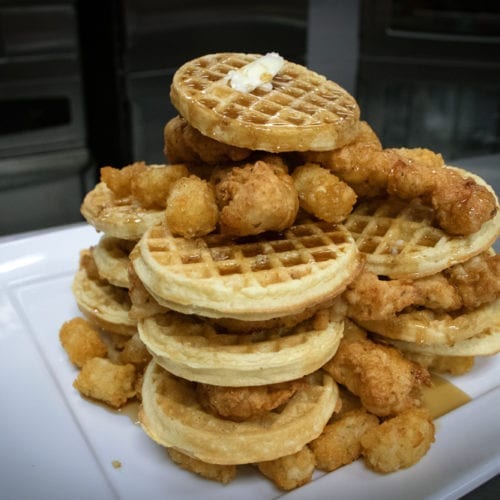 We utilized several pieces of our equipment. Our Collectramatic Fryers are famous for making the world's best chicken, so that was a no-brainer.
Although our fryers were engineered specifically to cook chicken, you can cook other stuff in them too. In this case, a tasty side of tater tots.
The Process – Chicken
The fryer was programmed for chicken strips/filets (for full details on those settings, see the guidelines in the Fryer Owner's Manual, page 20). As the fryer preheated, we prepared the chicken.
Starting with several whole boneless, skinless chicken breasts, we trimmed the fat and cut into ¾" wide strips. The chicken strips marinated for about 30 minutes in smoked pickle juice. It's a well-known secret that pickle brine is the special je ne sais quoi that gives Chick-Fil-A's chicken its addictive flavor. We aimed for a similar flavor profile.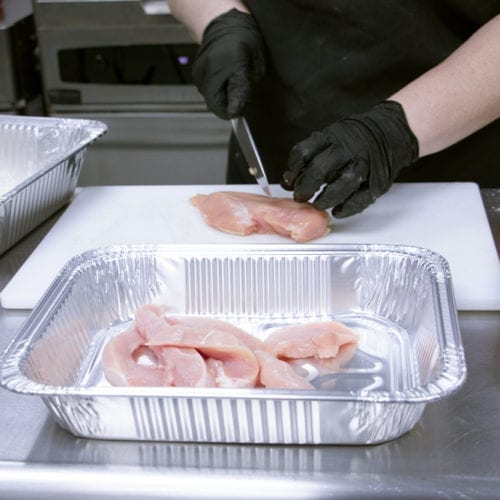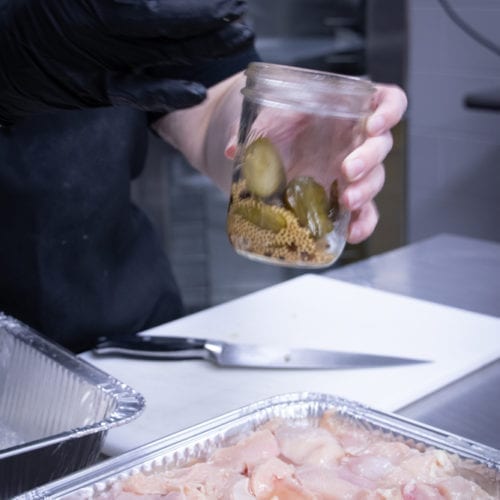 After marinading, the strips were ready for breading. The breading was a blend of seasoned flour, salt, and a little Dan-O's Original Seasoning. To properly bread, we used a four-pass dredge.
Pickle Juice
Seasoned Flour
Pickle Juice
Seasoned Flour
These were cooked under pressure, in a clamshell basket.
The Process – Tots
Tater tots hit the fryer next. These were cooked open, in a clamshell basket. They cooked in about five minutes at 325°F. The results were perfect.
The tots took a little trial and error. We initially cooked a batch in an open basket. Though the tots came out perfectly cooked, the lack of separation caused them to stick together. The resulting mass was about the size of a human head. This was fine for an informal afternoon cooking session, but wouldn't have been ideal to serve to customers.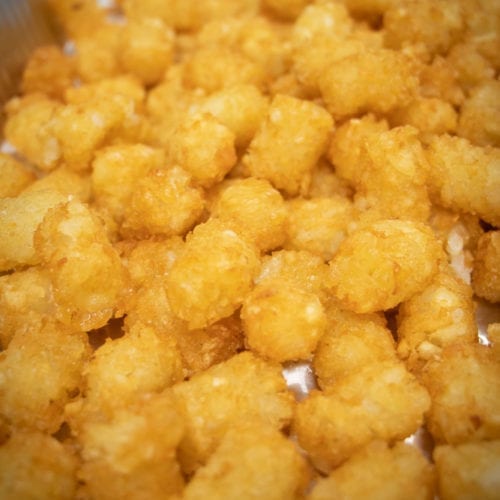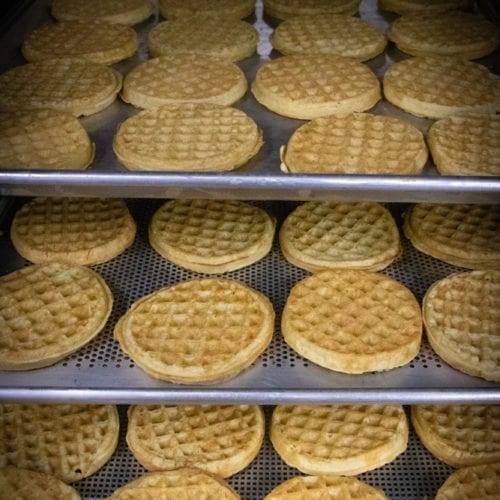 The Process – Waffles
The waffles were of the frozen variety. We went CVap on those, retherming them in an RTV Retherm Oven, then moving them into an HOV Holding Cabinet while we prepped stuff for the fryer.
The frozen waffles were quick and easy to prep. The RTV oven was preheated to 200°F Vapor, 325°F air temp. After a quick seven minutes, they were done. We moved them to the HOV holding cabinet (preheated to 100°F vapor temp, 150°F air temp). They stayed hot and fresh until we were ready to assemble.
The Results
The final assembled dish was simple, easy, and delicious. The chicken strips were placed on the bed of waffles, and dribbled with maple syrup (the real stuff, not that fake high fructose crap). A generous side of tots completed the dish.
We had to taste the results. They were, of course, delicious.