It's winter in the Northern Hemisphere. Most humans are hard-wired to crave comfort foods in freezing weather. Of all the comfort foods, soups seem to be the best at warming our innards. Many folks think of soup as something that's prepared on a stovetop. But CVap® ovens are also great for making soup. You can scale the process up to crank out gallons of soup to keep your sales hopping all day. It doesn't matter whether you're making soup from scratch or retherming pouches of premade soup – CVap's got you covered.
Here are a few great easy soup recipes you can whip up in a CVap oven.

What soup is more comforting than chicken noodle soup on a frosty winter day? It's one of those flavors that instantly takes you back to being a kid. It's particularly good when you're battling a cold. That's not a superstition. Evidence has shown that chicken noodle soup can reduce cold symptoms. It's chock-full of electrolytes, which help you stay hydrated.
Our chicken noodle soup take utilizes CVap ovens and our Collectramatic® Fryers. The result was a soup that combined many flavors and textures. It's sure to warm the coldest heart. Check out the recipe here.

This flavorful broth recipe has some good bones – literally. It calls for over eight pounds of beef, pork, and poultry bones, roasted in a CVap oven. This recipe is one you'll need to plan, as it calls for simmering for at least 12 hours.
Pho (pronounced fah) is a Vietnamese staple. There are countless variations of this easy soup recipe. Our recipe is rich in different flavors and textures. You may want to consider offering this as part of a Tết celebration, Vietnam's observance of the Lunar New Year.

Here's a tasty chowder that's a little decadent. The chowder recipe includes lobster, scallops, veggies, and a brunoise of new potatoes, onions, celery, and carrots. The advantage to preparing this chowder in a CVap oven is that you can stage all the key ingredients in the CVap while the lobster shells enjoy a day-long simmer to create a stock. At serving time, the scallops just need a quick sear to finish. Then the impressive final dish is assembled – with a base of veggies, topped by lobster meat, a couple of scallops, and a generous ladle of the lobster stock. It's a soup that's as impressive to look at as it is to eat. It's a perfect soup on a frigid day to make diners daydream of warm days near the ocean.

Chili is great any time of year. But it really hits the spot in the wintertime. You can spice it up with as much extra heat as you want to bring some warmth to a cold day.
A customer challenged us to see if it was possible to prepare beer chili using just a cook and hold oven. As this recipe shows, it's not only possible but also awesome. So, bring on the beans! Bring on the meat! Chilly weather is chili weather!

By the time mid-winter gets here, we're sick of it. Good thing Mardi Gras comes around to add some color and fun to the never-ending greyness of late February. And we've got the perfect dish to inject a little Cajun flavor into your menu.
This spectacular gumbo has it all: veggies, sausage, chicken, and crawdads. Like many great soups, you'll want to let it cook overnight to coax every bit of flavor. A little roux, a little rice, and you got yourself some great gumbo.

Behind every great easy soup recipe is an outstanding stock. In this post, Chef Sam walks us through how to use your CVap oven to create gallons of chicken stock. It's the perfect base for multitudes of soups. The important thing about this stock is that it can easily be frozen to use at another time. And it makes the most of the chicken, with virtually nothing going to waste.
Retherming Soup in CVap
So far, we've elaborated on some great scratch recipes you can make in a CVap. But many excellent pre-prepared canned or bagged soups are available from your favorite foodservice distributor. Use a CVap oven to retherm your premade soups, and you can really scale up production. Our largest ovens can hold up to 28 hotel pans, allowing you to cook gallons of soup at once. CVap technology ensures that no matter what soup you're retherming, it will never scorch or overcook. And CVap oven's automatic hold cycle keeps soup hot and fresh throughout your meal service.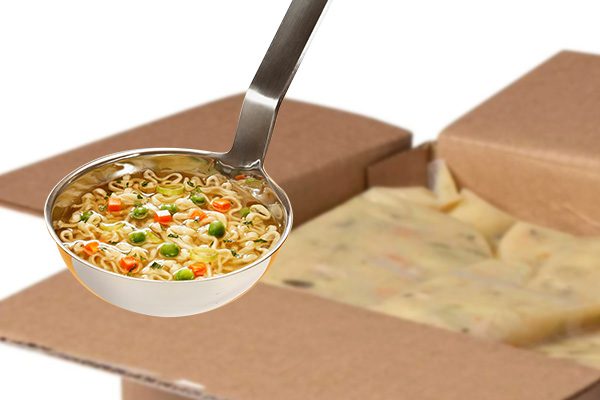 From Soup to Nuts
These are just a few ideas for souping up your menu. Need more ideas or suggestions for adapting an existing recipe to CVap? Just fill out our contact form. Our culinary experts will be happy to help! There's no need to limit questions to soup. We can help with just about anything!