What better way to celebrate the transition from summer to fall than to create a delicate yet hearty lobster and fresh corn chowder with scallops? The layers of flavor in this dish are subtle, yet so satisfying. You'll want to make it again and again.
The Process
We butter poached lobster tails with thyme and lemon in a
CVap Cook and Hold Oven
at 200°F + 0 for 12 minutes. The meat was removed from the shells and returned to the oven to hold until plating. Meanwhile the shells were used to make stock. Subsequently, we added the corn milk and cobs remaining from stripping the kernels (which were reserved) from fresh ears of corn, along with onions, celery, carrots, bay leaves, and thyme. This was placed in a CVap Cook and Hold Oven at 180°F + 0 and simmered all day.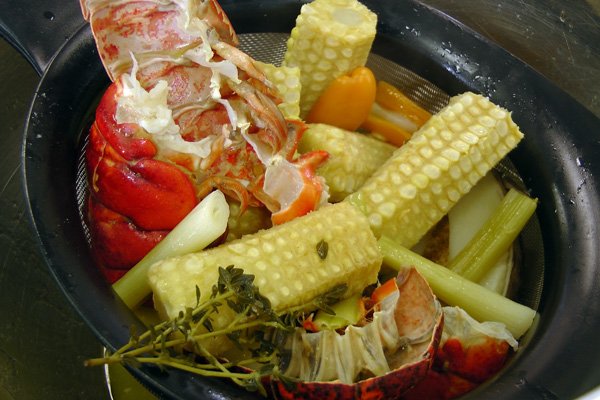 We sauteed a brunoise of new potatoes, onions, celery, and carrots in butter. To this we added the reserved corn kernels, bay leaves, salt and pepper. This mixture was placed in a CVap Holding Cabinet. We also staged some gorgeous sea scallops in a CVap oven at 126°F + 0.  After that we held them until we were ready to bring everything together. The staged scallops were pan seared to finish them.
First onto the plate was the sautéed vegetable mixture, topped by the poached lobster tail meat, after that two pan-seared scallops. The dish finished with a generous ladle of the broth that cooked all day.
Ending with a sublime plate.