Each component of this sandwich is delicious on its own. We started with the pretzel buns, which provide the perfect framework for the other flavors. Pretzel dough adds something special to a sandwich, elevating our enjoyment of it. Is it the distinctive chew unique to pretzel dough? Is it the slightly crunchy exterior of the roll? Whatever the attraction is, you can't deny that pretzel rolls add something very different to any sandwich. These sandwiches have been appearing on menus everywhere.
Dough
1 Cup Milk
2 Tbsp Butter
2 Tbsp Brown Sugar
1 Envelope Rapid Rise Yeast
2 Tsp Salt
3 Cups All-Purpose Flour
Boiling Solution

3 Quarts Water
3/4 Cup Baking Soda
Egg Wash

Heat milk and butter to 105°F. The butter will not completely melt. Combine with yeast and brown sugar in a mixer bowl. Stir in salt and two cups flour and beat for three minutes. Gradually add enough of the remaining flour to make a soft dough. Mix on low for approximately 5-8 minutes to develop elasticity. Place in an oiled bowl. Cover the bowl. It will take approximately one hour for the dough to double in size.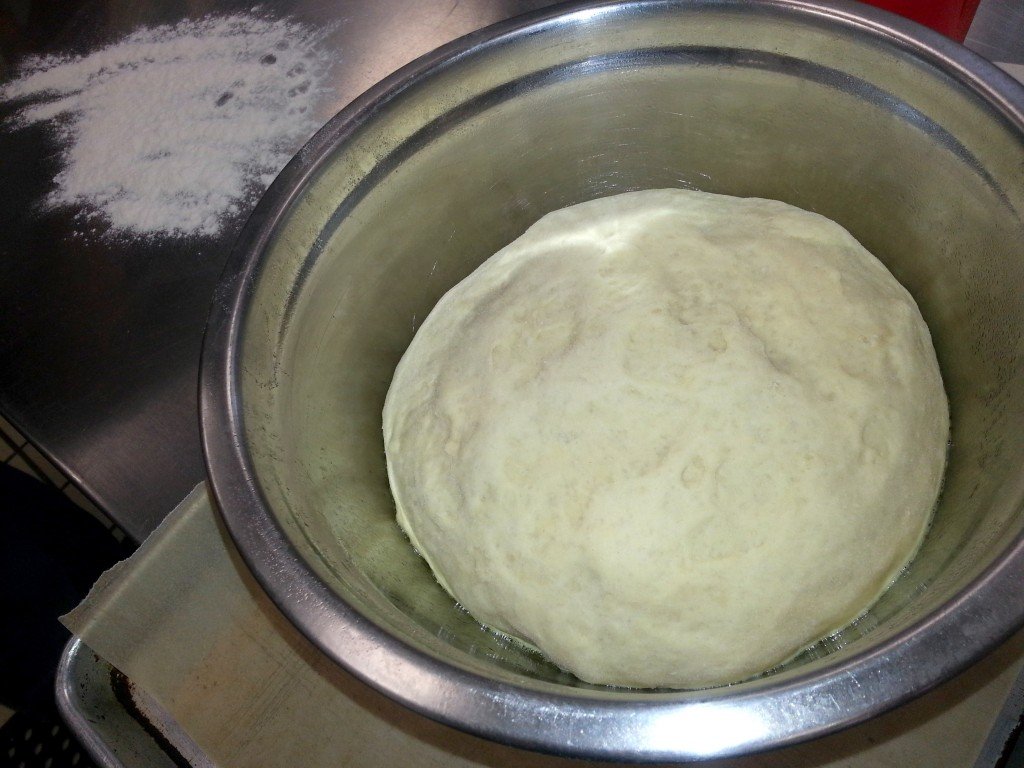 If using a CVap Cook and Hold Oven, program it to a Food Temperature setting of 130°F Vapor/350°F Air (legacy 130°F (Doneness) and a Food Texture setting of 10 (Browning)), with Constant Cook ON, and set the timer for 20 minutes. If using a CVap Retherm Oven, set it to Channel 7 and set the timer to 14 minutes.
Combine boiling solution and bring to a boil. Punch dough down, divide into two equal portions, and roll into a log approximately 2″ in diameter. Cut each dough log into approximately 6-12 individual balls, dependent upon the size buns you desire. Form into tight rolls and boil all rolls for approximately two minutes. Next, use a slotted spoon to remove rolls from boiling water.
Place rolls on parchment-lined baking sheets and brush with egg wash. Cut across each roll with very sharp knife. Place in oven and bake for recommended time based upon oven selected. Remove from oven and place on wire racks to cool.
This gave us the exact exterior color and texture we were seeking.
The interior had just the right chew without being too "doughy."
Pork Loin Preparation
Program a CVap Cook and Hold Oven to a Food Temperature setting of 135°F Vapor/135°F Air (legacy 135°F (Doneness) and a Food Texture setting of 0 (Browning)). Allow about 30 minutes for pre-heating.
Arrange the pork loin on a parchment-lined sheet tray.
Place the pork into the preheated oven.
It should take about an hour for the pork to reach 135°F, the minimum endpoint temperature.  Preparing the pork in this manner (staging) will save a great deal of time during the finishing process!
Preparation
Sliced Granny Smith Apples
1/2 head green cabbage (sliced)
1/3 cup sugar
1/4 cup cider vinegar.
Combine slaw ingredients. If you want a creamier slaw, mix in one or two tablespoons of mayonnaise. Adjust seasoning to taste, and add salt and pepper if desired. For more acidity, add a squirt of fresh lemon juice.
To learn more about staging and the possibilities it can bring to your kitchen and speed of service, download the FREE eBook: