This recipe is a classic gumbo ya ya with chicken and sausage. Although it isn't a traditional gumbo ya ya ingredient, I like to add crawfish (a.k.a. crawdads) for an extra flavor boost. What makes this recipe unique? Nearly every step is executed using CVap equipment.
"Gumbo is a veritable art form in Louisiana. There are as many gumbo recipes as there are cooks." Stir the Pot: The History of Cajun Cuisine.
Of all the dishes in the realm of Louisiana cuisine, gumbo is the most famous. It's also likely the most popular. Although ingredients vary from one cook to the next, and from one parish to another, a steaming bowl of gumbo is one of life's cherished pleasures. It's as emblematic of Louisiana as chili is of Texas (Adapted from A Short History of Gumbo by Stanley Dry).
There are many different recipes for gumbo, but it can essentially be described as a thick, well-seasoned stew with different combinations of meat or seafood. Roux (a thickening agent for soups and sauces) is a must. Most varieties of gumbo include onions, bell peppers, celery, and parsley.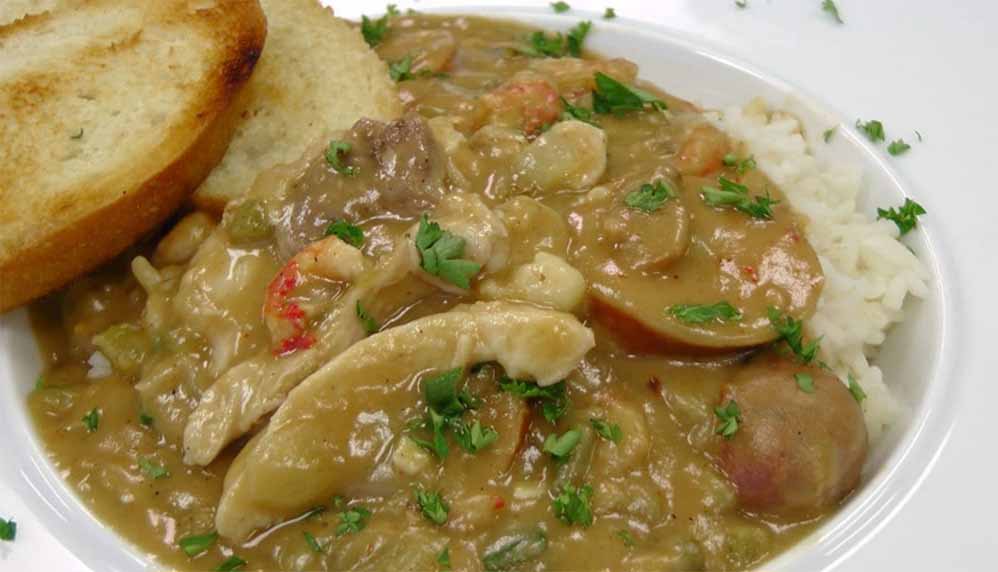 First, we knocked out the rice. (Three pounds of long-grain, par-boiled, and 3 ¾ quarts of water). We cooked it in a CVap Retherm Oven on channel 6 (200°F Vapor Temp / 150°F Air Temp) for one hour. Next, we held the cooked rice in a CVap Cook and Hold Oven at 150°F Vapor Temp / 150°F Air Temp until we were ready to serve.
We cooked a dozen bone-in chicken thighs in a CVap Cook and Hold Oven at 170°F Vapor / 170°F Air for 45  to 60 minutes. Then we removed the bones for the overnight stock. Next,  we shredded the chicken meat and set it aside.
For the overnight stock, we combined the chicken thigh bones, celery, carrots, onions, fresh thyme, bay leaves, and whole black peppercorns in a stockpot and added enough water to just cover everything. The stock was cooked overnight in a CVap Cook and Hold Oven at 180°F Vapor / 180°F Air, strained in the morning, and refrigerated. Later, all we had to do was skim before adding it to the gumbo.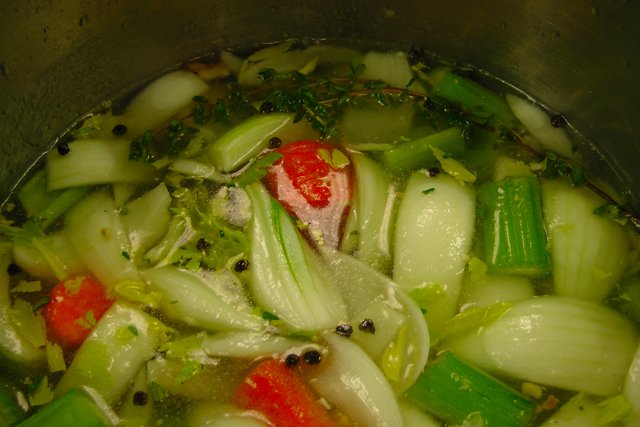 Of course, you don't have to have a CVap oven to prepare this sensational dish, but it's a hell of a lot easier if you do. 🙂
4 onions, diced
4 green bell peppers, diced
2 stalks of celery, small dice
10 garlic cloves, minced
4 pounds andouille sausage, sliced
2 pounds chicken, shredded
2 pounds crawfish tails (optional)
5-10 bay leaves
4-5 thyme sprigs
1 gallon chicken stock
3 cups vegetable oil
5 cups flour
¾ cup green onion, chopped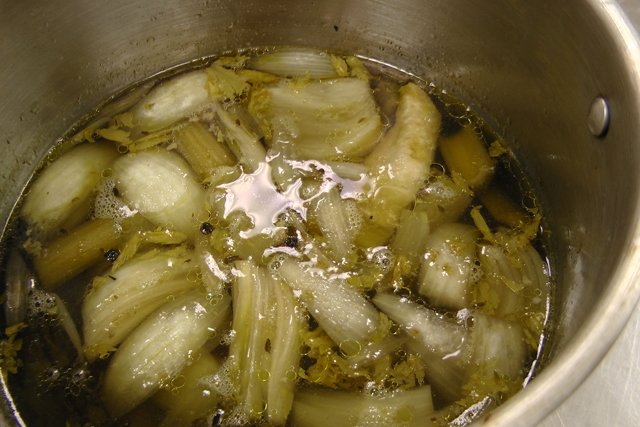 Sauté the onion, celery, and bell peppers, add garlic, and then remove from heat.
At the risk of boring the more seasoned cooks among you, we've included instructions for preparing a roux.

Roux is made from equal parts fat and flour. In this case, vegetable oil and flour. Warm oil over medium-low heat, then add the flour.
Stir constantly in a figure-eight pattern to evenly distribute. Watch the roux closely to prevent burning.
Cook the roux over medium heat, stirring constantly, until it becomes a dark caramel color (see picture). Remember that roux must be watched carefully – you don't want to have to start over!

Mix all ingredients together (using only half of the roux) and add three quarts of stock, sausage, crawfish (optional), and chicken. Stir and place in a CVap oven at 200°F Vapor / 220°F Air. Stir every 45 minutes or so. Check the thickness. If it needs to thicken more, add more roux. On the other hand, if it is too thick, add more chicken stock. After 2-3 hours, stir in the chopped green onions. Serve over hot rice.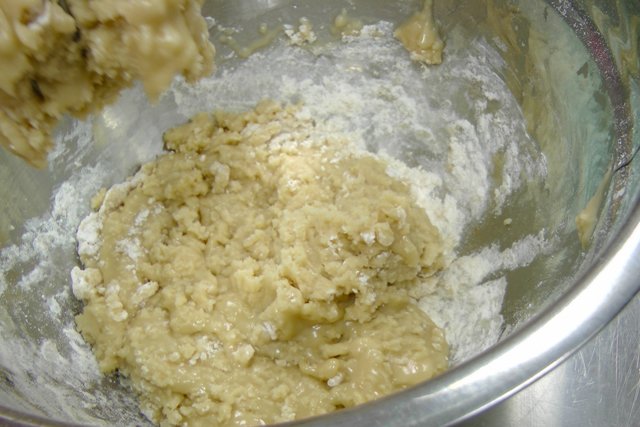 Mixing flour and oil in equal parts to form a roux.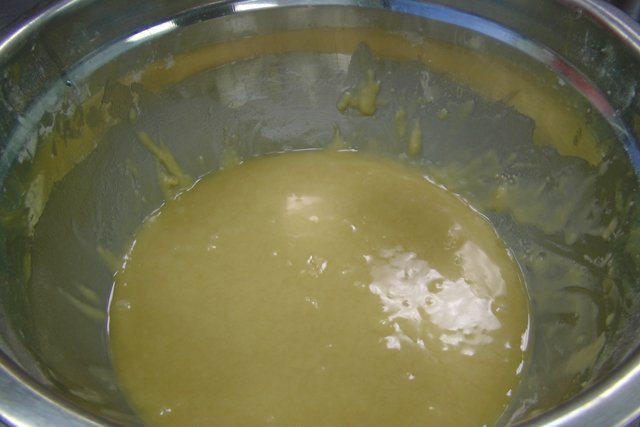 Properly blended roux ingredients form a thick liquid.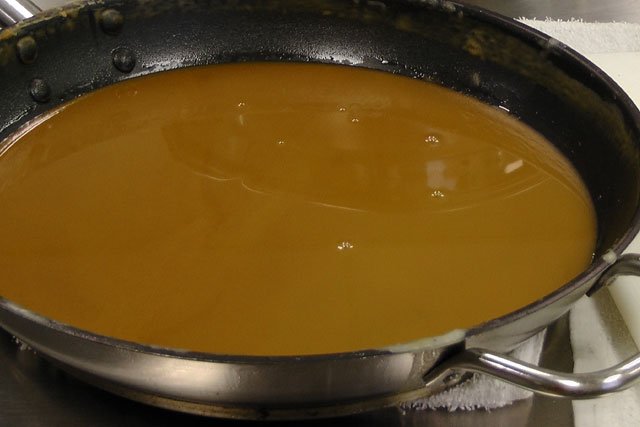 A good roux should be a rich dark caramel color.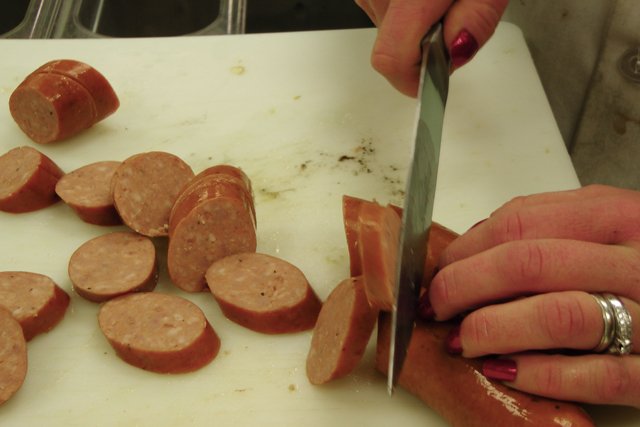 Andouille sausage, sliced in quarter inch sections, is perfect for gumbo.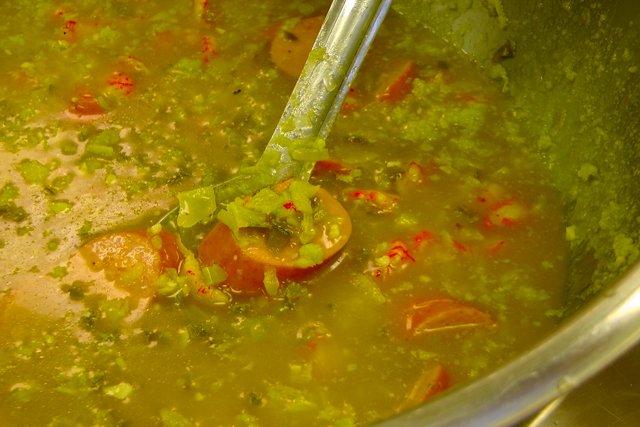 Laissez les bons temps rouler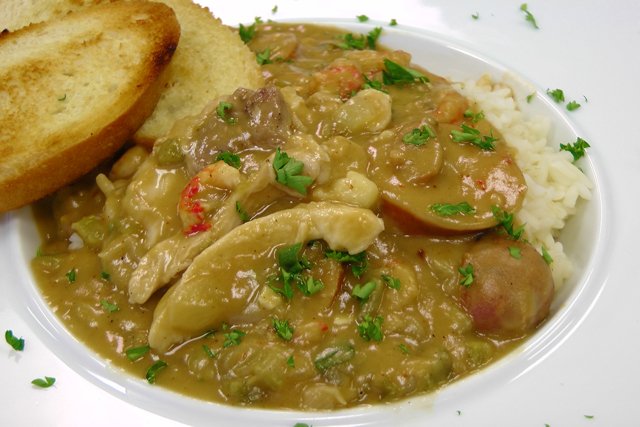 Serve gumbo over rice for a Cajun treat!
Try this heartwarming dish for yourself! Laissez les bons temps rouler!