Plant-based proteins have trickled into retailers across the US and have been, dare we say, adopted into our everyday life.  As more people search for ways to eat healthier and reduce their impact on the environment, plant-based meat substitutes are increasing in popularity across dayparts and in multiple formats.
We wanted to test how well these retail products performed in our foodservice equipment. We purchased a variety of plant-based proteins, including burgers, breakfast sausage links and patties, breaded chicken patties, tenders and nuggets, and Italian meatballs.
Cooking:
The Collectramatic Fryer was set to fry all of the breaded items at 350°F; the protein patties, tenders, and spicy nuggets.
For the meatballs, breakfast patties, and sausage links we had an RTV705 Retherm Oven set to 200°F vapor/350°F air. We inserted a pan into the oven to preheat, to simulate searing for the sausage links.
We went old school on the Beyond Burger patties. They were chargrilled at medium low heat to internal temperature of 165°F.
Holding:
We set the CHV705 Cook and Hold Oven to hold the crispy fried items at 135°F vapor/185°F air.
The HBB Hold and Serve Drawer was set to hold at 140°F /+4 (148°F) for all of the "softer" products: meatballs, sausage patties, sausage links, and the burgers.
We evaluated everything immediately after cooking, and again after about 40-60 minutes of holding.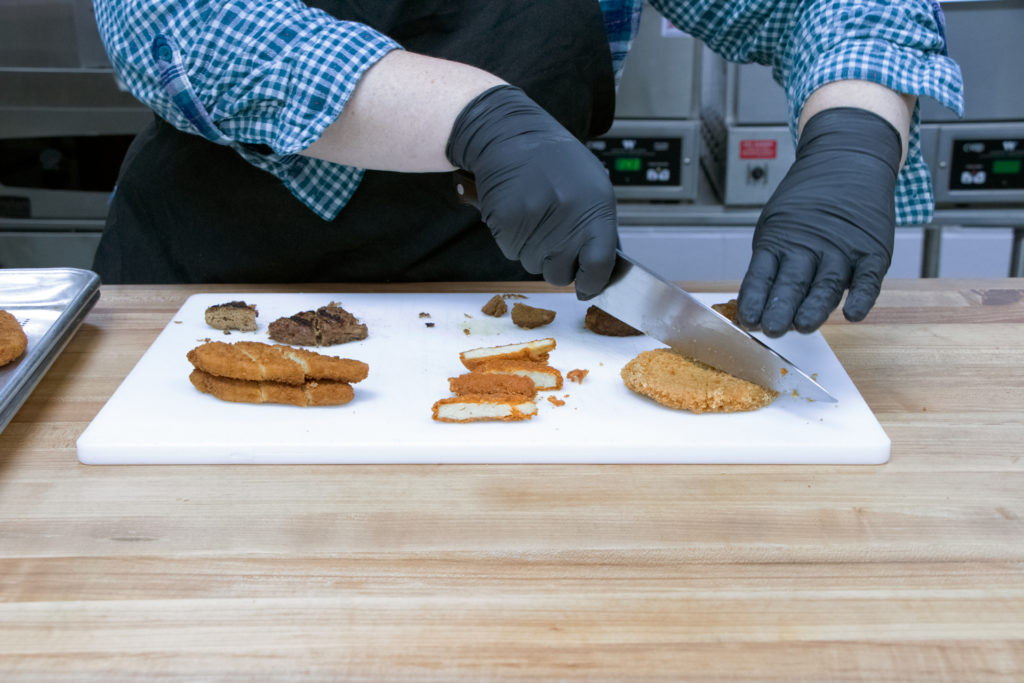 Results:
From a frying perspective – the Collectramatic fryer was on point. Products cooked perfectly, and came out crisp and golden.
The RTV oven did a great job as well on cooking the breakfast patties and links.
This was our first attempt at cooking and holding multiple plant proteins. Consequently, these settings worked very well.
We would consider tweaking the holding settings in future attempts. The vapor setting was fine. The air setting kept most of the plant-based foods well, but some items, such as the protein patties and the chicken tenders started to show some cupping, which could indicate too much drying. But their temperature held constant.
The biggest surprise was that the Beyond Burgers improved with holding. They were a bit soft and spongy when first pulled from the grill, but they firmed a bit in holding, which for us, made the texture better.
Honestly, most of the plant-based proteins are surprisingly good. It's amazing how closely food scientists, research & developers and manufacturers have been able to mimic the look and consistency of actual meat. The flavor on most products is good, though some of our more finicky tasters wrinkled their noses a bit at some of the flavors. Perhaps it's best to think of these products not as being identical to their animal-based versions, but as a suitable and palatable alternative.