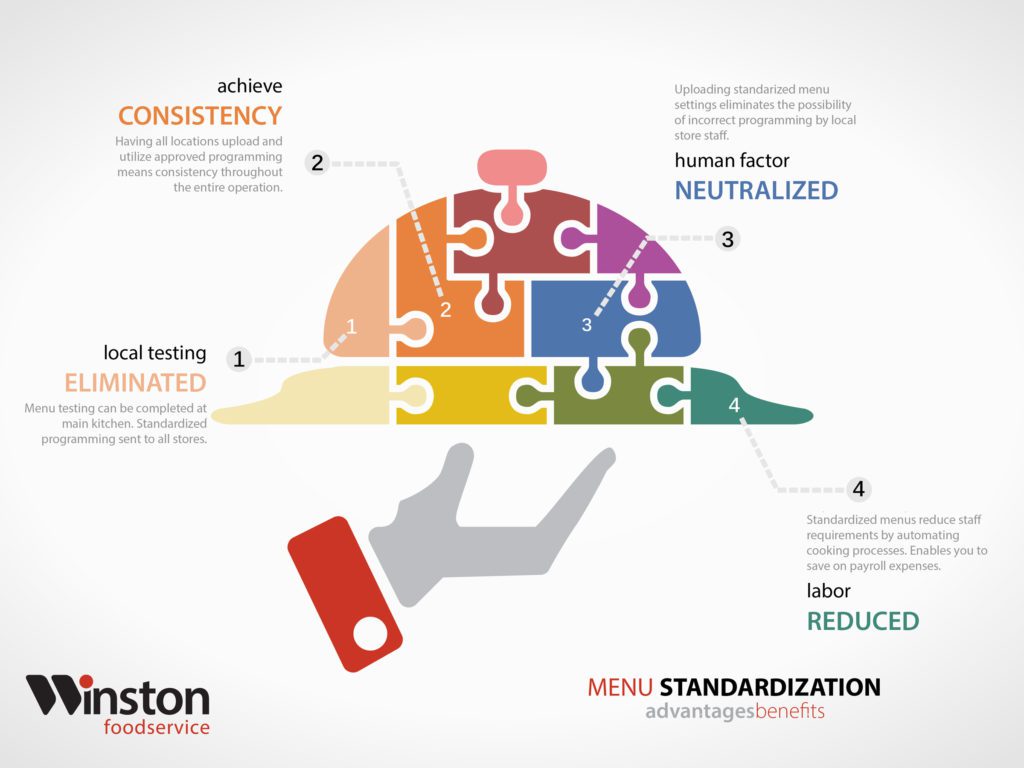 Standardizing menus for businesses with multiple locations will save time and hassle in the long run. Typically, a research kitchen will develop a standardized menu for an organization. These menus will set the standard for brand consistency between stores. When operations follow this menu correctly, they enhance efficiencies in multi-store operations.
Four Key Ways Standardization Helps Your Operation
Eliminate Local Testing

 – Once menu testing is complete, share the programming information to locations throughout the chain. Generally speaking, eliminating trial-and-error testing by individual operators saves food, time, and labor.

Achieve Consistency 

 – Customers expect consistency. After all, they want their favorite dish to be the same every time they order it. Ultimately, standardization promotes consistency between stores. No guesswork means there is less room for error.

Neutralize Human Factor 

– All in all, standardization reduces the likelihood of local staff setting equipment incorrectly. Notably, 

Winston's CVap®

 ovens and cabinets allow controls to be locked so no one can change the settings.

Reduce Labor

 – Overall, automating cooking processes reduces labor. Essentially, it makes it possible to do more with fewer people. Save exponentially on labor costs. After all, during these times of labor uncertainty, any tool that reduces labor is critical.
Ultimately, equipment must be programmable to achieve the maximum standardization benefits. CVap ovens and cabinets feature eight programmable channels. Program each channel to a different menu setting. Once the setpoints are standardized, upload to CVap equipment. Use a USB port or Android device (Series 7 models). After all, locking the settings prevents local staff from inadvertently changing approved settings.