It may be a surprise to some but bathless baking is possible in CVap®. We recently proved this cooking process on perhaps the most snicker-inducing food in the English-speaking world, Spotted Dick.
The etymology of this curiously named dessert is a bit hazy. It stems from the Victorian Era. There are theories that the name of this steamed pudding refers to its similarity in appearance to a spotted dog (spotted = raisins or currants, dick = dog (or perhaps, dough). Whatever the origin, the name continues to amuse those who have failed to achieve a sufficient level of maturity. Probably to reduce bawdy jokes, one local council in the U.K. has renamed the dish "Spotted Richard."
Unlike the puddings that most Americans are familiar with, the spotted dick is spongey and only slightly sweet. Most of its sweetness is from the raisins, currants, or other fruits it contains.
Behold our grand experiment in British baking. Traditionally it's prepared by steaming on the stovetop. We wanted to test it with CVap bathless baking, a safer process that still delivers fantastic results. You can find the base recipe on Tastemade.com. We tweaked the ingredients a little, and of course, for gentle steaming in a CVap oven.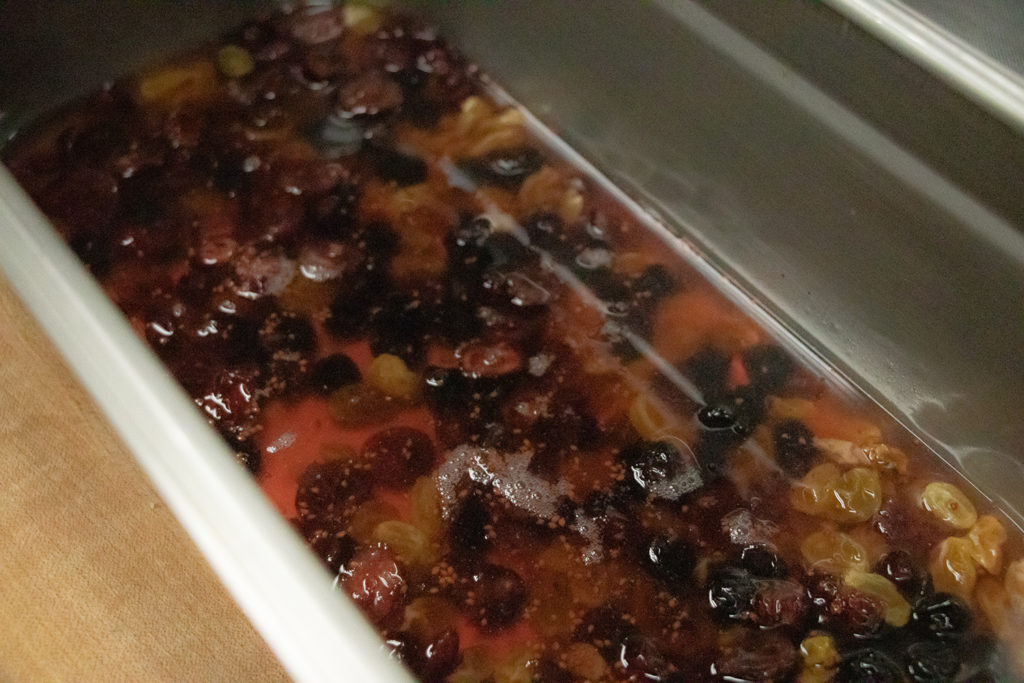 150 grams of Dried Fruit 

(Traditionally, you would use currants, but we used a blend of cranberry, blueberry, apricot, and golden raisins.)

250 ml of Water

250 grams Self-Rising Whole Wheat Flour 

(If you cannot find it at your retailer, you can "fudge" it quite easily; see below for ratios.)

80 grams Sugar

1/8 Tsp Salt

100 grams of Shredded Butter 

(Pop a stick in the freezer for more effortless shredding.)

Zest of One Lemon

280 ml Whole Milk
How to Make a Self-Rising Whole Wheat Flour
2 cups Whole Wheat Flour

1 Tbs Baking Powder

½ Tsp Salt
             Blend well before using.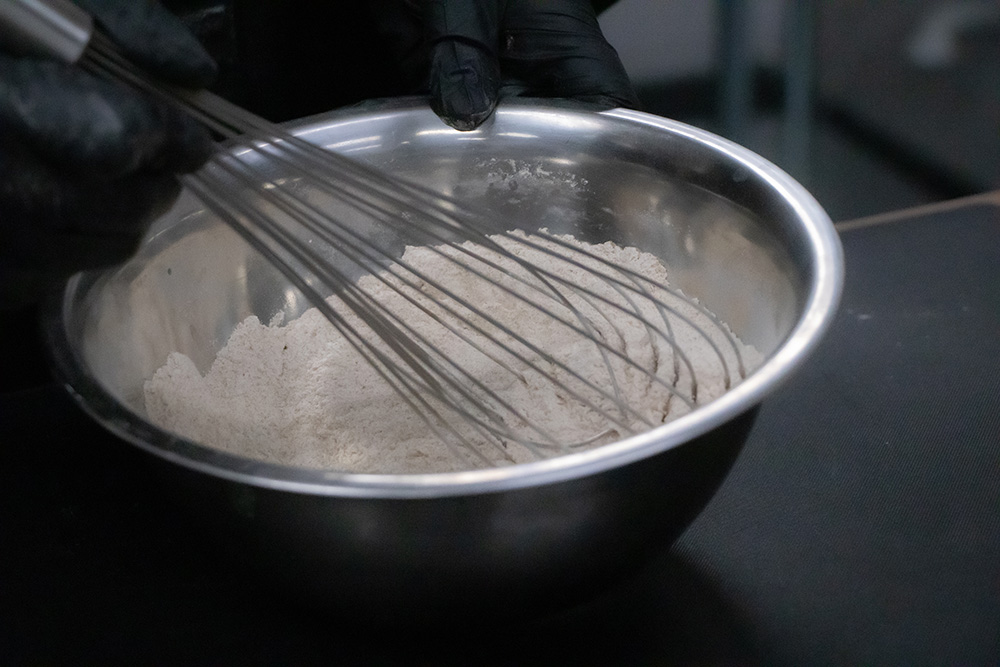 The Bathless Baking Process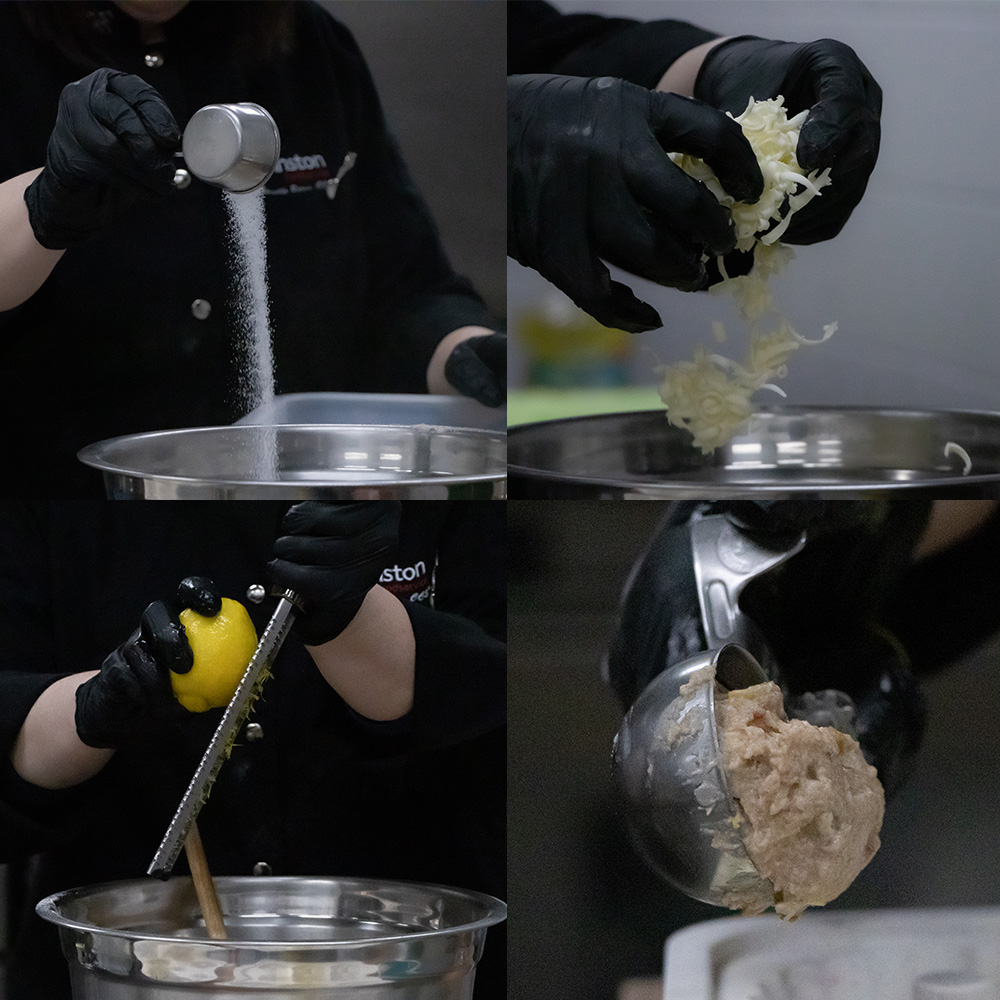 Weigh out all the ingredients according to the recipe amounts.

Place the dried fruit into an oven-safe container, cover with water, and place into the preheated oven to rehydrate for about 10-15 

(or until the fruits look nice and plump)

.

Remove from oven, drain, and set aside to cool.

While fruit is rehydrating, place butter into the freezer to firm before grating. Use the largest grain size on the box grater.

The original recipe calls for 

suet

. Suet is the raw, hard fat of beef, lamb, or mutton, for those unfamiliar. It often has a little flour added to it as well. The recipe said that butter is a perfectly suitable substitute for equal replacement. As suet is hard to come by in Kentucky, we opted for butter.

Mix the dry ingredients and add grated butter, fruits, and milk until combined.

Transfer mix to pre-sprayed pans 

(we used ramekins and silicone mini-bundt pans)

.

Cook time will be dependent on the size of pans used:

Silicone Mini-Bunt Pans – approximately 30 minutes

Ramekins – closer to an hour

Remove from the oven and allow to cool slightly before removing from the pan.
As mentioned before, spotted dick isn't particularly sweet. To make it more of a proper dessert, they traditionally serve it with crème anglaise, a.k.a., English cream (or English vanilla custard).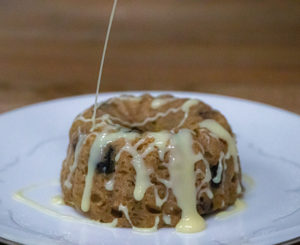 Preparing this dish the traditional way – steaming on the stovetop with extra bits and bobs- is inefficient and dangerous. Preparing it traditionally in a foodservice kitchen is particularly challenging. Creating this in a CVap oven is an excellent (and safer) way to bake this dish. Save yourself the time and trouble with CVap bathless baking.
All snickering aside, we thoroughly enjoyed our spotted dick. We made sure to accompany it with proper English tea, sipped with pinkies raised.