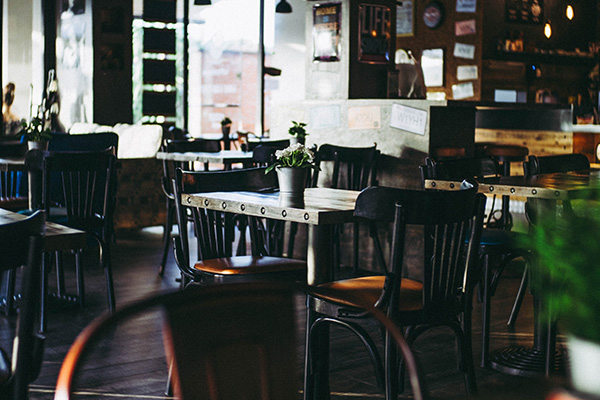 Opening a new restaurant is no walk in the park. There are lots of hurdles to bear in mind. According to recent data, one in three restaurants won't survive its first year. To paraphrase Benjamin Franklin, if you fail to plan, you plan to fail. Talk to folks who have walked the walk of opening a thriving operation. Chef Andy Husbands is a great example. He's successfully opened five locations of his Boston-based concept, The Smoke Shop. His advice is spot on.
"Use professionals. That is a business planner, an architect, a lawyer, and not your cousin. Use somebody who actually writes restaurant leases. Someone who actually designs restaurants. I know that your friend's sister is really good at designing, but if she hasn't designed a restaurant before, you don't want her making mistakes on your dime."
Obviously, there are a ton of things to consider for a new restaurant. We're concentrating on the stuff you'll need inside this new place, essential kitchen equipment. Specifically, equipment for prepping, cooking, storing, and cold storage. Most commercial kitchens are going to need some mix of the following:
Cooking Equipment
Cold Storage Equipment
Ice Maker
Food Prep Surfaces and Equipment
Storage Racks and Containers
Dish Washing Area
When you think about essential kitchen equipment, the first thing that pops into your mind is probably ovens. Commercial ovens aren't like home ovens. They have higher power and larger capacities. And they're designed to cook all day, every day. There are a bunch of different types of ovens, and they all come in different sizes. Calculate how much food you will prepare during a typical service to figure out what capacity you'll need. And don't forget to lean on your kitchen equipment designer for input.
Conventional Ovens are like ovens found in most homes. They use simple radiant heating elements for cooking food.
Combination ovens or combi ovens are part steamer and part convection oven. Combi ovens are versatile and powerful. They cook faster than any other type of commercial oven. But you will pay for all that speed. They can cost an arm and a leg and aren't cheap to maintain. If you're going with a combi, you'll have to have a vent hood and will have to plumb it to a drain.
Some combi ovens offer lots of bells and whistles. Ask yourself whether you need those fancy features. If they're not beneficial to your operation, why pay for them? Factor in the repair costs when those extra features break down. You'll want to weigh the costs versus the benefits before investing in a combi.
Cook and Hold Ovens do exactly that. They cook food and then switch to a holding mode until the food's ready to be served. They aren't as fast as combi or retherm ovens, but they make up for that with versatility, precision, and higher food yields. CVap Cook and Hold Ovens are ideal for classic "low and slow" cooking. This boost yields, so you can get more servings from every cut or roast. More servings mean better profits. And because you're not cooking the hell out of it, food retains more of its natural juices.  
Thermalizers are robust ovens used to reheat prepared cold or frozen foods. When it comes to food safety, time and temperature are important. The more time food spends in the temperature danger zone, the faster bacteria can grow. Thermalizers are designed to push food temps through the zone in under two hours. Winston's CVap® Retherm Oven is a great example. These retherm ovens don't just reheat, they are also capable of a wide range of cooking processes, from baking to roasting, to sous vide. Winston's retherm oven can also automatically switch to hold mode at the end of the cook cycle, taking pressure off the crew.
Microwave Ovens use the same technology as microwaves found in most home kitchens. Commercial models are larger and more powerful. They're commonly used to retherm individual portions of prepared foods. Even restaurants need to nuke stuff sometimes.
Convection ovens use powerful fans to circulate hot air around the food. This cuts down on hot spots and helps food good more evenly. Convection ovens are perfect for baking. They are fast, but they can dry food out if you're not careful. It might take a little trial and error to dial in satisfactory results.
Okay, technically, sous vide is a cooking technique. It's French for "under vacuum." It usually involves vacuum-sealing the product in food-grade bags and placing it in an immersion circulator. These circulators keep water at a set temperature. The laws of thermodynamics being what they are, food temperature equalizes with the water temperature. It's a very precise cooking method. Overcooking is dang near eliminated.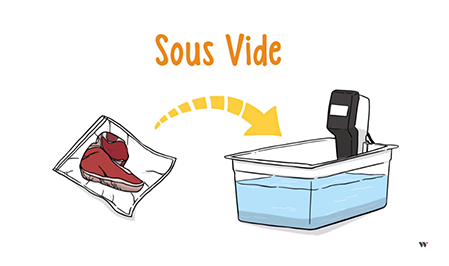 Commercial immersion circulators are more powerful than home countertop models. Sous vide can be used for most meats and vegetables. It's perfect for delicate foods, like fish. Adding spices or oils to the bag before sealing can enhance the flavor. Circulators are not fast cookers. You'll need to plan to accommodate their slow cook time. Even commercial circulators tend to be fairly small, so you'll need several circulators to achieve higher volume. Most circulators are placed on countertops so space may be an issue. And many localities require sous vide processes to have an approved HACCP plan, which is another expense. Don't forget to factor in the need for a vacuum sealer and the cost and labor associated with using the bags.
CVap ovens are ideal for sous vide cooking. Their dual heat system can achieve 100 percent humidity, mirroring the effects of food cooked in an immersion circulator. Since CVap cooks with water vapor instead of a water bath, bags are optional. Additionally, CVap ovens can cook large volumes of food in a small footprint, compared to the expansive countertop space required to cook the same volume in circulators.
There are two types of restaurant kitchen ranges – gas and electric. Both have their good and bad points.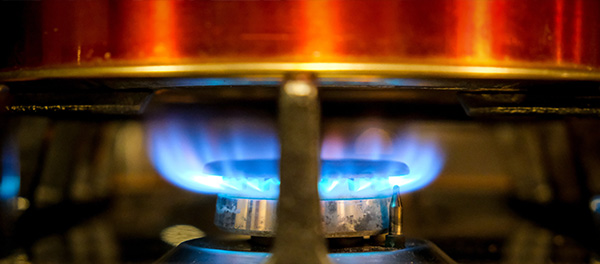 Gas ranges utilize live flame, which offers better cooking speed and precision than electric burners. However, they can also be harder to clean.
Electric ranges provide more even cooking and easier cleanup than gas. They take longer to heat up. And utility costs are generally higher than the gas ranges.
Not every commercial kitchen requires a grill (or griddle) so this may or may not be considered essential kitchen equipment. But if your menu includes burgers, steaks, pancakes, etc., you might consider a grill. Good grills come with a flat griddle surface for making pancakes or grilling sandwiches. Like ovens, you have a choice of gas or electric.
Commercial fryers use hot oil or shortening to deep fry products like fried chicken, fries, seafood, appetizers, etc. Smaller restaurants may get by with a countertop model. But if you anticipate serving lots of fried foods, you'll want to consider a larger floor model.
Commercial fryers are available in gas or electric. Gas fryers tend to cook faster. Electric fryers are usually less expensive to operate. There are dozens of configurations, but they come down to two types – open or pressure. Open fryers are great for fries, seafood, and other fried appetizers. On the other hand, if you're serving fried chicken, consider a pressure fryer. Pressure frying speeds up the cooking process and makes the final product less greasy.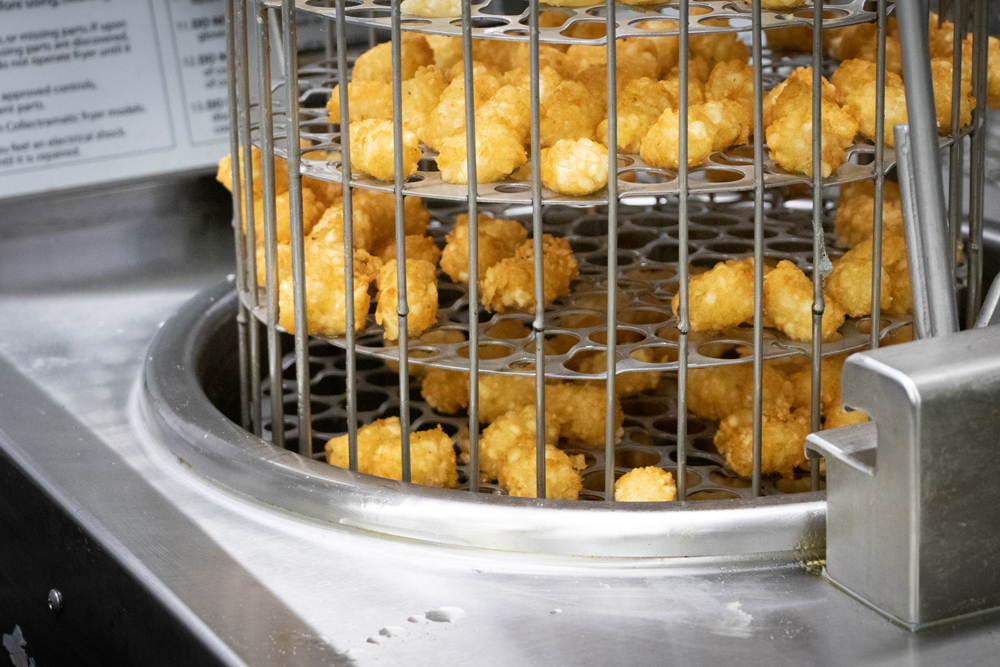 A well-built fryer can last over 20 years (with regular maintenance). Winston's Collectramatic® fryer line offers both open and pressure models. Winston's fryers are strictly electric.
As you can imagine, commercial fryers do come with risks. Anything that uses hot oil to cook can be dangerous if misused. Your staff needs to be thoroughly trained on how to operate a fryer safely.
Although they aren't technically cooking equipment, holding equipment allows you to keep hot cooked food at a safe temperature until you serve it. Holding equipment frees up the cooking equipment to allow you to keep on cooking. Some ovens, such as CVap ovens, can function as holding cabinets, offering double duty from the same footprint.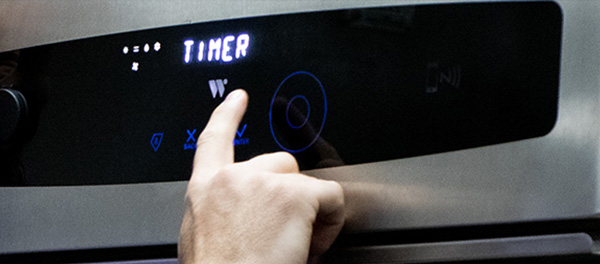 Holding cabinets are commonly available in half or full size. This gives them a capacity difference from four to 14 pans. Like with ovens, the cabinet's efficiency depends on its technology. The cheapest are dry radiant heat. Humidified cabinets cost more but are much more effective and offer longer hold times. CVap Holding Cabinets offer the longest quality holding times in the industry.
Consider your holding needs when choosing a holding cabinet. If yours is a low-volume operation, you may not need to hold. The higher your traffic, the more likely it is that you will need it. Holding cabinets can be an important crutch to get you around staffing challenges.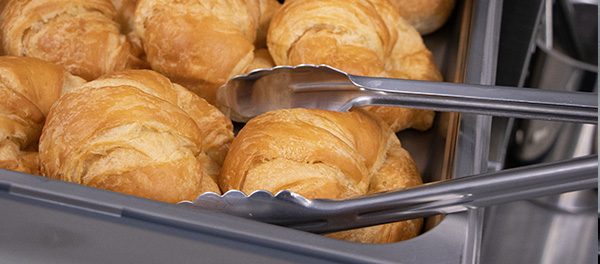 Warming drawers are smaller than holding cabinets but serve the same function. They are usually on or under counters. Drawers are great in operations with limited space, like food trucks and concession areas. Because they recover quickly, drawers are a great option where the food must be accessed frequently. They usually hold one to two hotel pans, depending on the configuration. Humidified drawers are more precise than radiant heat. CVap Hold & Serve Drawers, like other CVap products, offer the best quality hold in the industry.
There are lots of other appliances available for keeping food hot. These include countertop food warmer bins, soup warmers, heat lamps, and steam tables. Think about your menu when deciding what holding solution is best for you.
Freezers and Refrigerators
Another must have for any restaurant is refrigeration. Without a fridge, you can't keep perishable food fresh. Likewise, freezers are crucial for inventory management.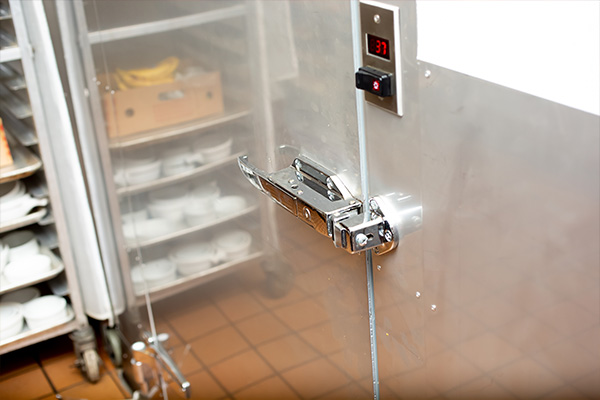 Industrial-grade refrigeration units are designed to meet the requirements of foodservice operations. They are available as reach-in or walk-in units. Although walk-in fridges and freezers have more storage space, smaller restaurants may not need a walk-in.
Be familiar with the maintenance requirements of your refrigeration equipment, as it can be expensive to repair. If a faulty unit reaches unsafe temperatures, it can ruin your inventory and put customers' health at risk.
Blast chillers are designed to cool foods quickly. The Temperature Danger Zone is as important when cooling food as it is when heating it. Simply placing hot food in a refrigerator to cool may not chill it fast enough. Blast chillers can cool large quantities of food quickly. While they aren't necessary for every kitchen, they're a great tool.
You'll probably need an ice maker if you're serving any kind of beverage. Beyond icing drinks, they can also be used to fill bins for keeping canned and bottled beverages cool or as ice baths for food in hotel pans. Factors to consider when choosing an ice machine include capacity and cube shape. The ice maker should also be easy to drain and clean so that old ice or contaminants aren't lingering in the depths of the ice.
Another essential kitchen equipment is food processors. They are great for slicing, chopping, blending, and pureeing. They're handy for making dressings, dips, and sauces.
The more horsepower a processor has, the longer it can operate without bogging down or overheating. Likewise, the processor's rotations per minute (RPM) affect how efficiently the blade cuts. There are a few different food processor types to consider.
Batch bowl processors are the same type most home cooks are familiar with. Staff simply choose their preferred blade, drop the food in, and collect it in the integral bowl.
Continuous-feed food processors are more of a workhorse. As the name indicates, continuous feed processors run continuously, dropping the food into a separate bowl. They are ideal for high-volume kitchens.
Buffalo choppers are among the most powerful and heavy-duty food processors. They have metal parts and sharp rotating blades sturdy enough to process meat. It's more of a specialty item. Not every kitchen needs one.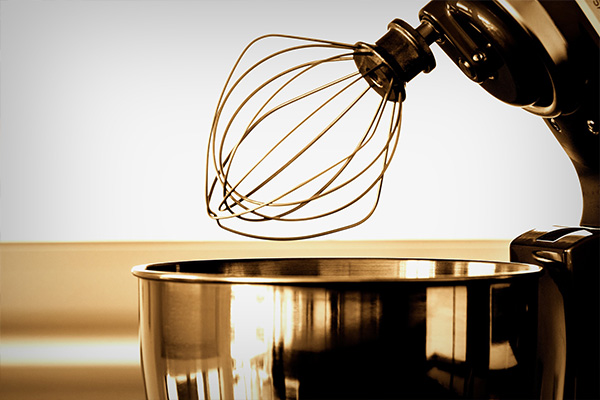 Most restaurant kitchens will need a commercial mixer. These are designed for frequent use.
Hand mixers are ideal for quickly blending soups and sauces, chopping up ingredients, and emulsifying dressings.
Countertop mixers work well for smaller restaurants that only need occasional mixing.
Floor mixers are ideal for high-volume commercial kitchens. These huge heavy-duty mixers stand on the floor and have the power to mix massive quantities of ingredients quickly.
Commercial slicers are used for slicing meats and cheeses. Horsepower always indicates how long the slicer can run without overheating or bogging down. Check out the slicer's blade kits and make sure the size works for the type of food you'll be slicing.
Prep Surfaces and Cutting Boards
Prep tables, counters, and cutting surfaces are essential kitchen equipment. The best prep surfaces are stainless steel. Stainless is tough, doesn't absorb bacteria, and can withstand the harsh cleaning products used in commercial kitchens.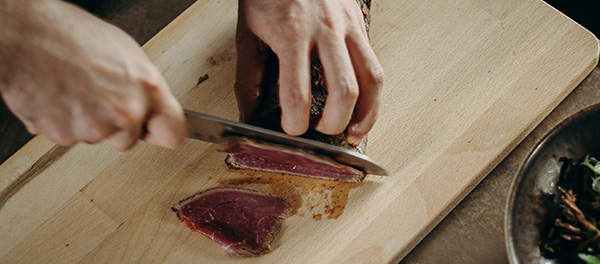 When it comes to cutting boards, your choices are plastic or wood. Plastic boards are easier to sanitize but can develop deep grooves that can hide bacteria. Wooden boards are tougher to clean than plastic ones but don't develop grooves as easily.
Consider adopting a color-coded system for cutting boards help prevent cross-contamination.
Storage Racks and Shelving
An organized storage shelving system streamlines your kitchen. It keeps the most-used kitchen equipment and supplies within arm's reach. Likewise, store the stuff that's used less frequently on the top and bottom shelves. The bottom shelf must be at least six inches off the floor to meet health codes.
Mobile storage racks are handy. They're commonly sized to fit 20 standard sheet pans and are great for storing and transporting food.
Storage containers, such as plastic bins and hotel pans, make every cook's job easier. Pair these with good tape and markers to clearly label containers with contents and dates. It will make FIFO easier.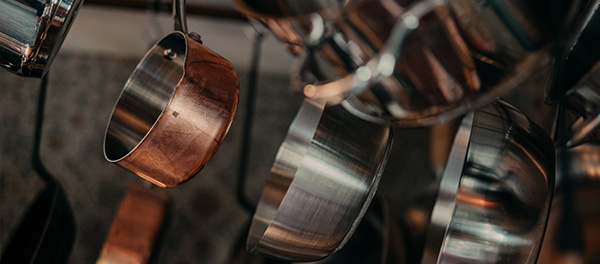 Every restaurant will need a designated dishwashing area. Small operations may be able to get away with a simple triple sink setup (for washing, rinsing, and sanitizing). Larger restaurants will want to consider a commercial dishwasher, which can handle a much larger volume of dishes. As with planning in other areas of the restaurant, contemplate your anticipated need when choosing a dishwashing option. Check local health codes to see what is required for your location.
Although it's not really part of dishwashing, having the proper number of handwashing sinks available to your staff is equally important. It's something every health inspector will look for.
Sourcing Restaurant Equipment
It is advisable to reach out to a foodservice consultant, manufacturer's rep, or equipment dealer to guide you, particularly if you plan to buy all-new equipment.
Buying used equipment is an option. There are caveats to buying used. While used equipment is often still in great shape, you don't know if it's been properly maintained or works as it should. Used equipment isn't usually covered by the manufacturer's warranty, so you're fully responsible for repairs.
Begin your search with a little online investigation. Numerous large online equipment dealers can help narrow down your search. Interested in Winston's products? Fill out our contact form. We'll be glad to help.