Ah, Date Night. It's a staple of romantic relationships. Like so much in our lives, the pandemic derailed it. But it finally looks like things may be getting back way they were before the virus. This means you'll likely be seeing an uptick in the number of couples who want to get out of the house and have a good, old-fashioned evening out. Dinner for two has never been more important.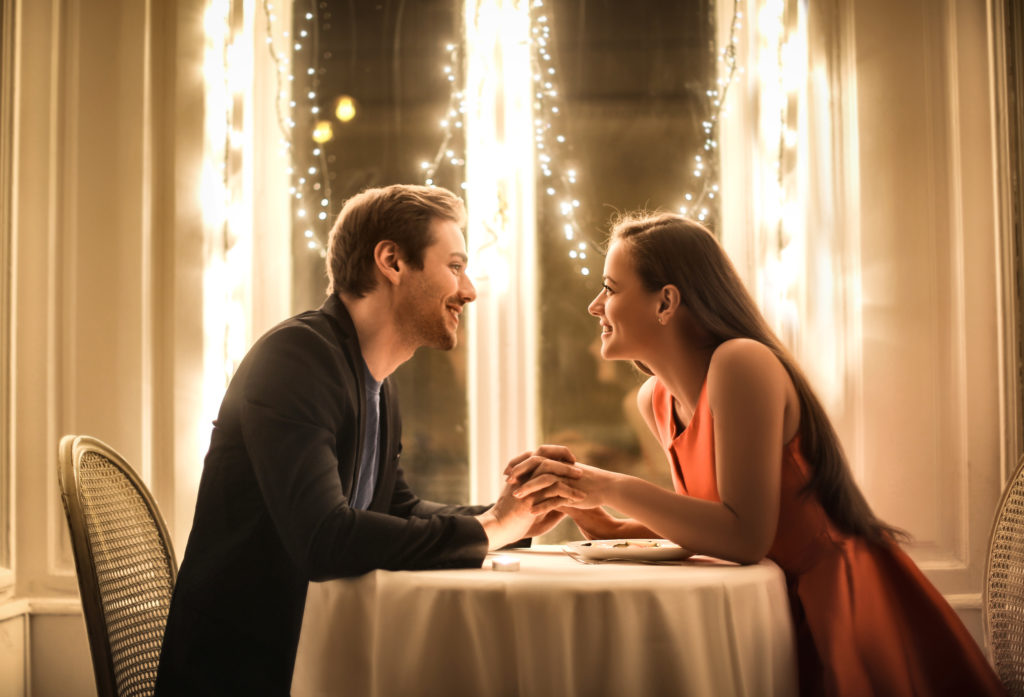 My goal for this presentation was to demonstrate how easy it is to prepare an impressive multi-course dinner for two, keeping the execution almost entirely with CVap. I also utilized an induction burner and a chargrill to assist with prep and finishing.
The inspiration for this comes from the Holly Hill Inn in Midway, Kentucky. This great restaurant is run by Executive Chef and owner Ouita Michel. During high-demand times of the year (such as Valentine's Day), the Inn would be transformed into five rooms of "2-tops," which is restaurant lingo for a table set dinner for two.
Virtually every fine dining establishment is packed with 2-tops that triple or even quadruple the amount of turns in a dining room for big holidays. The trick is to accommodate as many people as possible, without killing the kitchen. Having a set menu is key. It requires a kickass support team, kickass equipment, and some finely researched and executed techniques in the toolbox to pull it off! Dinner for two, multiplied!
Dinner for Two – The Menu
Soup – Tomato Basil Bisque, Buttered Croutons, and a Parmesan Tuille
Table Bread – Sourdough with Roasted Red Pepper Pesto
Salad – Baby Kale, Lemon Tahini Vinaigrette, Roasted Beets, and Butternut squash, Toasted Pepitas and Sesame Seeds, Crumbled Goat Cheese
Intermezzo – Cherry-Berry Sorbet
Main – Sliced Tenderloin, Butter Poached Lobster Tail, haricot verts, and Hasselback Potato Gratin
Dessert – Chocolate Souffle
The CVap® Programs:
RTV705UV: Cook Time Infinite/Vapor 200°F/Air 350°F
Roasted Tomatoes
Parmesan Tuille
Toasted Buttered Croutons
Diced Butternut Squash, Roasted
Whole Beets, Roasted
Toasted and Seasoned Pumpkin & Sunflower Seeds
Potato Gratin
Chocolate Souffle
RTV705: Cook Time Infinite/Vapor 200°F/Air 200°F
CHV705: Cook Time 1 Hour/Vapor 136°F /Air Sous Vide/ — Hold Time Infinite/Vapor 136°F /Air Sous Vide
Butter Poached Lobster Tails
CVH705: Cook Time Three (3) Hours/Vapor 130°F /Air Sous Vide/ — Hold Time Infinite/Vapor 130°F /Air Sous Vide
Whole, trussed, seasoned, and seared Beef Tenderloin
Drawer Holding: 140/+0
Tomato Basil Bisque
Green Beans
Beef Sauce
Drawer Holding: 140/+30
Dinner for Two – The Process
My intent with this write-up is not to share "recipes" per se. Instead, I think that the process is valuable, understanding how many different items can come together, quickly, using CVap. AND, I am not talking about 1-component dishes either. I am talking about complex, multi-ingredient, dishes with different components, textures, etc.
The main test kitchen here at the Winston factory has a full range of CVap equipment. It is always my goal, as the corporate chef, to ideate ways to execute dishes using as much CVap equipment as possible. In turn, this can be extremely valuable to you, the CVap end user. To be sure, maximizing CVap usage makes dinner for two easy. Hopefully, you can take away a few ideas here and run with them.
Soup Prep:
Chargrill half of your tomatoes. Remove skins and place halves into a hotel pan.
Vapor blanche the scored tomatoes. Remove skins and place them into the same hotel pan.
Add large diced sweet onions in proportion to 1:10 onion to tomatoes.
Next, add fresh thyme.
Add a good drizzle of EVO, salt, and pepper.
Roast uncovered in the 200/350°F RTV for about an hour to 90 minutes, or until the components are stewed-like and have reduced a bit.
Remove pan from oven. Remove any thyme stems.
Carefully transfer the mix to a blender/processor.
Process (in batches).
Add to taste: fresh basil, salt, and heavy cream.
Transfer finished soup to 6" third pan and place into a CVap Holding Drawer set to 140/+0.
Soup Garnishes:
Parmesan Tuille –
Place about 1T shredded parmesan cheese onto a silk pan/parchment-lined hotel pan.
Bake in the RTV705 set to 200/350°F for about 5 – 10 minutes, or until the cheese is melted and golden around the edges.
Allow to cool before removing from pan.
Buttered Croutons –
Dice sourdough (or any bread of choice).
Toss with melted butter, salt, and pepper.
Place onto a lined baking sheet.
Bake in the RTV705 set to 200/350°F for about 8 – 10 minutes or until desired.
Salad Prep:
Fresh Beets
Remove tops and tails from beets.
Roast in RTV705 at 200/350°F until tender – time will depend on the size of beet and desired tenderness.
Allow slight cooling before removing skin and dicing as desired.
Marinate with EVO, lemon, salt, and pepper.
Butternut Squash
Peel, deseed, and dice the butternut squash.
Toss with EVO, salt, and pepper.
Bake in the RTV705 set to 200/350°F until tender and edges are browned – – time will depend on the size of cut and desire of tenderness.
Toasted Pepitas & Sesame Seeds
Toss an equal amount of each seed together with EVO and choice of dry seasoning.
Bake in the RTV705 set to 200/350°F for about 5 – 15 minutes or until the seeds are fragrant and slightly browned, as desired.
Intermezzo
Intermezzo is a European tradition. This palate cleanser is intended to allow the diner to savor the meal. As is the custom, we chose a sorbet.
Sorbet
Frozen Strawberries
Frozen Cherries
Apple Juice
Lemon Zest
Preparation is simple. Add ingredients to blender and puree. Serve immediately, or freeze for later use.
Main Prep:
Tenderloin
Trim and truss whole tenderloin.
Season with salt and pepper.
Pre-sear on chargrill for flavor and appearance.
Sous Vide in the CVH705: Cook Time 3 Hours/Vapor 130°F /Air Sous Vide/ Hold Time Infinite/Vapor 130°F /Air Sous Vide.
Beef Sauce
Prep as desired – I'm not going to tell you how to make a beef sauce, but I will say that it will hold like a champ in a Winston CVap Drawer @ 140/+0.
Lobster Tails
Remove lobster tails from their shell and transfer to a sous vide-type bag.
Add butter and choice of aromatics. We used a lemon-herb compound butter.
Sous vide in the CVH705: Cook Time 1 Hour/Vapor 136°F /Air Sous Vide/ Hold Time Infinite/Vapor 136°F /Air Sous Vide.
Haricot Verts (Green Beans) Prep:
Vapor blanche green beans in the RTV705: Cook Time Infinite/Vapor 200°F/Air 200°F – time will depend on the size of the product and desired tenderness.
Remove from oven and shock in cold water.
Finished on the induction burner with EVO, shallots, roasted red pepper, salt, and pepper – just before serving out.
Hot hold in drawer: 140/+0 (with the soup and beef sauce).
Potato Gratin Prep:
Serious Eats website inspired this dish – https://www.seriouseats.com/hasselback-potato-gratin-casserole-holiday-food-lab
Bake in the RTV705 set to 200/350F for about 1 hour or until the potatoes are tender.
Transfer to a CVap Drawer set to 140/+30 for hot holding.
Dessert
Chocolate Souffle
Bake any souffle recipe of choice using setting 200°F/350°F.
**Timing for souffle is tricky. Ours took about 15 – 20 minutes to bake thoroughly. While it did deflate a bit within a few minutes of being removed from the oven, it kept its shape relatively well. I would say that these probably need to be "fired" once the main courses are expedited to the table.
Two-Top Turn & Burn
This is where the CVap advantage really comes into play. By staging these foods ahead of time, you can serve this gourmet multi-course dinner for two relatively quickly, maximizing the amount of table turns in your operation.
Estimated Timing of Plating to Serve a Two-Top:
Soup – Should take less than a minute to cleanly ladle and garnish.
Salad – Under two minutes to toss greens with dressing and top with beets, squash, seeds, and crumbled goat cheese.
*Drop bread and roasted pepper pesto on the table with salad.
Intermezzo – Less than a minute to scoop and garnish.
Main – You're looking at about three minutes to plate gratin (holding), green beans (holding), slice tenderloin, slice lobster, sauce and garnish plate.
*Fire souffles once main dishes are completed.
Souffle – Plating and garnish in less than 30 seconds.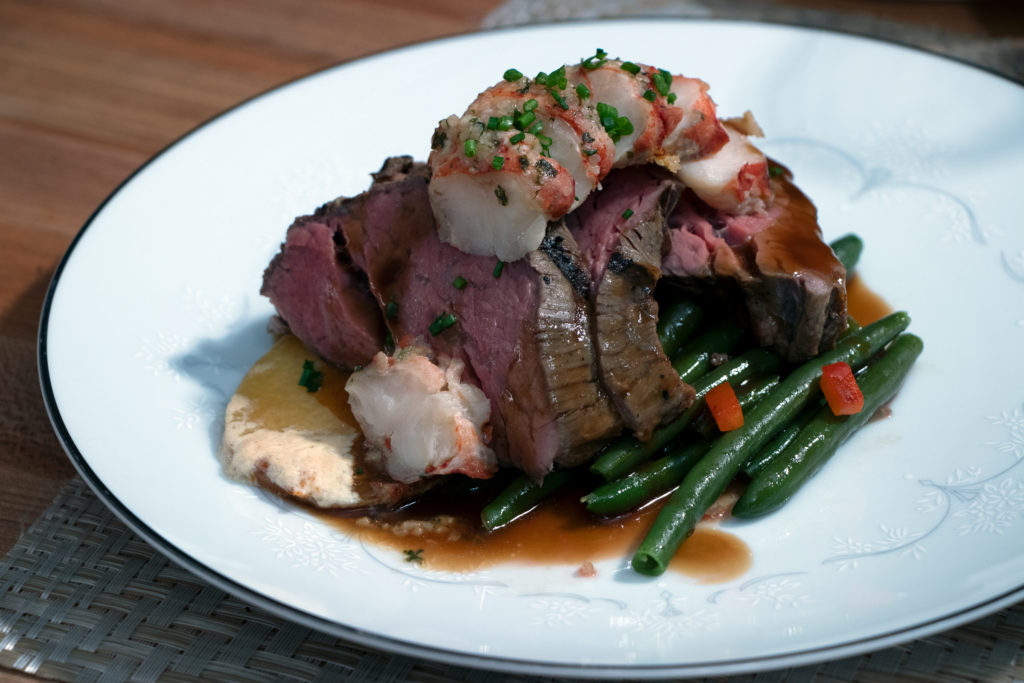 Overall, this multi-course dinner for two is simple and easy to serve for the BOH (Back of the House). It's equally impressive for the dining couple – a win-win. Date night is back. And it's a win for your operation.