Like so many of our favorite culinary treats, King Cakes hail from New Orleans. The tradition came with French immigrants. King Cakes first appeared in the Big Easy in the late 19th century.
The name "King Cake" refers to the Magi, the three kings of the Nativity story. As such the cakes usually enter the scene on Epiphany (January 6), the day on the Christian calendar when the Magi were introduced to the Christ child. Consequently, the cakes are enjoyed through Carnival, up until Mardi Gras, the day before Ash Wednesday.
Traditionally, a small baby figure is baked into the cake to signify the baby Jesus (although in our cake, we used a pink candy ball). The colors of the cake – purple, green, and gold, are quite symbolic. Purple signifies justice. Green symbolizes faith. Gold indicates power.
King Cakes are a staple of Mardi Gras parties. The lucky person who finds the baby Jesus in their slice becomes the king of the party and is obliged to purchase the cake for the next celebration.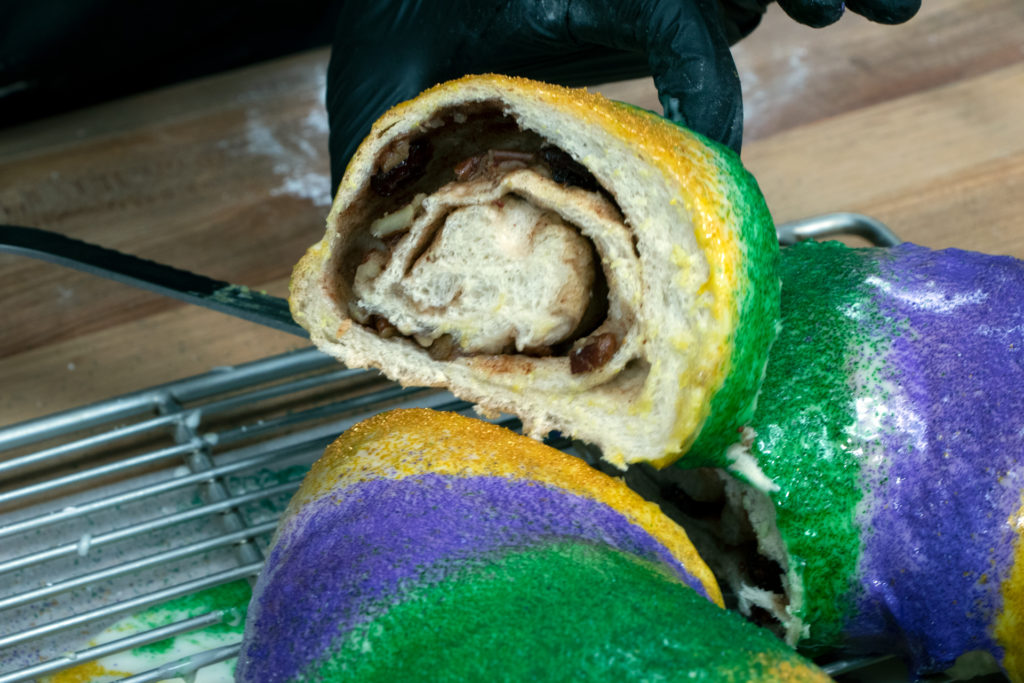 With Lent approaching, we wanted to celebrate the season by showcasing the excellent baking capabilities of CVap ovens.
King Cake Settings:
Proof Program:  RTV705: Vapor 100°F/Air 103°F
Bake Program:  RTV705: Vapor 200°F/Air 350°F
King Cake – The Process:
Although making the cake from scratch is completely fine, we took a shortcut and used a prepared white dough from Rich's Products. They are individually quick frozen. However, we slacked them rapidly in the RTV with the Proof program.
First, roll the dough roughly into a rectangular shape and slather with butter. Next, sprinkle with copious amounts of cinnamon sugar. Finally, stud with Amaretto plumped craisins and chopped pecans.
Roll up the rectangle along the long side, pressing and pinching the seam to create a more seamless roll., If you're going for a fully-traditional King Cake, don't forget to add the baby Jesus (or trinket, or bean, or almond, or whatever suits you) before you completely seal it up. Critically, make sure that your guests are aware of the presence of this surprise inside the cake. You don't want someone choking or chipping a tooth on an unexpected baby.
Transfer to a parchment-lined baking sheet and shape into the traditional round ring, pinching the two ends together.
Proof until doubled in size.
Bake until internal temperature reaches a minimum of 185-190°F. We pulled ours out at 200°F. This took about 30-35 minutes.
Allow cooling BEFORE decorating. Otherwise, the icing will melt off.
Pour royal icing onto the cooled King Cake (if you need a quick refresher on icing, you'll find an easy recipe in this blog).
Sprinkle with colored sugars: purple, gold, and green.
The results were beautiful cakes worthy of the Carnival season. It was fit for a king! Joyeux mardi gras, y'all!