Unique to Georgia is Their School Nutrition Association's Equipment Academy
As school nutrition professionals, it's important for us to stay on top of the trends, standards, and challenges that affect school nutrition. The Georgia School Nutrition Association's Equipment Academy is one of our GO-TO sources!
The Equipment Academy is unique to Georgia. It takes place in Perry, Georgia during non-NAFEM years. The Equipment Academy like a scaled-downed NAFEM Show with a school foodservice focus. Five equipment dealers are chosen to lead classrooms, and manufacturer's representatives (similar to brokers) are there to represent the relevant factories. Operators come from all over Georgia to see what innovations they might bring to their districts. These can range from temperature management systems to precision ovens, like Winston's CVap Cook and Hold Oven, shown here in the CITISCO dealer booth.
The Academy offers two and a half days of intense learning. Making school cafeteria programs more efficient is the goal.
Pictured below (left) are Candice Sisson and Emily Hanlin, School Nutrition Directors in Fannin and Douglas Counties, respectively.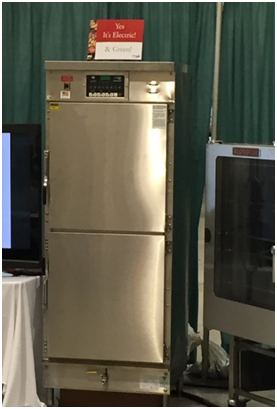 Pictured above (center) is Winston's Southern US Regional, Corey Ainsworth. This was his first Equipment Academy, and he loved it!
I love to take a selfies with people I've worked with for a while. This is James Camacho of Camacho and Associates. James' design consultancy builds awesome schools and does great remodels. He came to the Equipment Academy to teach a class on equipment specification for school kitchens. It was great to have him there.
The Equipment Academy would be extremely beneficial for any School Nutrition Association.
Learn more about the complete line of CVap products.