When the weather turns cool, my thoughts turn to soups, stews, and broths. Clearly, a piping hot bowl of Vietnamese Pho Soup is the best way to take the chill off your bones. Can CVap make a good stock or broth? Of course, the answer is a resounding yes! Over the years I've made great beef, pork, and poultry stocks. I've made Tonkotsu ramen broth out of mountain ham bones. One of my favorite broth-based dishes to make (and eat) is Pho. Pho is a traditional Vietnamese noodle dish with fragrant and aromatic broth. No matter which broth is your favorite, the basic method detailed in this recipe creates a beautiful result. No worries about scorching with CVap – just enjoy this wonderful broth!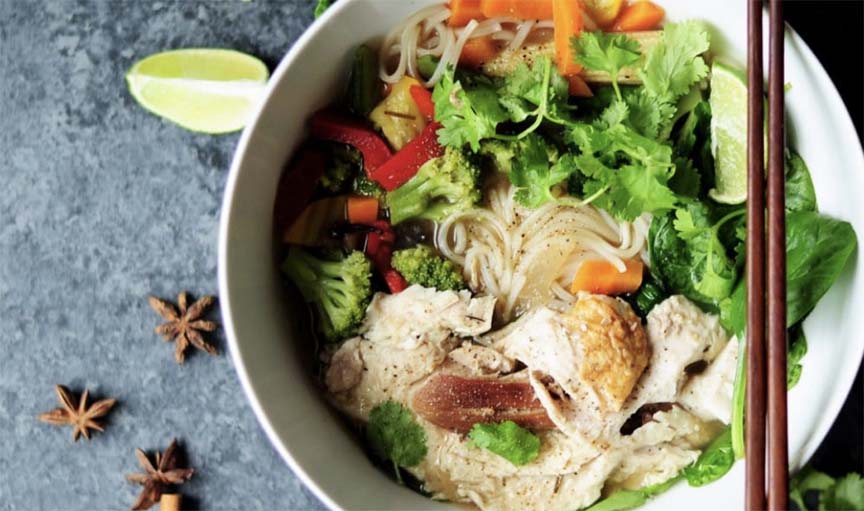 Recipe yields 10 servings of Vietnamese Pho Soup
4 kilograms assorted beef, pork neck and poultry back bones (charred bones in CVap Cook and Hold Oven 150°F food temp, 10 level browning (new CVap 150°F Vapor Temp/350°F Air Temp) for 2 hours)
4 onions
6 carrots (rough cut into large pieces)
7 stalks of celery (rough cut into large pieces)
6 pods star anise
85 grams of sliced fresh ginger
45 grams garlic cloves (smashed)
21 grams kosher salt
32 grams fish sauce (I prefer Red Boat fish sauce 40N )
10 liters of cold water
3 (8oz.) packages dried noodles
1.5 kg top sirloin (thinly sliced)
2 bunches of cilantro (stemmed and roughly chopped)
2 bunches of scallions (roughly chopped)
3 cups bean sprouts
2 bunches of Thai basil
Limes, cut into 4 wedges
Bourbon Barrel Soy to taste
Preheat CVap Cook and Hold Oven to 150°F food temperature and 10 level browning (new CVap 150°F Vapor Temp/350°F Air Temp).
Place bones in a 6" deep full-size hotel pan. Roast in the oven until browned, about two hours.
Place onion on char broiler and grill until blackened and soft, about 15 minutes.
Add charred onion, carrots, celery, ginger, garlic, salt, star anise, and fish sauce in the pan with roasted bones and cover with eight liters of cold water. Next, place pan in CVap oven set to 190°F food temperature and browning level 3 (new CVap 190°F Vapor Temp/220°F Air Temp). Simmer for a minimum of 12 hours. Strain the broth into a clean hotel pan and place it back into the CVap oven until you are ready to serve.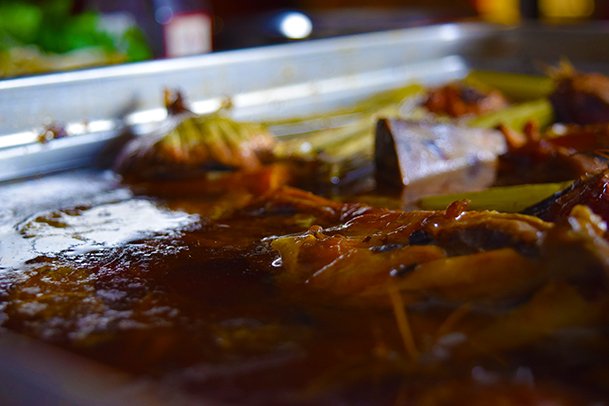 Place rice noodles in a large bowl filled with room-temperature water and allow to soak for one hour. Bring a large pot of water to a boil. Place the soaked noodles in the boiling water for one minute.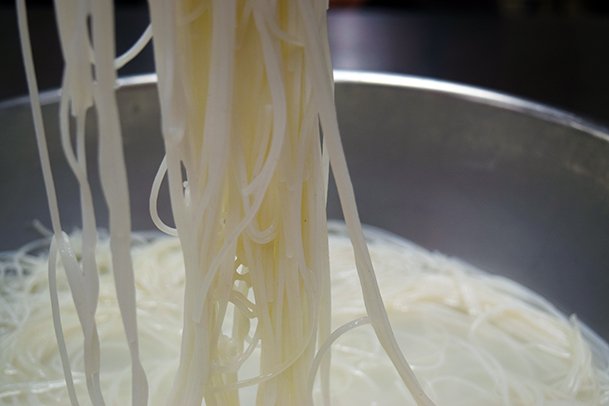 Divide noodles among ten serving bowls> Top with sirloin, cilantro, and scallions. Pour hot broth over the top. Stir and let sit until the beef is partially cooked and no longer pink, 1 to 2 minutes. Serve with bean sprouts, Thai basil, lime wedges, BBF soy sauce, and Ed Lee Chile-Garlic sauce on the side.