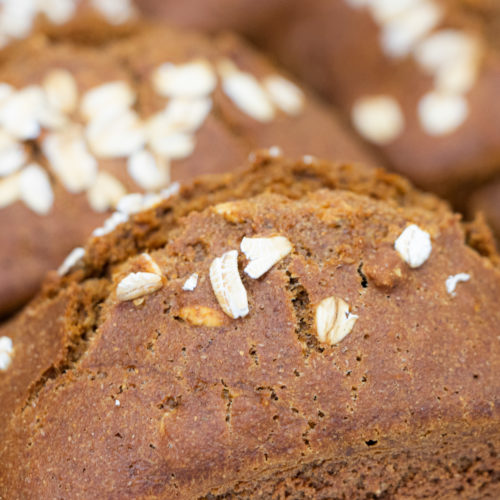 In a recent Winston blog, we prepared a full Irish breakfast. One of the key ingredients of that breakfast was Guinness Brown Bread. We thought this wonderful, dark bread deserved an entry of its own. We based it on a lovely recipe found on Good Food Ireland's website.
This recipe takes a few liberties with the traditional Irish soda bread. One might think of brown bread as soda bread's denser cousin. The original soda bread had just four ingredients: flour, salt, baking soda, and buttermilk. That basic recipe stems from the 1830s when much of Ireland was facing a serious famine. For many poor families, there would have been meals that consisted of only this bread. It kept them alive.
Soda bread also had the advantage of not requiring an oven to bake. It could be cooked in iron pots, or even directly on a stone over the fire. Yeast would have been hard to come but, not to mention expensive. Rather than using yeast for leavening, soda bread uses the chemical reaction between the baking soda and the acid in the buttermilk to leaven the dough. This works well with the soft wheat grown in Ireland.
Brown Bread vs Soda Bread
Guinness Brown Bread shares the same roots as soda bread. The key difference is the flour used. Irish soda bread is slightly sweet, (think scones). It uses white flour, which gives it a milder flavor. It's a perfect snack or accompaniment to a hot cup of tea or coffee. On the other hand, brown bread has a nutty flavor that comes from the combination of Irish wholemeal flour and oats. It should be sliced think, and enjoyed with a schmear of Irish butter.
As is the case with any standard recipe, the standard baking settings needed a bit of modification for the CVap® ovens. We also needed to tweak the ingredients just a bit, since some ingredients aren't easy to come by here in the U.S.
Ingredients (for one loaf)
600g Wholemeal Flour (we substituted Whole Wheat Flour)
150g Plain Flour (we substituted All-Purpose Flour)
75g Oatmeal
2 and 1/2 Teaspoons Baking Soda
1 Teaspoon Salt
2-1/2 Tablespoons Brown Sugar
40g Butter
480ml Whole Milk
200ml Black Treacle (we substituted Molasses)
½ Pint Guinness® Draught Stout
Mix butter with the dry ingredients until the dough develops the consistency of breadcrumbs.
Add the milk, molasses, and the Guinness draught.
Mix until you reach a wet dough.
Preheat CHV/RTV-05 oven
Vapor Cook– 200°F
Air Cook– 350°F
Cook Time – 1 Hour
Portion the dough into standard greased loaf pans. Garnish with a few oats.
Bake for approximately 45-50 minutes, or until done.
To speed the bake time, we portioned our dough into mini loaves. This shortened the bake time to about 25 minutes. We also prepared a batch of muffins, which only took about 20 minutes to cook thoroughly. To make this a perfect addition to the meal, we served the warm bread with Kerrygold Irish Butter.
In case you're curious, there is a difference between Irish butter and the butter we're used to here in the U.S. It turns out, Irish cows live a pretty good life. They feed exclusively on the lush green grass of the Emerald Isle. As a result, the butter they produce is higher in nutrients like beta carotene and is a little higher in fat content. Although the fat is only slightly higher, it is a difference you can taste. In addition, that fat keeps the Irish butter-soft, so it's much easier to spread without tearing the bread. We highly recommend that you splurge on Irish butter. It will make this dark bread that much more delicious.
Of course, the Guinness draught speaks for itself. It's a wonderful, dark, creamy stout. We highly recommend it.