CVap Retherm Ovens and Cook and Hold Ovens feature an automatic hold. When the cook cycle is complete, the ovens transition to hold mode, maintaining food at the desired doneness level until you're ready to serve it. It's like an extra hand in the kitchen. Save labor – no more babysitting your oven.
Save space by cooking and holding in the same footprint. CVap keeps food hot and safe. 
Can You Do Roast Beef in a CVap® Oven?
A restaurant owner approached us wanting to know if he could cook roast beef in a CVap® oven. His goals were simple, he wanted to improve the quality and yield of his roast beef for his establishment's sandwiches.
Our answer is, OF COURSE YOU CAN!
Starting with their pre-seasoned roast (super-secret wet spice rub in the pictures below) he wanted the end result to be a medium cooked slab of protein (although we're bigger fans of medium rare). The test was conducted in a CHV5-05UV Cook & Hold Oven.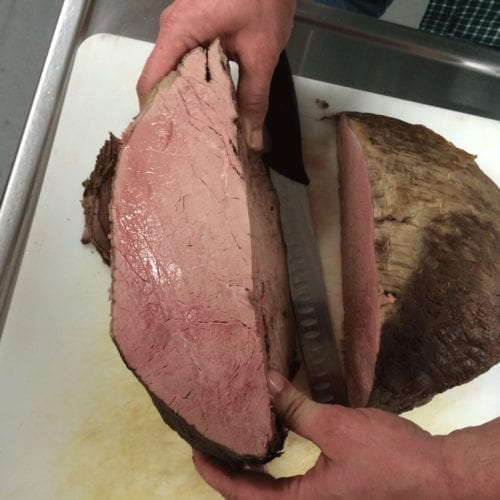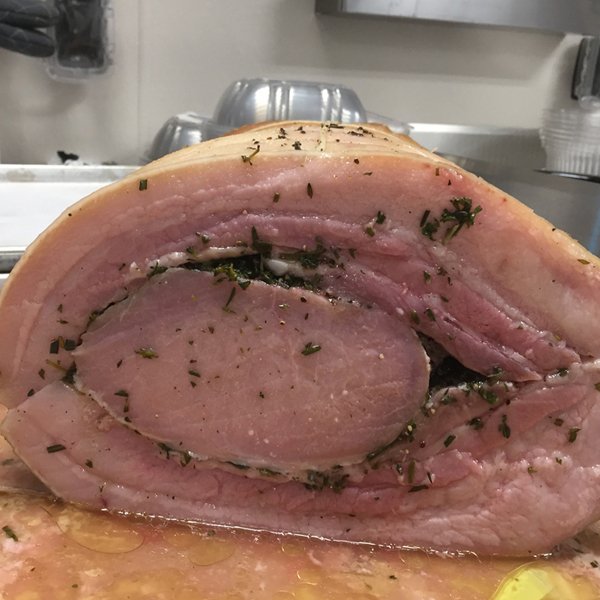 Prepare in the PM for Perfect Porchetta
If you're not using your CVap® oven overnight – why not? You can be productive 24 hours a day with CVap.
Inserra Shop Rite Supermarkets, one of my valued customers, uses CVap Cook & Hold Ovens in three of their locations. Executive Chef Paulie Velletutti takes full advantage of their stacked pair of CVap Cook & Holds, producing a variety of dishes for their prepared foods section. He also roasts deli meats in the CVap, increasing yield and maximizing profits (who doesn't want versatility and extra profit?).