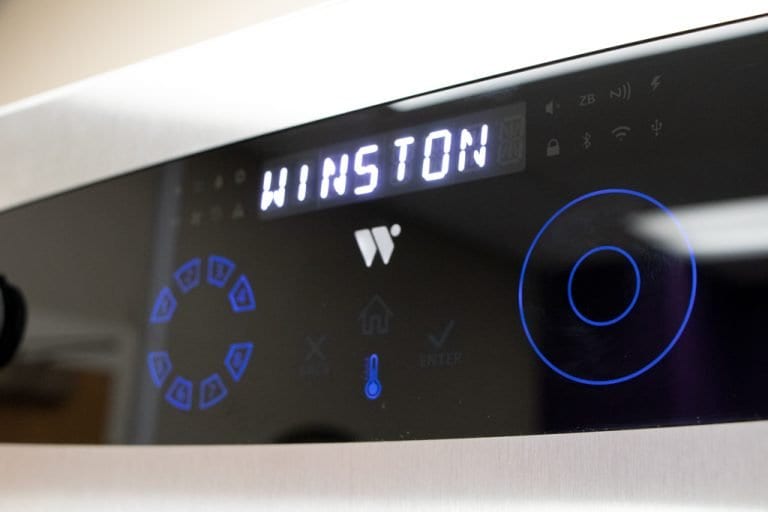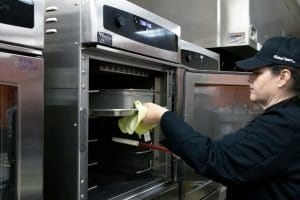 We often brag about the versatility of CVap® equipment. But any kitchen professional will tell you, a kitchen tool that only does one thing really isn't very useful. CVap ovens are the kitchen equivalent of a Swiss Army Knife. Sure, CVap ovens can bake and roast. But they can also braise, stage, retherm, steam, poach, even sous vide and confit. CVap ovens can also function as holding cabinets (warming cabinets), saving valuable floor space. Likewise, eliminating the need to transfer product from an oven to a holding cabinet saves labor. CVap simply excels at multitasking.
CVap Multitasking Helps Your Everyday Prep
Delayed Start – Get your equipment pre-heated and ready to roll the moment your crew clocks in. CVap equipment can be set to preheat up to 24 hours in advance. When your crew arrives, CVap will be hot and ready.
Overnight Cook – The overnight cook feature is particularly useful for large proteins. It works while you're not working. Simply load the ovens in the evening. Food will be perfectly cooked and ready to serve in the morning. Because CVap ovens automatically transition to hold mode at the end of a cook cycle, it won't matter if the cook cycle concludes in the middle of the night. CVap maintains food at just-cooked quality for hours. Our school customers have frequently mentioned how much they appreciate this feature at Thanksgiving. Perfectly-cooked turkeys are ready when they arrive in the morning, ready for their students' special holiday meal.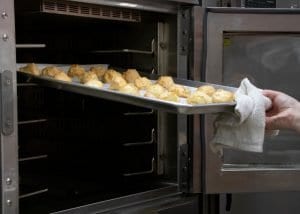 It's All in the Programming
Programmed Channels – CVap Series 7 and 5 equipment feature eight pre-programmed channels, covering the most popular settings. Need custom settings for your operation? No problem! All eight channels can be reprogrammed via the control board, an Android device (Series 7), or a desktop app (Series 7 and 5). And the settings can be locked, eliminating the hassle of someone playing with the controls and messing up the day's menu.
Righteous Retherming
Slacked or Frozen, CVap Can Handle It – If your operation serves lots of slacked or frozen foods, CVap Retherm Ovens retherm quickly and safely. They're ideal for schools, healthcare, hospitality, concessions, ghost kitchens, commissaries, or satellite feeding sites – anywhere that serves a lot of food in a short amount of time.
Staging for Success
Staging – Staging involves par-cooking food to reduce the serving time. CVap ovens are unrivaled at staging. Food can be cooked to a precise temperature just below doneness, then quickly finished and served. Imagine holding an oven full of steaks or burgers at 135°F. As orders come in, food goes from the oven to the pan or grill for finishing. In less than five minutes, your patron has a perfectly-cooked, tantalizing meal.
Multitasking Helps You Save Time
You can literally turn tables three times faster by staging instead of starting from scratch. It's another example of how multitasking with your CVap equipment helps streamline your kitchen operations.