Ah, chocolate. It's one of life's great pleasures. The variety of ways it can be prepared is impressive. We wanted to show off our CVap oven's bathless baking capabilities.
This recipe is inspired by one published in the New York Times. It's delectable, with a deep, rich, complex chocolate flavor. By the way, "Pots de crème" is the fancy French term for "pots of cream."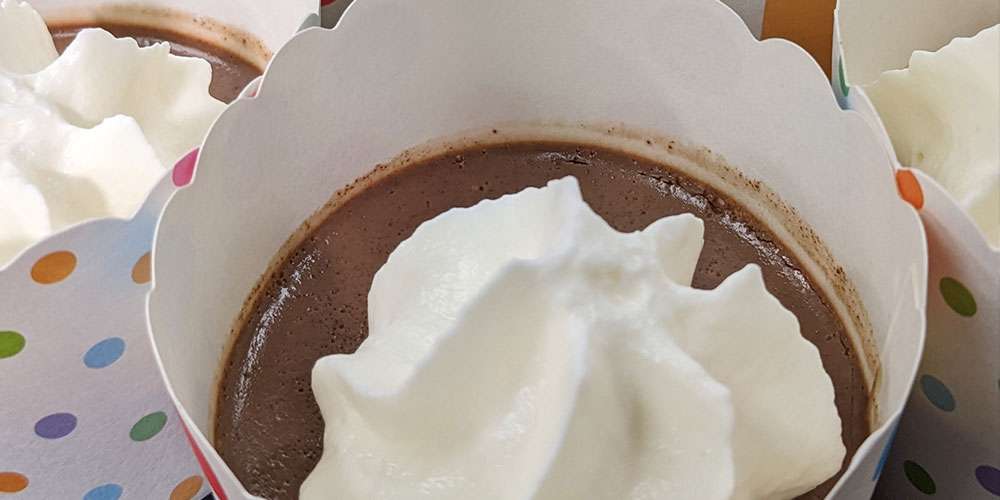 This recipe makes six servings. But you can easily scale up to take advantage of the capacity offered by CVap ovens.
2 Cups Heavy Cream
½ Cup Whole Milk
5 oz. Bittersweet or Semisweet Chocolate (chopped)
6 Large Egg Yolks
⅓ Cup Sugar
Vapor Cook Temp: 200°
Air Cook Temp: 200°F
Cook Time: 30 to 45 minutes
Preheat oven to 200°F. Bring the heavy cream and whole milk to a gentle simmer in a medium-heavy saucepan over medium heat. Remove from heat and the chocolate. Whisk until the chocolate is melted and the mixture is smooth.
Whisk egg yolks and sugar in a large bowl to blend. Whisking constantly, gradually pour the hot cream mixture into the yolk-sugar mixture. Continue whisking until the custard is smooth. Strain the custard through a fine-mesh sieve into a medium bowl. Allow to cool for ten minutes, skimming any foam from the surface.
Divide the custard evenly into grease-resistant paper cups or standard ramekins on a perforated sheet or hotel pan.
This is where the CVap prep differs from the conventional recipe. Traditionally, the ramekins are placed in a water bath in a large baking dish. But CVap utilizes heated water vapor as the thermal transfer medium, so the water bath isn't needed. CVap cooks at 200°F, much lower than the traditional 325°F in a conventional oven. As a result, the bake is gentler and coaxes more flavor from the chocolate.
Transfer pans to the CVap oven. Press start. Bake custards until set (but still jiggly in the centers when gently shaken), 45 to 50 minutes. Carefully transfer custards to a wire rack and allow them to cool to room temperature before refrigerating.
Serve once completely cooled.
Top with whipped cream, and enjoy!