Read all parts in this series: Part One | Part Three | Part Four
Vibiana, home to Redbird, is large facility made smaller by CVap®'s mobility.
Imagine being an independent restaurant owner whose business shares the same location as a large luxury event space. That's Chef Neal Fraser's reality and he loves it. His restaurant, Redbird, occupies the former rectory building at Vibiana, a cathedral repurposed for parties.
But here's the challenge: The event space spans 35,000 square feet indoors and 3,000 square feet outdoors. Moving food across the entire building in mere hot boxes would be difficult under the best of circumstances. But Fraser says CVaps' mobility not only solve that problem, they go a step further by enabling cooking at the point of service.
"If we couldn't roll CVaps where we wanted to, I'm not sure how well we could do as many parties as we do," Fraser says. "That I can roll it to a party and utilize it really well is one of the best things about it."
Since CVaps are electric, they can be plugged in wherever proper outlets exist.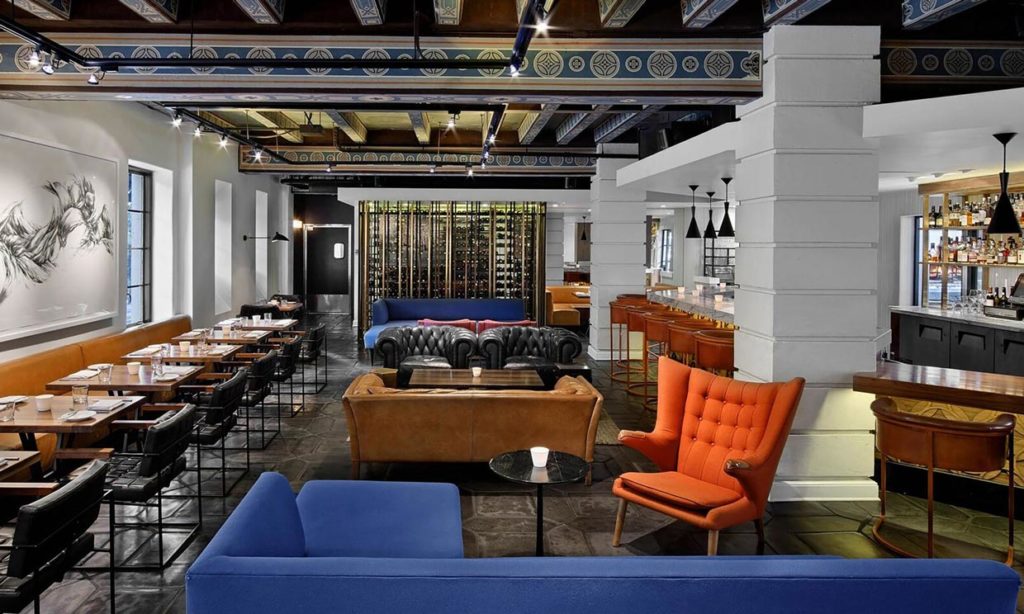 Moving CVaps into the event space creates another benefit: more kitchen space.
"We have two small kitchens at Redbird, which makes things tight," Fraser said. "We need all the room we can get."
Plating at the Point of Service
For smaller parties, Redbird has six private dining rooms near which a CVap can be placed. A good example is how Fraser sears large cuts of meat, such as porterhouse steaks, finishes them in CVap, then holds the meat at serving temperature for as long as two hours. At the right time, they're right there and ready for plate-up.
"We're more or less … serving it" where guests are, he says. "It takes a lot of legwork out of the picture."
Since the plate-up process happens near the private dining room, servers don't have to enter the kitchen, tray-up plates, and carry them. Kitchen entry and exit choke points disappear, along with pressure on the kitchen staff. Food warmth lost in the transition from kitchen to dining room is also eliminated.
Fraser says a good number of smaller parties do family style service using platters of food. Service becomes even simpler using this tactic.
In that scenario, "a party of 20 will get, say, five salads, five orders of scallops, five shishito peppers, five porterhouses, etc.," Fraser begins. Then all is staff has to do is "pull the food out of the CVap, put it on a platter and serve it. Doing that, we can have two people execute a party for 40 with no problem."
Appetizers for Larger Parties
For larger parties where hors d'oeuvres are passed, Fraser has learned which appetizers can be assembled fully, held in CVap and served straight from the oven. The beef slider is one example of an item whose labor intensity would be nearly impossible to serve to large parties—unless CVap is involved.
"For tray-passed hors d'oeuvres, the most elaborate dish we have to play with is a slider," says Fraser, noting his are made with a burger patty, cheese, arugula, aioli and a bun. "You can't assemble to order 600 sliders and make people happy. But we can pre-build and hold them at 140°F for an hour without the arugula wilting."
He says the trick to serving each slider in peak form is ensuring the patty is hot. Done perfectly, his sliders hold well for up to 90 minutes.
Fraser says that Redbird doesn't serve much fried food, but fried black bass holds perfectly for as long as 20 minutes.
"When you play around with these things as much as we do, you find what works and what doesn't," he says. "We've got a good handle on what works now."
Next week Neal talks about the "goof proof" precision of CVap.