You may have seen Chef Neal Fraser on "Top Chef Masters," "Hell's Kitchen," or "Iron Chef America." But Vibiana, a large Los Angeles event space that houses his restaurant Redbird is where his skills really shine. He taps into the versatility of CVap ovens to feed thousands of guests every year.
Ask chef Neil Fraser how many restaurants he's owned and operated and he answers tellingly: "I've had many, but I've closed most of them to make room for this space."
Vibiana
The "space" is Vibiana, a former downtown Los Angeles cathedral turned into an events space. The cathedral was named after St. Vibiana, the Catholic patron saint of nobodies. But within the 35,000-square-foot facility, which includes a 3,000-square-foot outdoor garden, Fraser and his wife, Amy Knoll Fraser, cater to the bustling city's somebodies.
The Frasers execute more than 100 large events annually using the cathedral's historic rooms and buildings. Another 400-plus smaller events are held in the private dining rooms of Redbird, the restaurant nestled within the cathedral's rectory building. There, dinner is served nightly and brunch on weekends in its 140-seat main dining room.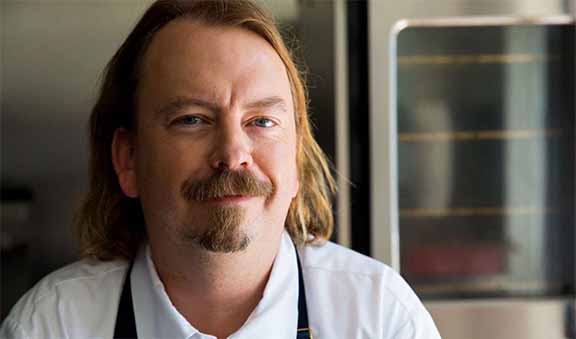 [Neal Fraser]
"
It's complex, and there's a lot going on all the time. You've got to be organized, and you have to understand how to cook on a large scale.
" Fraser's success can be credited, at least in part, to the tutelage of several famed A- list chefs. At Eureka and Spago he worked under 
Wolfgang Puck
. Likewise, at Checkers Hotel
Thomas Keller
 was his boss. Pinot Bistro had 
Joachim Splichal
 calling the shots. And Chef 
Hans Rockenwagner
 mentored him at Rox. Out on his own, he and Amy (who runs the front of the house) operated two Los Angeles hotspots, Grace and BLD. Fraser describes Redbird's cuisine as "loosely American" and "a kind of Los Angeles cuisine."
[Neal Fraser]
"
To me that means finer ingredients that stay true to the flavors and cultures that influence Los Angeles, which is a lot of them. We have Mexican restaurants, Thai restaurants, Indian, Chinese and Taiwanese restaurants, and we're influenced by all those cultures.
"
Complexity simplified
Fraser's first encounter with a CVap oven was in a 
John Besh
 restaurant in New Orleans. A fan of high-tech cooking equipment, Fraser had never seen a CVap before. He asked what it was. As the friend described it, Fraser became intrigued.
In addition to meals served in his restaurants, Fraser was (and still is) a caterer of large off-premise events, and CVap, as the friend described, excelled at cooking versatility, and at producing food at scale and to a high degree of consistency.
[Neal Fraser] "Consistency is incredibly important to us because we do so many parties. We've learned to nail that part down with CVap. It's the workhorse in our kitchens."
Several years ago, when the Frasers co-founded Beefsteak, an annual event beef-centric feast benefitting Share Our Strength, Neal's battery of CVaps more than proved their worth.
[Neal Fraser] "For Beefsteak, we cook 650 pounds of filet of beef for 600 patrons. Sear off all of it and put it in CVap to finish and hold it. When it's time to serve, we're slicing perfectly medium-rare beef for 600 people in 25 minutes. And that's only one way we use it."
Vibiana, home to Redbird, is large facility made smaller by CVap's mobility.
Imagine being an independent restaurant owner whose business shares the same location as a large luxury event space. That's Chef Neal Fraser's reality and he loves it. His restaurant, Redbird, occupies the former rectory building at Vibiana, a cathedral repurposed for parties.
But here's the challenge: The event space spans 35,000 square feet indoors and 3,000 square feet outdoors. Moving food across the entire building in mere hot boxes would be difficult under the best of circumstances. But Fraser says CVaps' mobility not only solve that problem, they go a step further by enabling cooking at the point of service.
"If we couldn't roll CVaps where we wanted to, I'm not sure how well we could do as many parties as we do. That I can roll it to a party and utilize it really well is one of the best things about it."
Since CVaps are electric, they can be plugged in wherever proper outlets exist.
Plating at the Point of Service
Moving CVaps into the event space creates another benefit: more kitchen space.
[Neal Fraser] "We have two small kitchens at Redbird, which makes things tight. We need all the room we can get."
For smaller parties, Redbird has six private dining rooms near which a CVap can be placed. A good example is how Fraser sears large cuts of meat, such as porterhouse steaks, finishes them in CVap, then holds the meat at serving temperature for as long as two hours. At the right time, they're right there and ready for plate-up.
[Neal Fraser] "We're more or less…serving it where guests are. It takes a lot of legwork out of the picture."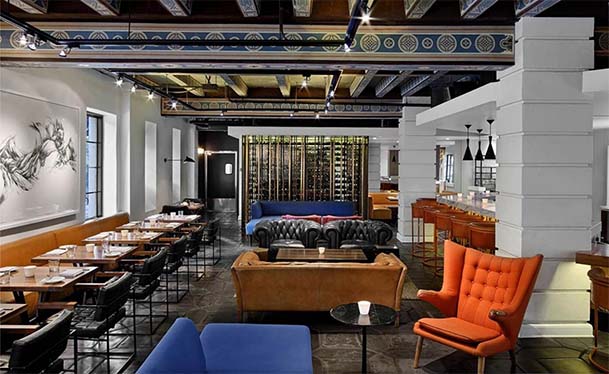 Since the plate-up process happens near the private dining room, servers don't have to enter the kitchen, tray-up plates, and carry them. Kitchen entry and exit choke points disappear, along with pressure on the kitchen staff. Food warmth lost in the transition from kitchen to dining room is also eliminated.
Fraser says a good number of smaller parties do family-style service using platters of food. Service becomes even simpler using this tactic.
[Neil Fraser] "A party of 20 will get, say, five salads, five orders of scallops, five shishito peppers, five porterhouses, etc. Then all is staff has to do is pull the food out of the CVap, put it on a platter, and serve it. Doing that, we can have two people execute a party for 40 with no problem."
Appetizers for Larger Parties
For larger parties where hors d'oeuvres are passed, Fraser has learned which appetizers can be assembled fully, held in CVap and served straight from the oven. The beef slider is one example of an item whose labor intensity would be nearly impossible to serve to large parties—unless CVap is involved.
[Neal Fraser] "For tray-passed hors d'oeuvres, the most elaborate dish we have to play with is a slider. Ours are made with a burger patty, cheese, arugula, aioli, and a bun. You can't assemble to order 600 sliders and make people happy. But we can pre-build and hold them at 140°F for an hour without the arugula wilting."
He says the trick to serving each slider in peak form is ensuring the patty is hot. Done perfectly, his sliders hold well for up to 90 minutes.
Fraser says that Redbird doesn't serve much fried food, but fried black bass holds perfectly for as long as 20 minutes.
[Neal Fraser] "When you play around with these things as much as we do, you find what works and what doesn't. We've got a good handle on what works now."
Fraser says CVap's versatility provides uses well beyond just cooking and holding.
Several years ago Amy Knoll Fraser and a group of friends co-founded Beefsteak, an annual event benefiting the Los Angeles Food Bank. As co-owner of Redbird, she enlisted her husband Neal to create a beefsteak dinner in which sliced tenderloin is served by the platter and eaten without utensils. The bacchanalia would be for 600 people: no small feat for any restaurant staff.
With CVap, however, something so large is possible with so little, says Fraser. During the annual Beefsteak fundraiser, 650 pounds of seared beef tenderloin is cooked, finished, and held in three full-size CVap units for an extended period.
[Neal Fraser] "That allows us to serve perfectly cooked, medium-rare beef to 600 people in 25 minutes."
A total of eight CVaps are used at Redbird, ranging from full-size cook and hold ovens to warming drawers. A longtime CVap user, Fraser has experimented with multiple iterations of the oven to see which works best with the restaurant's wide range of items. Sometimes the task is complex; other times remarkably simple.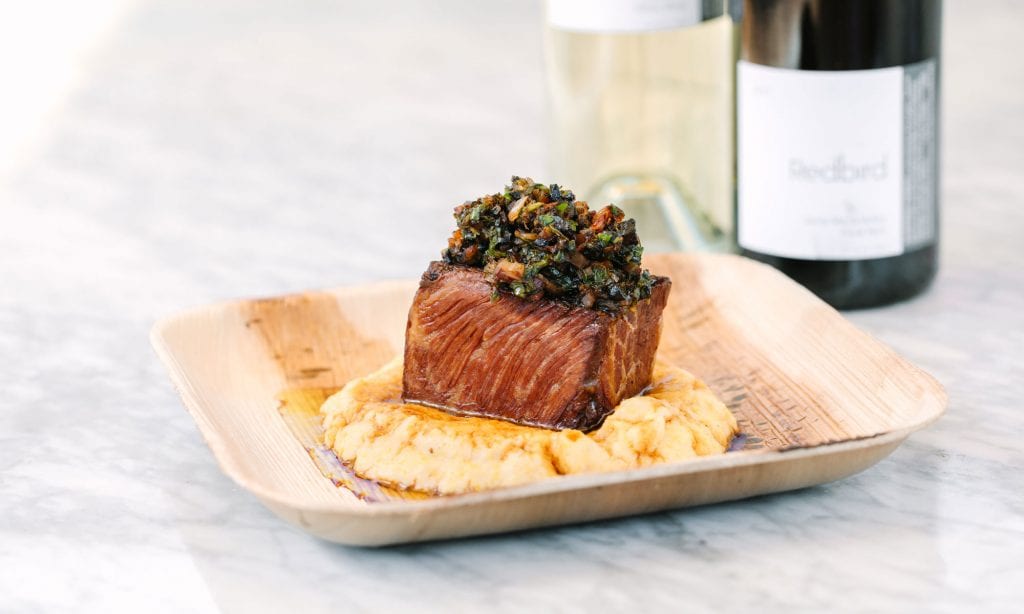 Take the Dummy Work Out of It
[Neal Fraser] "In the past, every time we had a sauce for dish, we'd have to heat it to order and risk it getting burned or reduced too much or splashed everywhere. Now we take deli cups, which won't melt in the CVap, fill them with the sauce and hold them at 150°F all night long. When we need them, the consistency is perfect, out of the danger zone and ready to use."
Experimentation and practice with CVap settings are essential to perfecting items made using it, Fraser says. Learning to cook lamb bellies and pork shoulders at 140°F and 1 for 24 hours, and then holding them for service, simplified the production of both and increased their quality and consistency.
[Neal Fraser] "It's not hard to learn to cook with it, honestly, because a lot of that information is out there in owner's manuals and online videos."
Fraser adds that when a culinary team learns the crucial relationship between the oven's evaporator temperature, dry heat temperature, and total cooking time, all that knowledge comes together to "take the dummy work out of it."
[Neal Fraser] "The things we used to put a lot of effort into to make a dish perfect, we don't have to do those anymore because of how we use CVap."
Though he does use some immersion circulators for actual sous-vide cooking at Redbird, he prefers cooking vacuum-sealed items in CVap due to its remarkable temperature accuracy.
[Neal Fraser] "A CVap is much more accurate on temperature than a $400 immersion circulator with a heating element stuck in a pot of water. I want to know the food we're making is safe, and CVap can be trusted with that."
Fraser is working to finalize a HACCP protocol for all production at Redbird.
Redbird Reduces Labor with CVap
The nationwide kitchen labor shortage is an ongoing problem with no end in sight. Equally problematic to profits are wage increases demanded by cooks who are well aware they're in high demand. To address both challenges, Chef Fraser is turning to kitchen technology that reduces labor needs and increases food consistency. And with each investment he makes, he says the result is ever-improved food quality. Working alongside the eight CVap units at Redbird are four combi ovens that perform a wide range of functions. The upfront expense required to buy so many ovens is steep, Fraser allows, but he says they pay for themselves reasonably quickly through reductions in labor cost and food waste.
[Neal Fraser] "Think about paying $15 an hour in L.A. That's $30,000 a year going to one cook. But if I buy a piece of equipment for $40,000, it pays for itself in one-and-a-half years by reducing labor. There's lots to be said about the relationship between cooking technology and labor."
Fraser says that one-way CVap achieves that aim is with easy programmability that reduces human error. He compares CVap cooking to aiming at an easy-to-hit target.
[Neal Fraser] "If you're cooking at 500°F in a convection oven, that bull's-eye is the size of a quarter and very hard to hit because there's so much room for error at that temperature. But if you're cooking at 140°F in a CVap, the bull's-eye is about the size of a wall and a lot easier to hit."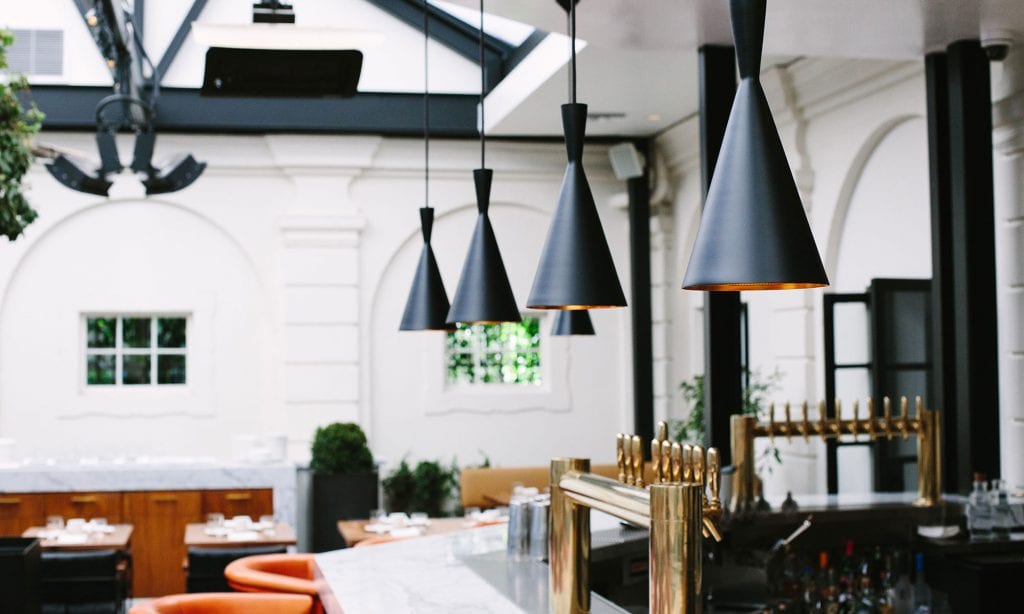 When asked if better training of chefs and cooks can just as easily increase the size of the bull's-eye, Fraser says yes, but only to a small degree.
[Neal Fraser] "Imagine a really talented cook or chef being like Wyatt Earp with a gun. Wyatt Earp can hit a quarter every time, but not a lot of others can consistently. CVap widens the bull's-eye so that anyone can hit it."
Temperature-targeted Cooking
About 80 percent of the proteins the Redbird staff cooks in CVap start off in vacuum-sealed bags. The oven's use of water vapor to heat food creates a moisture-rich environment that simulates sous vide cooking but without immersion in water. Fraser says this is particularly effective for proteins that are seared and deglazed with liquids before bagging.
[Neal Fraser] "We do a lot of short ribs like that: seared, deglazed with red wine and veal stock, braised some, then bagged in 6-ounce portions and cooked at a low temperature. The added moisture in the bag further braises the protein. Depending on the desired finished product, we'll rethermalize them in the bag, or, at other times, we finish them (without bags) in a hotel pan."
For Redbird's busy weekend brunch, Fraser combines combi oven and CVap technology to cook what's commonly called the "62°C egg." To achieve the silken texture balance of a semi-firm white and a warm, liquid yolk, eggs are cooked in the shell at 62°C (144°F) for 40 minutes in the combi oven. Once finished, they're cracked into small cups and held in CVap, ready for service.
[Neal Fraser] "They hold perfectly (in CVap) like that, and they're ready to pour on top of the finished item at pick up. It's a lot easier to have them in the cups than it is trying to crack an egg and pour it on top of the dish."
Fraser says seafood cooking is where CVap excels because of its ability to cook at unusually low temperatures. The flesh of tuna will begin firming at temps as low as 105°F, and the texture of salmon is amazing when cooked for just ten minutes at 118°F. He says that placing fish and olive oil in a vacuum-sealed bag is ideal
[Neal Fraser] "When you cook at lower temperatures, the texture is like poached fish."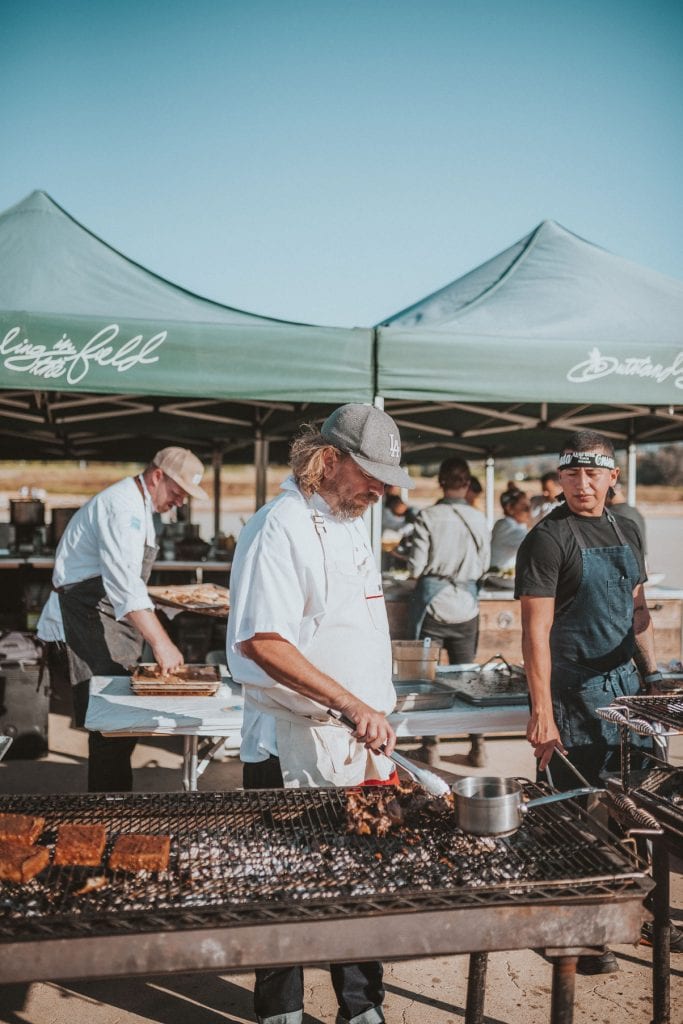 Fraser also cooks skate in CVap, first by cleaning it and placing layers of it on a small sheet pan. Next, he vacuum-seals the fish still on the pan and cooks it. He says the result is "like a skate loaf," since the fish's thin wings are layered to a modest thickness.
[Neal Fraser] "Once it's cooked for 15 minutes, I throw the whole thing in ice (to shock it), and then we portion and sauté it to order. You can't do that with any other oven."
Chef Fraser's Favorite CVap Settings
Porterhouse Steaks (holding), 120°F and 1 (new CVap 120°F Vapor Temp/125°F Air Temp)
Braising Lamb Belly or Short Ribs, 140°F and 1 (new CVap 140°F Vapor Temp/145°F Air Tempo)
Pork Shoulder, 150°F and 1 (new CVap 150°F Vapor Temp/155°F Air Temp)
Custards, 180°F and 1 (new CVap 180°F Vapor Temp/185°F Air Temp) for about 45 minutes
Fried Chicken (holding),155°F and 5 (new CVap 155°F Vapor Temp/195°F Air Temp)