Read all parts in this series: Part Two | Part Three | Part Four
Andy Husbands is an accomplished Boston chef. Born in Seattle, Washington, he moved to Massachusetts with his father in 1984. He's probably best known for his restaurant Tremont 647, a South End fixture from 1996 to 2018. He shuttered that restaurant to focus on his new barbecue concept, The Smoke Shop (which has three locations; in Cambridge, Boston's Seaport, and one in Sommerville. A fourth is under construction in Harvard Square).
Andy has spent over 20 years on the competitive barbecue circuit (as a member of the IQUE BBQ team, winner of the 2009 Jack Daniels Invitational World BBQ Championships), and has earned national recognition, including appearances on The Food Network, and being named the 2014 Massachusetts Restaurant Association's Chef of the Year. He's also authored five cookbooks, including his latest, Pitmaster (co-written with Chris Hart).
When we spoke with Andy, the US was several months into the COVID-19 pandemic, which was (and still is) having a massive impact on the entire restaurant industry. We asked him how his business was weathering the storm.
How's your business? How are things in Boston, with all this craziness?
Things in Boston are interesting. I'm one of those positive guys, so I'm not going to be asking, begging for help. That's just not how I do it. I put my head down and work. But things are okay. I've got a great business partner, and we feel pretty strongly that we're going to survive; we're going to be okay. And we're looking toward the future. We are actually starting construction on a new place. Business-wise, we're about 40 to 50 percent. For us, it's going to be all about labor, and managing labor.
I've been through a lot. Nothing this bad, but I've been through 9/11, I've been through 2008 [the Great Recession], the Marathon bombings, and ten feet of snow in the winter. What you do is you circle the wagons. You make sure you have your key players in place. Make sure you're taking care of your team as best you can. You're just defending what you have. And that's what we're doing. So, you know, it's going okay. We have lots of happy customers. Instead of serving the 3,000 people each location would serve in a week, now we're serving about 1,000 to 1,500.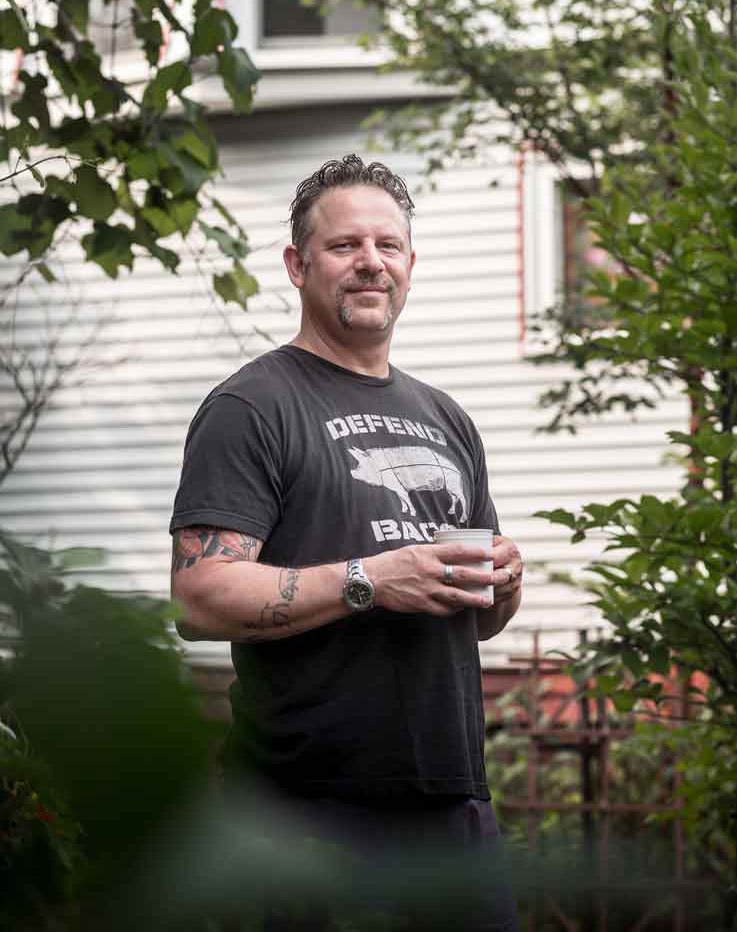 Is the majority of that curbside and carryout, or are people actually coming in now?
A fair amount is curbside, carryout, third-party delivery, and catering. When I say catering, it's not like the old days. It's parties of ten, parties of 15, people getting together. A lot of patio. We've been really lucky. In Cambridge, Sommerville, and Boston, where we are located, everybody's let us expand our patios, or even have a patio – in the Boston case, they gave us some parking spots. I hope they let us do that every year. It's awesome. So, you know, just kind of getting through, being as creative as possible. I'm working on a class I'm teaching this Sunday. Looking at different revenue streams, just figuring out what's best for us.
How'd you get to where you are? Like you've told us, you've dealt with 2008, 9/11, now COVID. How'd it all start, and how'd you get to where you are today?
"As I look back on my life…., in fourth grade, I did a demo on how to make doughnuts. One day, I was at home. I was, what they called back then, a latchkey kid. So, I was home alone. I'd come home from school; I'd be home alone. I wanted to learn how to make doughnuts. So I picked up The Joy of Cooking, and I did it. It does beg the question, what adult lets their kid work with hot oil? But I just did it. I just always loved to cook. I like the process, and I loved seeing people enjoy it. To me, that was something that I always had. That's fourth grade.
Fast forward to when I was 14. I'd moved out east. I wanted to get a job, and my first job was in a bakery. It happened to be down the street. I was a baker's assistant, which meant I did a lot of cleaning. But he'd let me scale stuff out, measure everything. He eventually taught me how to make bread…taught me how to do all this stuff. Which was great, because when I went to culinary school, I already knew how to do it, so I only had to learn the why, instead of the how. I knew how to feel it. When you make a lot of bread, you just know how it should feel.
I worked in a lot of other restaurants until I went to culinary school. I wasn't the best high school student, mentally. But I loved to work, and so, Johnson & Wales accepted me. I couldn't believe it. And believe it or not, I was a straight-A student. Not just in the culinary. I got a bachelor's in foodservice management. I just loved this business.
What's really great about it, fast forward to today, is that this business changes. What I did in my early 20s is not what I do now. People say, "oh, you must be working all the time." And I'm like "yeah, sort of, but it's not a physical as it used to be." It's not the intensity of a line cook. It's like football – you can't keep that up for 15 years.
Follow The Smoke Shop BBQ