Pepperoni rolls, the simple yet impressive combination of bread and pepperoni (and sometimes cheese).  This uniquely West Virginian recipe was originally created by miners' wives as a filling lunch that could be eaten in the coal mines. Pepperoni rolls were first commercially produced in 1927 in a Fairmont, WV bakery owned by Italian immigrant Guiseppe Argiro. 
While you can find some variation of this Mountain State treat in other parts of the country now, we thought it was time to produce some in Kentucky in our CVap® ovens.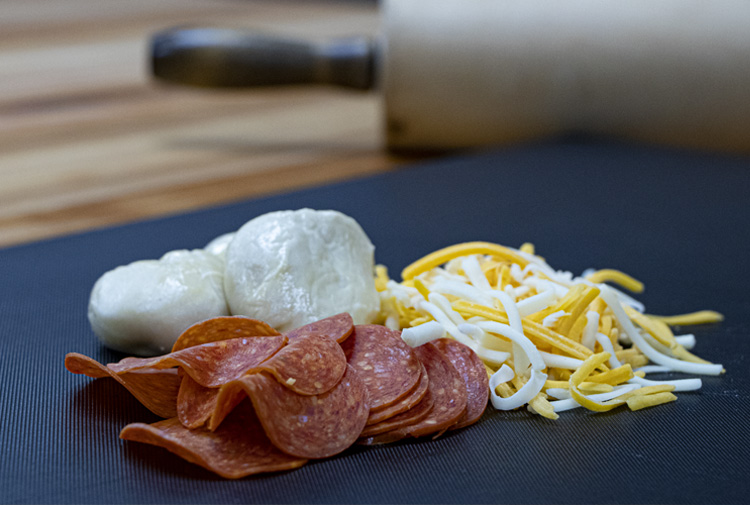 2 bags of frozen rolls (approximately 73 in a bag)
40-50oz of sliced pepperoni
6lbs shredded colby jack cheese
Non-stick cooking spray
All-purpose flour
Melted butter
This party size recipe makes approximately 140 rolls. 
Start with frozen bread rolls. Unless you have time to make fresh dough, this is the easiest way to get started. Plus the rolls are already perfectly portioned for individual rolls. Place the frozen rolls into a large hotel pan and cover rolls with non-stick cooking spray. This will ensure that they do not stick together while thawing. Place the pan in CVap Holding Cabinet at 100F Vapor/103F Air for about 30 minutes. Once the rolls are soft to touch, it is time to roll and fill them with pepperoni and cheese.
With a healthy amount of flour at your side for the purpose of rolling the dough, use a rolling pin to flatten the dough to about 1/4 inch thick and about 5 inches in diameter. Place a large pinch of cheese in the center of the dough. Add about five slices of pepperoni over the cheese. Fold in the sides and roll until the dough is like a burrito. Trap the filling in on all sides to prevent leaks.
Spray a large hotel pan with non-stick cooking spray and place the rolled dough into the pan. There should be about an inch of space between each roll for expanding purposes. Brush each roll with melted butter to prevent sticking to each other and to add a nice golden crust.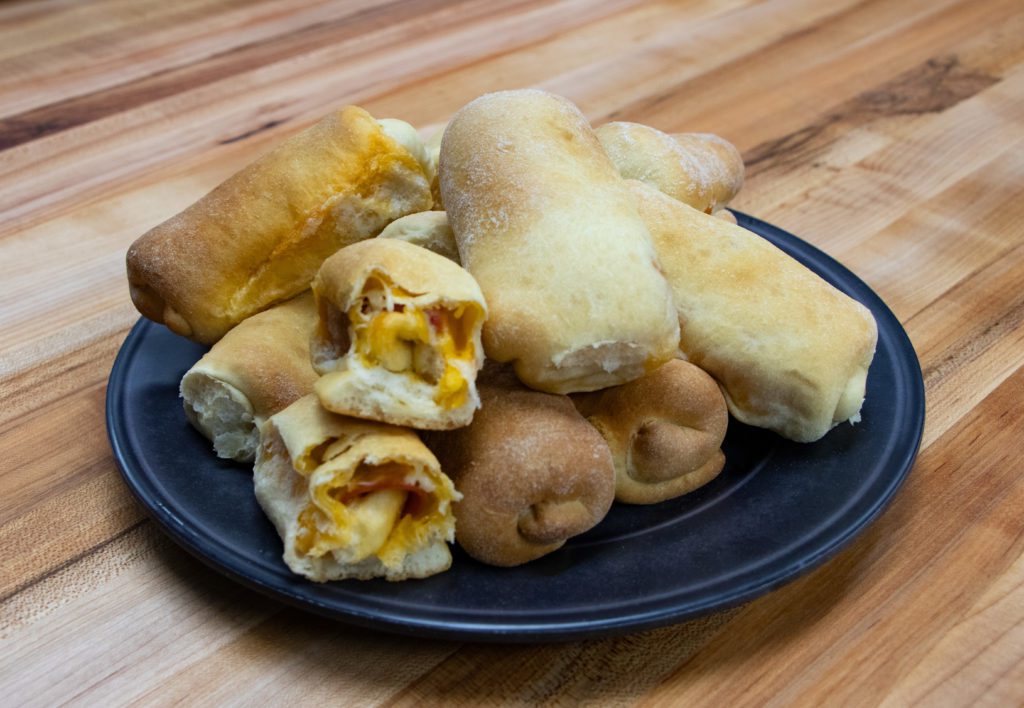 Once the pan is full, place it back into the CVap Holding Cabinet at 100F Vapor/103F Air for about 30 minutes to finish proofing or until the dough has expanded about 1/4 inch all around. The rolls may be touching slightly. In the meantime, preheat a CVap Retherm oven or a CVap Cook and Hold oven to Zero Vapor/350F Air. When the proofing process is complete transfer the pans to the CVap oven. Bake them for about 20 minutes or until they have reached a golden brown on top.
Pair them with some marinara or create the OG West Virginia school lunch with baked beans, chilled peaches, and chocolate milk. Do you have a CVap recipe that you want to share? Post your recipes and pictures on the CVap Operators group!