Want to whip up a little snack with a Latin flavor? Check out this recipe for pastelitos!
As the name implies, pastelitos are small pastries wrapped in a pastry shell (think small empanadas). Variations of pastelitos can be found throughout the Spanish-speaking world.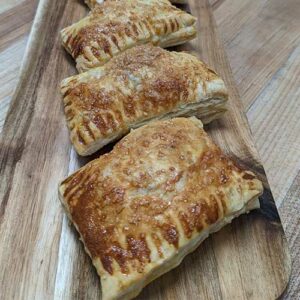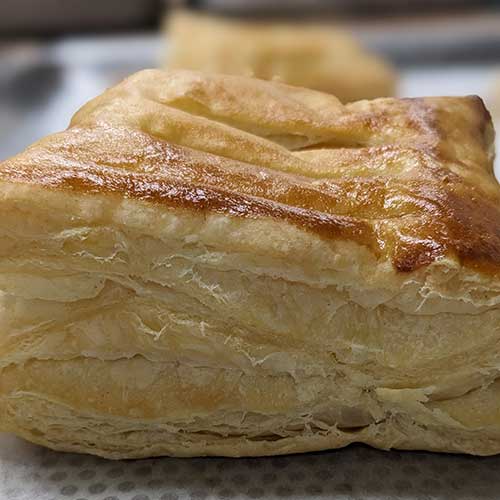 We used a CVap RTV7-05UV Retherm Oven.
Cook Time: 20 to 30 minutes.
The cook time depends on the pastry size, the filling type, and your expectations of doneness.
This recipe is unusual because it's baked in a CVap oven without water.
Vapor Cook Temp: OFF (remove water from the evaporator)
Air Cook Temp: 325°F

Prepared puff pastry – (found in your grocery's freezer section)
Guava Paste – (we used Goya)
Cream cheese – (optional)
1 Egg – Large
2-3 Tbs Milk
1-2 Tbs Sugar
Whisk egg and milk together and set aside. This is your egg wash.
Unpackage thawed puff pastry and unroll. The typical retail package contains two sheets.
Use a ruler to measure the length and width of the pastry sheet. Use a knife to make the appropriate cuts. We used 4" squares to make the larger triangles and 2" squares for the smaller ones.
Once you've determined the shapes you want, fill the pastry with guava paste (and cream cheese, if you choose).
– Chefs Note – You don't want to overfill or underfill.
– We used two tablespoons for the larger pastelitos and two teaspoons for the smaller ones.
Use a pastry brush to apply the egg wash around the perimeter of the puff pastry, then fold over and press the seam together firmly. Seal with a fork.
Egg wash the tops and apply a light sprinkling of sugar before baking.
The results were airy and delicious. Although we prepared sweet pastelitos, they can also be prepared as a savory treat, using different meats or cheeses as the filling. Experiment to see which is your favorite!