When you think of gingerbread, do you picture crisp cookies and holiday decorations? Or do you picture a moist, cakey treat that is best served warm with a dollop of fresh whipped cream? We've been leaning towards the latter!
To celebrate the holidays we're sharing a couple of gingerbread recipes. The first yields a dark, moist cake, and the second (adapted from a USDA/NFSMI recipe) is geared toward high-volume service. Both are delicious served warm or chilled. Naturally, both recipes are for the CVap® Retherm Oven.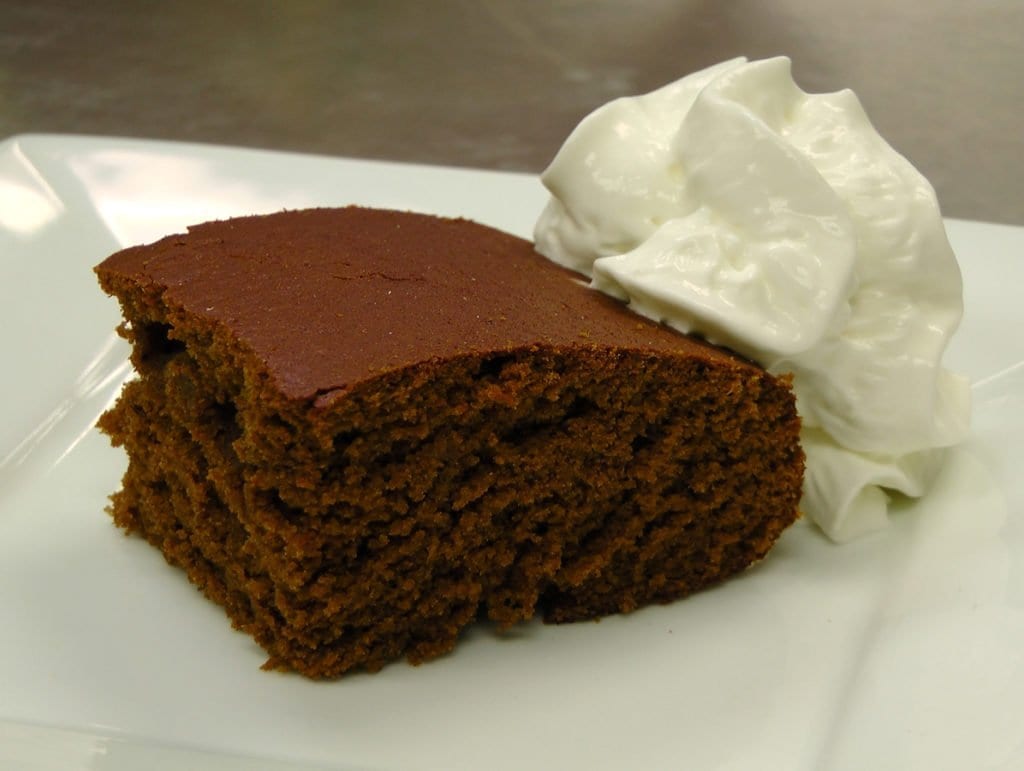 Moist Gingerbread (Small Batch)
White sugar – ½ cup
Butter – ½ cup
Egg – 1
Molasses – 1 cup
Flour (all-purpose) – 2 ½ cups
Baking soda – 1 ½ teaspoons
Cinnamon – 1 teaspoon (ground)
Ginger – 1 teaspoon (ground)
Cloves – ½ teaspoon (ground)
Salt – ½ teaspoon
Water – 1 cup (hot)
In a large bowl, cream together the sugar and butter. Beat in the egg, and mix in the molasses.
Sift the flour, baking soda, salt, cinnamon, ginger, and cloves in a separate bowl. Blend into the creamed mixture. Stir in the hot water. Pour into a prepared pan.
Bake on Vapor 150/Air 350 or Legacy Channel 4 for 20-25 minutes in a preheated oven, until a knife inserted in the center comes out clean. Allow to cool in pan before serving.
Gingerbread (Large Batch @100 Servings)
Flour (enriched all-purpose) – ¾ gallon + ½ cup
Whole wheat flour – ¼ gallon
Baking soda – ¼ cup
Sugar – 3 ½ Tablespoons
Salt – 1 Tablespoon
Cinnamon – 2 Tablespoons
Ginger – 2 teaspoons (ground)
Cloves – 2 teaspoons (ground)
Vegetable oil – 3 ½ cups
Eggs whites – 20 large
Water – 1 quart + 3 ½ cups (hot)
Molasses – 1 quart + 3 cups
Ginger – 2 cups (chopped)
Select Vapor 200/Air 300 or Legacy Channel 3 to preheat CVap Retherm. Prepare two 18×26 size pans by covering with parchment paper.
Combine flour, sugar, baking soda, salt, cinnamon, cloves, and ground ginger in a mixing bowl. Mix on low speed for one minute until ingredients are combined.
In a separate bowl, mix vegetable oil, egg whites, hot water, and molasses with a large wire whip until blended.
Slowly add the wet oil mixture to the dry ingredients. Mix on low speed for one minute.
Pour @ 1 gallon of batter into each sheet pan and scatter chopped ginger over the top.
Place in the preheated retherm oven and bake 35 minutes.
Cut each pan into 5×10 pattern or 50 pieces per sheet pan.
Hold baked gingerbread for up to two hours in CVap with the Vapor Temperature set at 140° F and the Air Temperature set at 145° F.