Read all parts in this series: Part Two | Part Three | Part Four
A year of intense preparation lead Richard Rosendale to the most prominent stage of his life.
To win gold at the Bocuse d'Or USA qualifier, Richard Rosendale used a CVap® oven to cook a deboned chicken reassembled to appear whole by forcing the meat—believe it or not—into the shell of a Mr. Potato Head. He stuffed the bird with a mixture of sage and country ham, wrapped it in plastic, and closed it inside the toy. Leveraging the CVap's low temperature, high humidity settings, he cooked it slowly and thoroughly while retaining its shape.
Rosendale prepares for Competition
"Once it was up to temperature, I took the chicken out, put it into and out of a deep fryer four times to get the skin a little crispy, and then basted it with a winter truffle butter and sprinkled it with chives and sea salt," Rosendale said. "To be able to cook that all the way through at such a low temperature can't happen in a traditional oven. It would never have been that juicy and evenly cooked."
Rosendale would go on to prepare for the 2013 Bocuse d'Or culinary competition using a fully equipped replica of the competition kitchen he'd use in France. It was constructed in the basement of his workplace, The Greenbrier Resort. Every inch was measured off to equal the workspace in France. And every piece of permissible competition equipment was purchased for the set-up.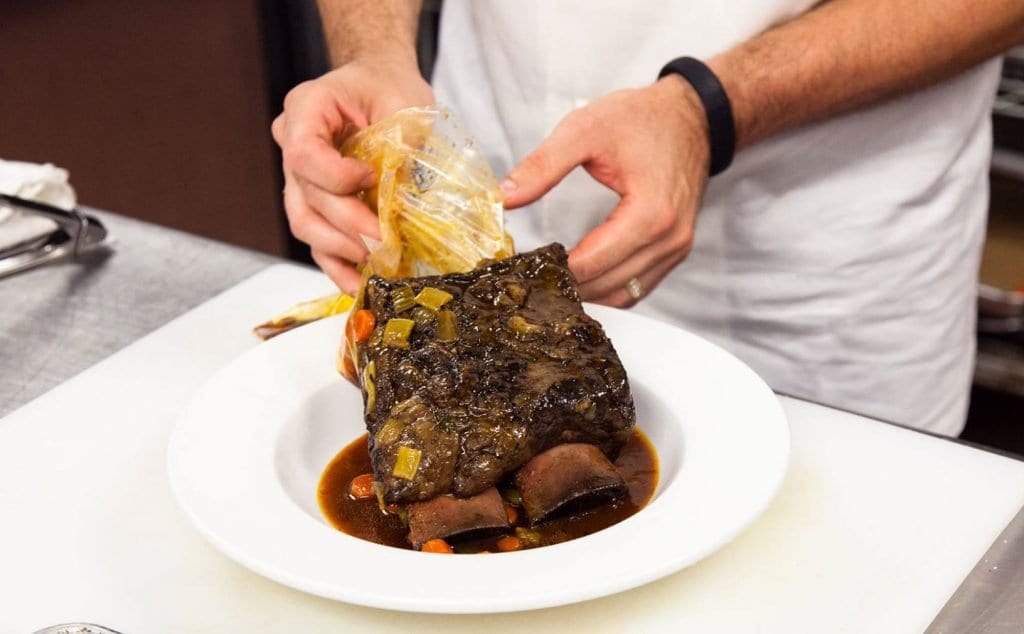 Achieving His Goal
"That was my Bocuse d'Or headquarters, the place where (the coaching) chefs came to help me refine my dishes," Rosendale said. To mimic the raucous atmosphere of thousands of fans who attend the highly patriotic event, "I had crowd noise coming in on loudspeakers. That can be a distraction if you listen to it, but once you get into your rhythm, you don't notice it much."
Years after the event, he still speaks with awe about the deep education gained in that single year of focused training. Being surrounded by some of the greatest culinary minds in America helped him anticipate problems and find solutions in ways he'd never considered. He described the education as "equal to ten full years of learning normally."
"But having gone through that, I now think about problems differently from most chefs. If you haven't gone to that level of training and creativity, you may not know it even exists," said Rosendale. "When you're sitting around a table with Grant Achatz and Thomas Keller, you see the ideas they come up with as striking but possible. Suddenly you're figuring out new ways to do things. The lines of what once was just the realm of possibility have been moved."
Under the clock at the Lyon competition, Rosendale and his commis, Corey Siegel, endured five stressful hours preparing dishes. According to Newsweek.com, their menu included hickory grilled beef filet with asparagus and horseradish, fried hollandaise, a take on the Yankee pot roast using oxtail, potato dumplings, a resplendent coil of carrot, bone marrow, and more. The fish dish, turbot was slowly cooked and enhanced by ham, black truffles, cider-cooked butternut squash, a potato and leek cigar, and a wine emulsion.
Though hoping for America's first gold medal win, the duo placed seventh behind the winning French team. Disappointed but not defeated, Rosendale acknowledged his team's advance past its 10th place finish the year prior. He expressed gladness over being the last American chef who'd work full time while preparing for Bocuse d'Or.
"That's become part of the program now, to focus 100 percent of that year on the competition," Rosendale said.
That change netted solid results four years later.
"Matt Peters finally won it for the U.S. in 2017," Rosendale said. "It's great to see our chefs getting the benefits of every year of building blocks the chefs before them put in place."
Having achieved his goal of competing at Bocuse d'Or, Rosendale returned to his job at The Greenbrier with a new outlook on his role there. Satisfied with his accomplishments, he felt an eagerness to take his talents elsewhere.
"I had young kids, and I saw the need to spend more time with them at that age," Rosendale said. "I also wanted to return to being an entrepreneur."
Read on and learn about Rosendale's climb up the culinary ladder and toward his collision with CVap Technology.