Read all parts in this Richard Rosendale series: Part One | Part Three | Part Four
How a love of his grandmothers' meals laid the groundwork for an outstanding career.
Like so many chefs who achieve greatness in the restaurant industry, Richard Rosendale's food foundation centered on family meals. On modest means, his mother raised him and his sister in Union Town, Pennsylvania. And like some teen boys, Rosendale struggled some to find his way. His school grades weren't great, and his mischievous nature led to some minor troubles.
What did ground him, however, was food. His Italian and German grandmothers' cooking. "It put a big smile on my face. Even today I get that feeling when I go to grocery store and think about what I'm going to make for dinner. It makes me happy."
He never envisioned being a chef, but the pace and action of restaurant work attracted him to the back of the house. After high school, he earned a culinary degree.
"Cooking kind of found me early on," he said. "I'd finally found something I could sink my teeth into. You know when you find something you love doing, and I did."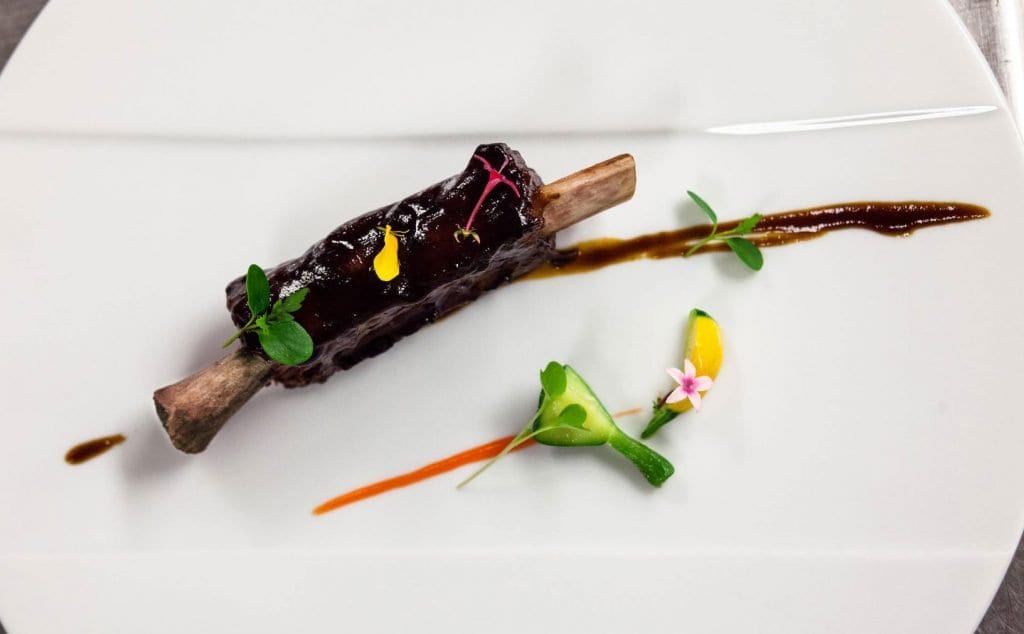 Getting Noticed
As Richard Rosendale's instructors and bosses recognized the young chef's unusual focus and attention to detail, he was given more responsibility and leadership roles in the kitchen. Soon he was working as a chef's apprentice in countries like Italy, Germany and France, where he discovered a love of cooking competitions. Rosendale would go on to medal in 55 competitions, including the 2004 World Culinary Olympics, where his team earned gold.
Rosendale would return to the U.S. to work under numerous Certified Master Chefs (CMC) around the country. He was learning to blend the refined techniques of haute cuisine and modern kitchen technology. A stop at The Greenbrier resort to work under CMC Hartmut Handke would prepare him for an eventual return there as its youngest ever executive chef. But not before he'd endure some business challenges.
In 2007, when only 31, Rosendale opened Rosendale's Restaurant in Columbus, Ohio's popular Short North area. A second operation, Details Mini-Bar and Lounge, followed a year later. Though each received critical acclaim, running young restaurants amid the peak of the Great Recession proved unprofitable. He shuttered both. Fortunately for Rosendale, The Greenbrier wanted him back and offered a promotion. Young and ambitious, Rosendale was the ideal choice to lead the food and beverage program at the legendary resort through a massive overhaul. As executive chef, he oversaw 13 kitchens, and five new restaurants opened under his watch. He also launched the resort's dedicated 44-acre farm.
"I got a lot of experience running huge, multi-outlet operations at Greenbrier," he said. Adding with a chuckle, he said, "It would have been nice to have known about CVap back then."
Preparing for Bocuse d'Or
While at The Greenbrier, not only did Rosendale earn his CMC, he won a silver medal at the Bocuse d'Or USA qualifier in 2008. He bettered that mark by earning gold at the USA qualifier in 2012, setting the stage for him to compete in Lyon, France, in 2013. To assist in his year-long preparation for what's arguably the world's most elite culinary contest, The Greenbrier allowed him to assemble a contest-replica practice kitchen in its fallout shelter. (Located a short distance from Washington, D.C., the room there was built circa 1950 to house high-level U.S. government and military officials in the event of a nuclear war.)
"And that's where I practiced on my days off for a solid year," Rosendale said. "Without that, there would have been no way I could have prepared for that event like I did."
Read on about Rosendale's performance at the Bocuse d'Or, and about his decision to leave The Greenbrier upon returning to the U.S.