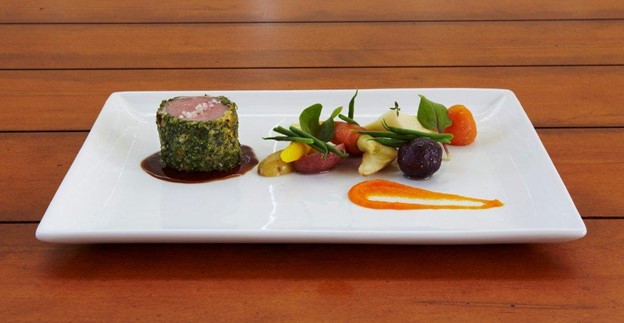 We had the pleasure of spending time in the kitchen at The Country Club of Florida, where they use two CVap® Cook and Hold Ovens on a regular basis. Executive Chef Tony Larsen shared his thoughts about the equipment along with the fabulous lamb recipe that follows. It is comfort food at its finest with an elegant presentation. Delicious!
"The Winston CVap has changed the way we cook at The Country Club of Florida! It's the best and most used equipment in the kitchen. Our members constantly ask how we make our food so tender and juicy? It's the precision of CVap that allows the food to come out so fantastic. We cook and hold in ours without any compromise. The CVap will always be a part of my operation…" –Executive Chef Tony Larsen
Rack of Lamb with Carrot Puree, Root Vegetables, Carmellini Beans and Port Wine Sauce
Lamb rack, boneless – 1 lb
Chervil, chopped – 1 bunch
Dijon mustard – 2 Tbsp
Fine bread crumbs – ¼ cup
Salt – 1 Tbsp
Pepper – 1 tsp
Procedure
Set CVap oven to Vapor 130°F / Air 140°F. Allow 40 minutes to preheat.
Cook lamb for two hours.
Remove, and allow lamb to cool completely.
Sear lamb with ample salt and pepper.
Cool and brush with mustard, then roll in chervil and bread crumb mixture.
Bake to order, then slice.
Carrot Puree
Carrots, peeled – 1 lb.
Chicken stock – 2 oz.
Butter – 2 Tbsp.
Sherry vinegar – 1 tsp
Salt – to taste
Procedure
Cook carrots in water until fully tender.
Strain carrots and put in blender.
Add stock, butter, and vinegar, then season to taste with salt.
Carmellini Beans
Carmellini beans, trimmed
Butter
Procedure
Blanch and shock beans.
Melt butter and toss beans with butter and salt.
Root Vegetables
Carrots – 4 ea.
Potatoes – 6 ea.
Artichoke – 1 ea.
Butter – 2 Tbsp
Thyme – 3 sprigs
Salt – to taste
Procedure
Cryovac separately with thyme, butter, and salt.
Cook in 200° water until tender (25 mins.).
Port Wine Sauce
Beef demi-glace – 6 oz.
Port wine – 6 oz.
Procedure
Reduce wine to syrup.
Add demi-glace and strain twice through cheesecloth.
Submitted courtesy of Tony Larsen, Executive Chef.