Sharing a meal together is something we all enjoy. It's a tradition as old as civilization itself. Winston has a long-standing tradition of regularly sharing meals together. Of course, that tradition had to be paused during the depths of the pandemic. But as things have slowly gotten better, we wanted to sit down together once again over great food. We took precautions – face masks, pre-portioned disposable containers, and social distancing. But it was good to come together again to share breakfast together.
Not content with doughnuts and coffee, we wanted to serve a fresh, hot breakfast for our 200+ team members. Chef Sam took advantage of our CVap equipment's ability to bulk cook, then stage hot food ahead of time. She single-handedly fed all our Winston crew (with just a little help from a few other folks in portioning, serving, and cleaning up).
The menu included a variety of breakfast quiches, baked apple oatmeal, freshly proofed and baked cinnamon rolls, and fruit cups (along with a few pre-packaged sides). Although the menu had lots of variety, we're only going to detail the preparation of the scratch dishes.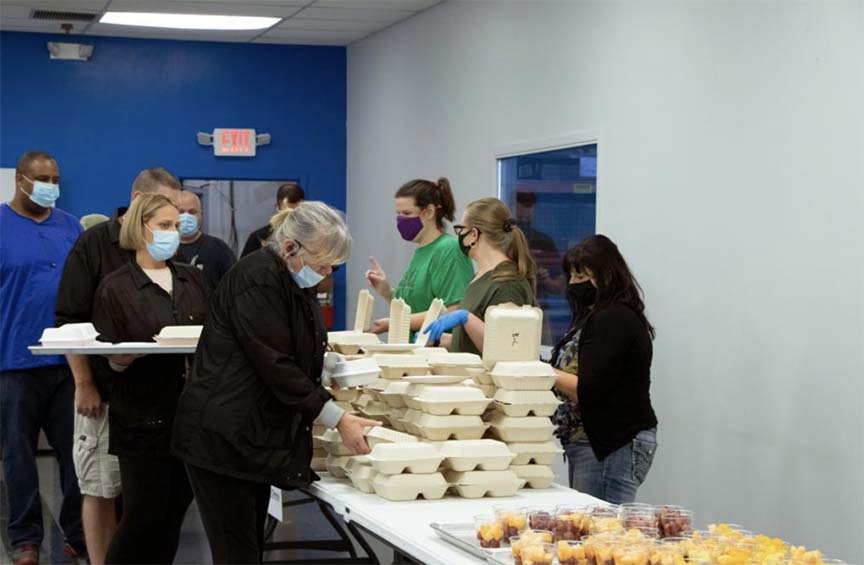 Recipe/Process:
For Two Hotels Pans – Quiche Base
5 Cups Bisquick
10 Cups Milk
20 Large Eggs
For 12 Hotel Pans
30 Cups Bisquick
60 Cups (3.75 gallons) Milk
120 Large Eggs
Mix all the ingredients together, thoroughly. Distribute equally between number of pans you're making.
Flavors – Small Batch:
We tested the product a week prior to our team breakfast and used ingredients we already had around; sausage, cream cheese, and a few veggies. If you are using fresh vegetables, it is advantageous to pre- or par-cook them to release some extra moisture, condense the flavors and to tenderize texture. On the two-pan batch we sauteed the veggies. But for the larger batch to feed the masses, we CVap roasted the veggies (Vapor 200°F/Air 350°F).
For the team, we made a variety of quiche, to suit all palates.
All Pork – sausage, bacon, and ham with Monterey jack
Smoked Brisket – with sharp cheddar and zucchini
Krab & Cream Cheese – with onions and peppers
Veggie – with cream cheese and cheddar, onions, peppers, mushrooms, zucchini, tomatoes & spinach
Baked Apple Oatmeal
Settings: CHV or RTV 05 Ovens
Cook Time: 45-60 minutes
Vapor Temp – Cook: 200°F
Air Temp – Cook: 350°F
Recipe/Process
For Five Hotels Pans
45 Cups Old Fashion Oats
1T + 1t Salt
2/3 Cup (10T) Cinnamon
2/3 Cup (10T) Baking Soda
5 Cups Brown Sugar
30 Large Eggs
2 Cups Olive Oil
1 Gallon (16 Cups) Milk
8 Cups Applesauce
10 Cups Apple Juice
Mix all the ingredients together, thoroughly. Distribute equally between number of pans you're making. Bake as directed.
Overall, the results were fantastic. The quiche was rich, savory and loaded with premium ingredients. And the baked apple oatmeal was as familiar and comforting as it was moist and flavorful. Whether you're feed ten or 230, CVap ovens make it possible to crank out lots of food, with minimal labor!