Lobster is the ultimate decadent luxury. History shows us that wasn't always the case.
People once considered it a trash food fit only for the poor. The crustacean was considered the "cockroach of the ocean." Americans started regarding it as 'fancy' food in the 1950s. You can read more on how it gained its lofty reputation in  "How Lobster Got Fancy!"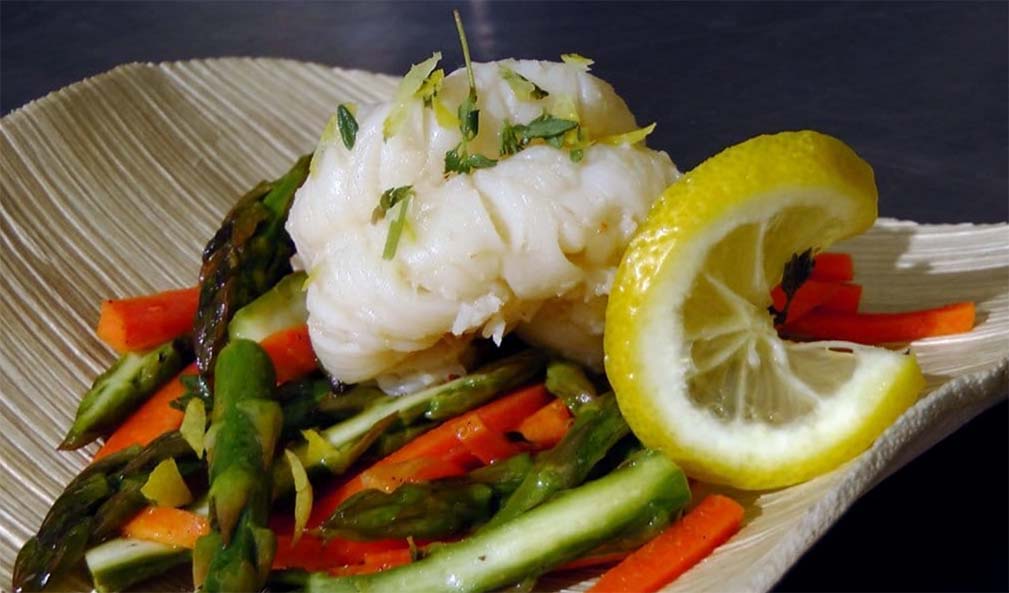 Lobster is heart-healthy food, being lower in calories, cholesterol, and saturated fat than lean beef, white meat chicken, pork, and even shrimp. Grilled, steamed, boiled, poached…no matter how you serve it, nothing can top properly prepared lobster!
The Process
We butter-poached tails with thyme and lemon in a CVap oven at 200°F Vapor/ 200°F Air (Legacy 200°F + 0) for 12 minutes. Next, we seasoned them with salt, pepper, and lemon butter. We served them with a spring vegetable medley of fresh asparagus and sweet baby carrots, all steamed in a CVap oven. This dish tasted like seaside sunshine!
The butter-poached lobsters were cooked at two different settings for testing purposes in a CVap Cook and Hold Oven – The results are below:
Doing Lobster Up Differently
Below are some different ways to cook delicious decapods.
Consider these serving ideas:
Spread pesto on a pizza crust and top with chunks of tail meat, grilled or roasted corn and asparagus, dot with small bits of brie and bake – how decadent!
Drizzle sesame, ginger, and lime over Vietnamese-style lobster and vegetable spring rolls in rice paper wrappers.
Serve citrusy ceviche with avocado and yucca chips.
Sauté in a spicy tomato sauce and serve over pasta for Lobster Fra Diavolo.
Substitute it for Canadian bacon for the most indulgent eggs benedict imaginable.
Ditch the chicken and go all out with lobster pot pie!
Take your bisque in an Asian direction with a hint of curry and curried croutons for topping.
New CVap models 160°F Vapor/165°F Air and 145°F Vapor/145°F Air