Maximizing efficiency in your kitchen design takes planning, research, and hard work. It doesn't matter whether your operation is in the blueprint stage or is going through a remodel. The pressure to get it right can make the process quite intimidating. Winston has the tools you need to assure kitchen efficiency.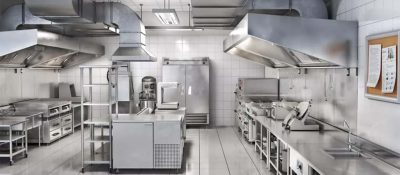 An Efficient Kitchen has Flow
Commercial kitchen equipment takes up a lot of room. It can be difficult to accommodate when trying to maximize efficiency. This can be one of your biggest challenges when designing a kitchen.
Research your plan for kitchen flow when deciding the best location for your equipment. The goal is to avoid issues in employee foot traffic. For example, do frequently used doors open into busy aisles? Do doors swing in the correct direction to avoid collisions with one another?
Making sure that you have the correct amount and type of equipment eliminates clutter from your kitchen. However, be flexible should you need to add equipment to meet future needs.
Higher foot traffic during peak hours can cause serious issues if not reflected in the kitchen layout. Traffic jams in the kitchen can negatively affect the entire service period, from preparation to serving customers' orders. Ensure you allow enough space for multiple people to perform their tasks in the kitchen.
Don't forget to allow for maintenance. Even the best equipment occasionally needs service or repairs. Equipment must be accessible from all sides, or at the very least moveable, so that interruption can be minimized. Otherwise, it will cause disruptions for your employees and make the repair tech's job unnecessarily difficult.
As with anything related to customer safety, your kitchen layout needs to adhere to health and safety regulations. State and local health departments are a prime resource for up-to-date information on regulations and requirements. Some design elements are simply common sense. Cooked food must be physically separate from areas where raw food is prepared. All food must be separate from dirty dishes, cleaning supplies, or any other material that could be harmful or toxic. The possibility of cross-contamination or food poisoning must be eliminated.
Employee safety is also important. If the layout is not ergonomic or puts staff in risky situations, physical injuries can result. Are counters and shelves at the correct height? Are floors made of material that can be easily cleaned (and kept from getting slippery)? Avoiding employee injuries isn't just a decent thing to do. The financial future of your operation demands that you do all you can to keep your employees injury-free.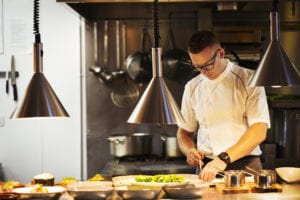 Now you know what you need to do. Put it into practice! Your end goal is to create a safe, productive, and efficient kitchen. A great customer dining experience always starts with a well-designed kitchen. Need help? Contact us!