Part Four of Our Continuing Interview with Barbecue Pitmaster Chef Andy Husbands
Andy Husbands, if you were encouraging someone to start a restaurant, what would you tell them?
Use professionals. That is a business planner, an architect, a lawyer, and not your cousin. Use somebody who actually writes restaurant leases. Someone who actually designs restaurants. I know that your friend's sister is really good at designing, but if she hasn't designed a restaurant before, you don't want her making mistakes on your dime.
The one thing you have to understand about opening a restaurant, at least in my scenario, is every dollar I spend costs me $1.25. You've got to pay that money back, unless it's your money.
Every dollar you spend is going to cost you something. So you have to be very judicious on what you spend your money on. That's part one. Part two is don't spend any money. If it was me, and I was redoing it, starting today, I would find myself a pizza place that was going out of business. And try to keep the equipment they have. I would spend the bare minimum. And I would reinvest. Now I know that people dream of having a fancy restaurant. I get it. And they want to spend two million dollars. I guess that's just not my path right now. But, you know, it's hard. People think that everyone's going to love it. The reality is, that's not true. Not everyone's gonna love it. Sorry. I would just be cautious.
Talk about that a little more. I try to tell people, if you go into this thinking you're the best cook in the world and everybody's going to love your food, you just don't understand people. Our tastes are as diverse as our skin colors. How do you deal with the fact that everybody might not like your barbecue?
Ha ha, there are lots of people who don't like my barbecue. One time I was called to a table, and they were like "did you guys make these collards? They taste canned. They're awful." And I was like "okay, let me get you something else." I gave them something else. I go to the next table. They were like "did you make these collards? They're the best collards we've ever had." It's like music. If you want to open a restaurant, and you want to think about yourself, ask this question. Why would everybody like your food? Because it's like writing a book. Why would anybody read your book? Like making music – why would anybody listen to your music? Why are you so great? I think you have to be honest with yourself. 
Your Restaurant is the Best Restaurant Ever, Until You Open the Door
What's crazy is – your restaurant is the best restaurant ever, until you open the door. And when you open the door, and Yelp starts coming in… It's tough. You've got to be strong, mentally tough, and you've got to say "okay, we're going to do this." Run your team to win. On the flip side, you've got to be honest, and you've got to go "not everyone's going to like me." And that's okay. 
When they don't like you, try to fix it. Maybe you can, and maybe you can't. If you go right now to our Google reviews, I can tell you that 99 percent of them have been responded to by me, personally. Every Google review, I respond to. That's not somebody else responding, that's Andy Husbands. It is important for me to know what people are saying. It's important for me to interact with them. And when they don't like it, they've had a bad experience, I'll own it. Own your mistakes. Because you own your wins. When you get that Beard award, you're like "woohoo, I got this because of me and my team!" But when you get that one-star review on Yelp or Google, you have to say, "I got this for me and my team!" You don't get either-or. 
We all make mistakes; we've got to own them. Try to have more wins than losses. It's what you need to do. Sometimes chefs get in their own way. We use a thing called Upserve. Love Upserve. They give you data on all your customers, through your credit card sales, through your POS. Likewise, they also do our processing. I can look at this thing called the magic quadrant. Not so much for my barbecue restaurant, but for my old restaurant. I could see dishes that people order, but don't order again when they come back. Even though you may love it, that dish maybe needs to go. 
What you want is a dish that people come back for. That's what you need to understand, is that just because someone ordered it, it means you wrote a marketable menu, that's all that means. If they order it again, if they order it multiple times, then you've got something. 
That's the same thing with you guys [Winston]. You guys have a good pitch. You pitched me at that Sleep No More thing, and talked about it, and I'm like "okay, good pitch." And you brought me down there – great. But unless it really worked, and I really liked it, I'm not going to order another one. I keep ordering more CVaps.
Talk a little bit about CVap. Why do you think it's good? What has it done for your business?
It changes the rules. I know it helps on labor. It helps on cooking. The style of restaurant that I do doesn't use CVap to 100 percent advantage, like Tony Maws when he had Kirkland Tap & Trotter. He would take a whole pork loin, a marinated bone-in pork loin, and hold it in a CVap at about 130°F. Pop off a double chop, grill, and out it goes. 
What does that save? Time, which is table turns. Labor, because it doesn't take that long to cook it. And my understanding is it shrank 7%, instead of 14%. Over years those little percentages, they do add up.
A Just-Cooked Barbecue Experience
Now for Smoke Shop, what it does for us is it enables us to offer a just-cooked experience. That is really what we want to have. You know, as a pit master who comes from the competition area, we are cooking it, we are timing it, and we are serving. And we're cutting those ribs, and we're giving them that just-cooked experience, besides all the other junk that we're doing with it, but that's what we're doing, right? 
There's no better barbecue than the barbecue that's pulled out of my pit and rested. And then served. That is what, with CVap, we're able to do, with the level of browning, we're able to keep that crust on the outside. The salty, peppery, sweet, whatever rub we're using. Yet keep that meat so juicy and perfect, that it's that just-cooked experience. By the way, if you use that tagline, I want some points on it. That is pure gold I just came up with right there. CVap, the just-cooked experience.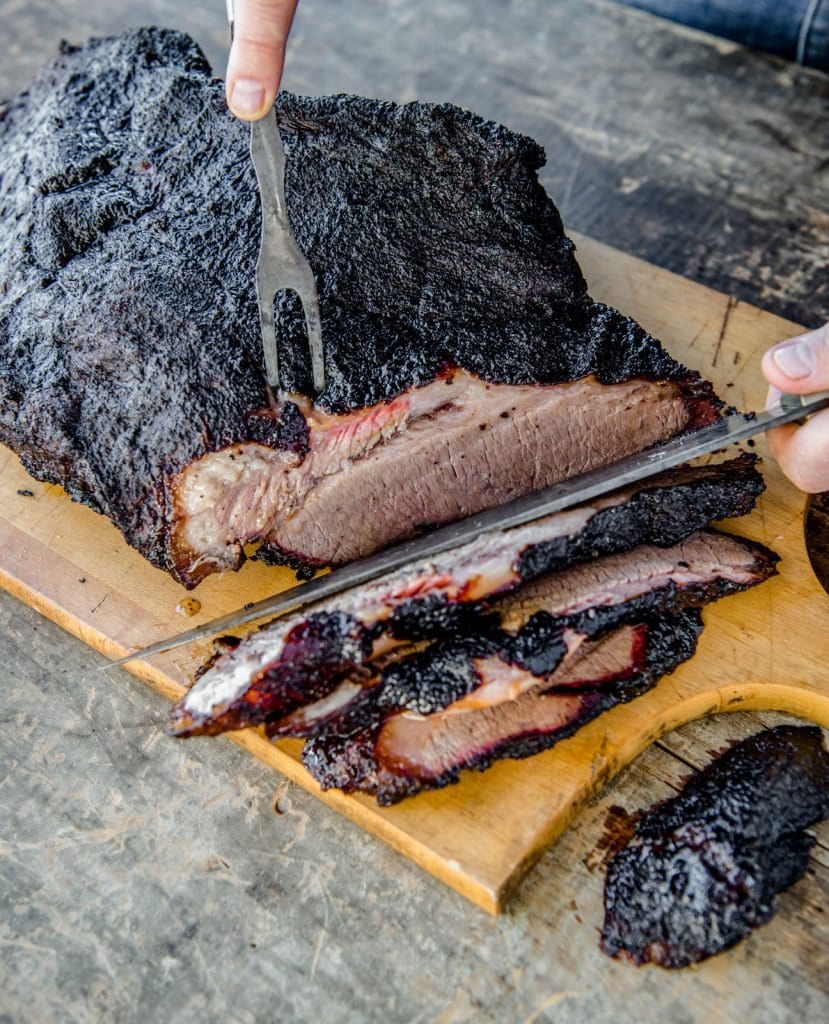 What does Chris Hart think about the barbecue coming out of a CVap?
He believes in it. Both he and I have talked about owning a barbecue restaurant. Before I found out about CVap, I don't know how long you've been around, but I was like "meh, I don't want to do it, because I don't want to have some silly barbecue coming out all dry, out of some silly hot hold thing with a water pan at the bottom that just like, pfft, comes up from the bottom [waves hands and fingers to imitate steam rising]. But he loves it. He comes in and checks us out all the time. 
You guys must be a major thing in the barbecue world. Everywhere I go, it's mainly CVaps being used. I think people who know are fans. The people who need to know about it is burgers. That's the number one thing people order. We know this. Anyone who's serving lots of burgers should have a CVap full of just 120°F burgers. Sear it, out it goes.
Follow The Smoke Shop BBQ