Read all parts in this series: Part One | Part Three | Part Four
In its century-long run, The Oakroom at the Seelbach Hotel has been the epitome of fine dining. While its luxurious dining room seats only 100, the technical level of the food produced by Chef Patrick Roney's team was challenging. When he proposed several complicated dishes for a set menu planned for Kentucky Derby week—when the restaurant would be sold out. His supervisors doubted whether he could pull it off. He assured them, however, that using CVap®, he could.
Like most chefs, learning to cook with CVap is a bit of a journey. Talk about beginning with the basics and moving to more technical use.
One of the first things we mastered was planning out and starting our next day's work by putting things into CVap overnight. Not only did it free up other ovens, we now had the opportunity to cook things in such a precise way that our food was elevated. We were using it for large format roasts, browning and holding at a desired temperature and being amazed by how moist the results were.
You learned to stage with it also. Talk about that.
That's something any busy restaurant can do. If you know your peak rush time and know during that you'll sell 15 lamb, 20 beef, 25 pork, whatever, you can get ahead of that rush. Load your CVap up beforehand. Then, when all the tickets come in at once, you'll be ahead of that rush. Getting ahead and staying there using CVap is mostly about knowing how to hold things at the correct temperature. 
When did you start pushing your own boundaries and understanding of CVap?
For Kentucky Derby week one year, we were doing a kind of deconstructed burgoo. Our take on it used a smoked, braised wild boar ragout topped with a Kentucky-fried rabbit leg and venison chop. (Instead of long cooking all the meats together), the rabbit leg and the venison chop were staged and held the CVap at 130°F with browning set at 4. The wild boar ragout—which technically was really like a thick meat sauce—was bagged, in a water bath and held in the CVap. When pick-up was called, all we had to do was sear the venison chop, add the fried rabbit leg and plate it over the boar ragout. We also were holding country ham hush puppies in the same CVap, all in the same atmosphere. That alone was amazing.
When you proposed that dish to you colleagues at the restaurant, they questioned whether you could really do it, right?
That's right. When I said I intended to hold Kentucky-fried rabbit legs perfectly crispy for Derby night service, they weren't sure it was possible. I knew we couldn't drop rabbit legs to order in the fryer all night and risk the quality being all over the place. So, we had to fry them before service and hold them in the CVap. On a night when we were charging $275 a person, everything we did had to be spot on. But at that point, I'd used CVap enough to know what it did when I programmed it correctly.
How did it go that night?
Everything held perfectly through that four-hour service—perfectly. We were proud of the quality, but it also gave us an opportunity to prove we could really do what others doubted we could. It took guts to take that chance because I was holding $4,000 worth of food in the CVap. But I was confident it would work.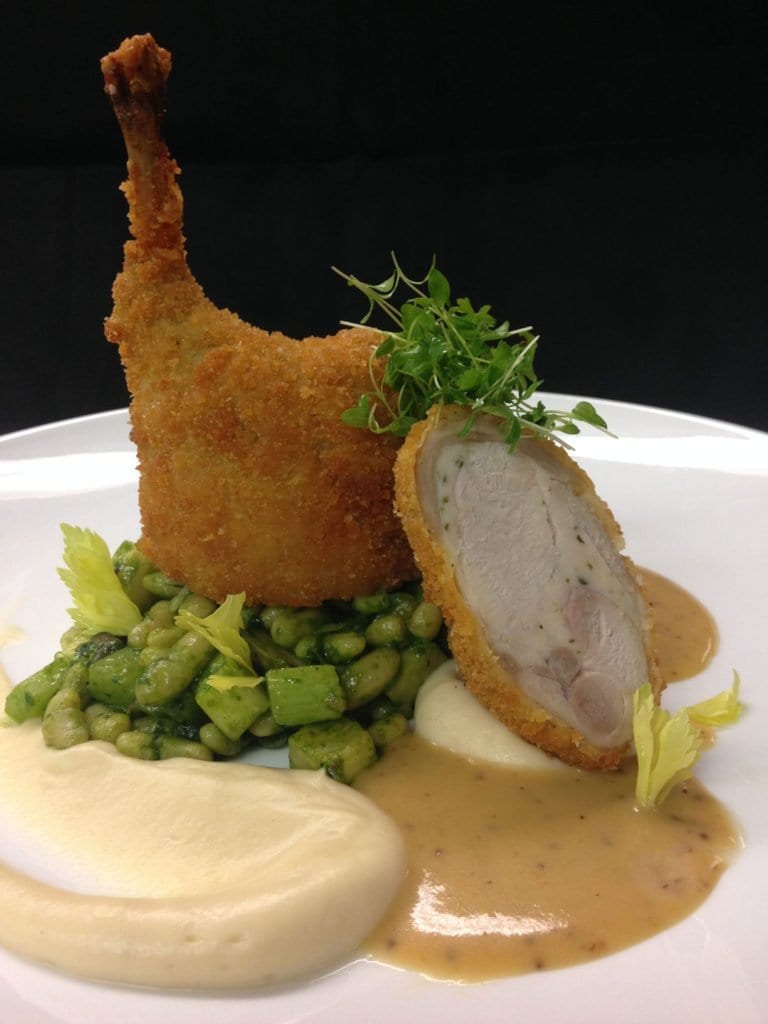 Follow Chef Patrick Roney