Ready all parts in this series: Part Two | Part Three | Part Four
In 1997, Tony Palombino started Louisville, Ky.-based Tony Boombozz Pizza, which evolved into Boombozz Craft Pizza & Taphouse, an 11-unit franchised chain. Just as interesting are the other 10 concepts Palombino created, shuttered or sold in the 22 years since.
Boombozz has been your most successful concept overall, but for a moment, let's talk about others you've created.
OK, here goes: Thatsa Wrapp, Palbino's, Boombozz, Bazo's Fish Tacos, Baja Grill, AP Crafters, Benny B's, Joella's Hot Chicken, Wood Roasted Pizza, Merle's Whiskey Kitchen and Waylon's Feed & Firewater.
Do you have a formula for developing a restaurant concept?
I do tons of research, whether that's traveling the U.S. to see what's trending, and if it's something I think I could do better or make more appropriate to Louisville, where I've lived most of my life, then I start working on it.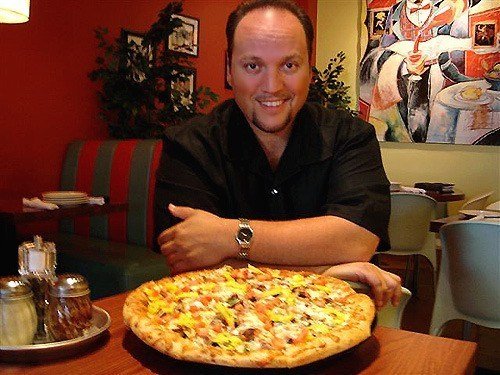 You had a couple of single-unit pizzerias before creating Tony Boombozz. What made that one the version you believed you could grow?
I really thought there was a niche in pizza delivery for a super-premium product. The challenge was to figure out how to convey that as a value and something people wanted. Louisville was uncharted territory for that, and pretty early on, we saw that it had the legs.
Still, that meant I was going to compete against the delivery giants–including Papa John's Pizza right in my backyard! (He laughs.) But we started anyway with a delivery-carryout unit, and it all took off from there. The concept is now a full-service restaurant.
How did you fund Boombozz?
It was self-funded. I'm very frugal, so I had some money saved up. The facility didn't require a very large investment since it was only 600 square feet. So, opening cost me $30,000. I bartered with people where I could, like with my sign guy. I asked if he'd trade pizza for his work, and he did it for 100 percent of the cost.
How challenging was that first year in business?
Every week it was six days of working from open to close. I missed out on the early years of my first two children growing up. A lot of times, my wife, Judy, would bring them to the restaurant so we could see each other. It meant sacrifice, long hours and hard work. But that's what I signed up for.
How did you market Boombozz?
One part happened on its own, and that was the success we had in pizza contests.
At the annual International Pizza Challenge in Las Vegas, ours still is the only one to win Best Pizza in America twice.
There have been other awards as well. We got some good press coverage, which helped spread the word. We also did some pretty in-your-face marketing, things you couldn't get away with today. Back in 2000 we did an ad in the Yellow Pages that told people to bring in pages 601 and 602 from the phone book and we'd give them a free, one-topping large pizza. Those were pages of our competitors. That's the aggressive guerilla marketing we did to get our name out there. The internet hadn't exploded yet, so we were buying traditional advertising like everyone else, but on a limited basis. But mostly it was word of mouth. At that point nobody had pizza like ours in Louisville, so it had a little buzz about it. People who tried it immediately knew the difference.
In our next blog with Tony, Boombozz becomes a full-service restaurant concept.