Read all parts in this series: Part Two | Part Three | Part Four
You may have seen Chef Neal Fraser on "Top Chef Masters," "Hell's Kitchen," and "Iron Chef America." But Vibiana, a large Los Angeles event space that houses his restaurant, Redbird, is where his skills really shine. He taps into the versatility of CVap ovens to feed thousands of guests every year.
Ask chef Neil Fraser how many restaurants he's owned and operated, and he answers tellingly: "I've had many, but I've closed most of them to make room for this space."
Vibiana
The "space" is Vibiana, a former downtown Los Angeles cathedral turned into an events space. The cathedral was named after St. Vibiana, the Catholic patron saint of nobodies. But within the 35,000 square-foot facility, which includes a 3,000-square-foot outdoor garden, Fraser and his wife, Amy Knoll Fraser, cater to the bustling city's somebodies.
Using the cathedral's historic rooms and buildings, the Frasers execute more than 100 large events annually. Another 400-plus smaller events are held in the private dining rooms of Redbird, the restaurant nestled within the cathedral's rectory building. There, dinner is served nightly and brunch on weekends in its 140-seat main dining room.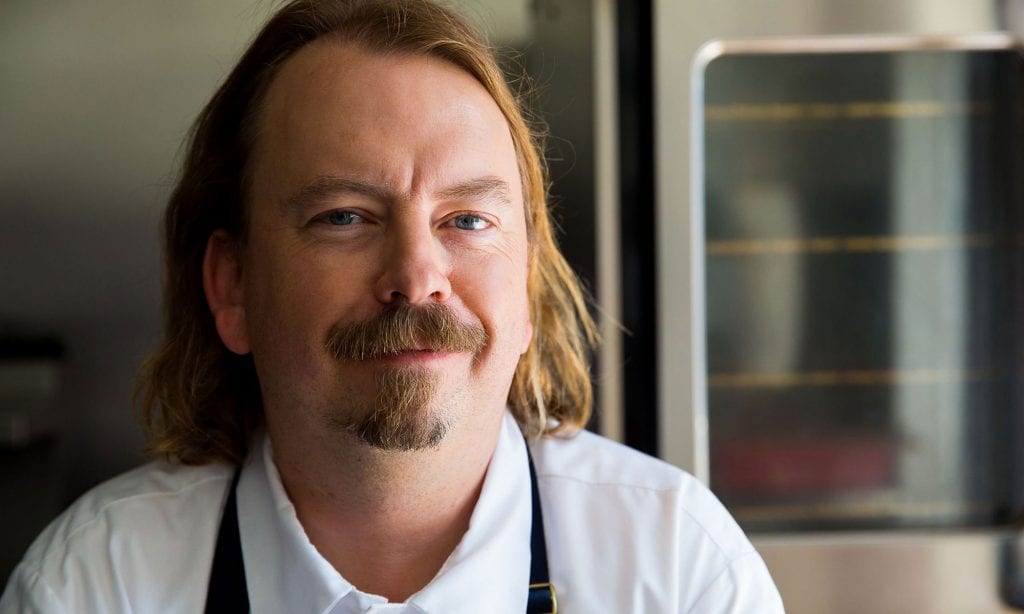 "It's complex, and there's a lot going on all the time," Fraser says. "You've got to be organized, of course, and you have to understand how to cook on a large scale."
Fraser's success can be credited, at least in part, to the tutelage of several famed A- list chefs. At Eureka and Spago he worked under Wolfgang Puck. At Checkers Hotel Thomas Keller was his boss. Pinot Bistro had Joachim Splichal calling the shots. And Chef Hans Rockenwagner mentored him at Rox. Out on his own, he and Amy (who runs the front of the house) operated two Los Angeles hotspots, Grace and BLD.
Fraser describes Redbird's cuisine as "loosely American" and "a kind of Los Angeles cuisine."
"To me that means finer ingredients that stay true to the flavors and cultures that influence Los Angeles, which is a lot of them," he says. "We have Mexican restaurants, Thai restaurants, Indian, Chinese and Taiwanese restaurants, and we're influenced by all those cultures."
Complexity simplified
Fraser's first encounter with a CVap oven was in a John Besh restaurant in New Orleans. A fan of high-tech cooking equipment, Fraser had never seen a CVap before. He asked what it was. As the friend described it, Fraser became intrigued. In addition to meals served in his restaurants, Fraser was (and still is) a caterer of large off-premise events, and CVap, as the friend described, excelled at cooking versatility, and at producing food at scale and to a high degree of consistency.
"Consistency is incredibly important to us because we do so many parties," Fraser said. "We've learned to nail that part down with CVap. It's the workhorse in our kitchens."
Several years ago, when the Frasers co-founded Beefsteak, an annual event beef-centric feast benefitting Share Our Strength, Neal's battery of CVaps more than proved their worth.
"For Beefsteak, we cook 650 pounds of filet of beef for 600 patrons; sear off all of it and put it in CVap to finish and hold it," Fraser says. "When it's time to serve, we're slicing perfectly medium-rare beef for 600 people in 25 minutes. And that's only one way we use it."
Read more about how Fraser's use CVap's versatility to feed the masses at Vibiana.