Read all parts in this series: Part One | Part Two | Part Three
Chef David Danielson describes feeding the masses at Churchill Downs as, "Insanity. But it's our insanity. And we manage it well." But in his heart, he's still a chef who loves to cook, and managing one of the nation's largest foodservice operations was pulling him away from the simplicity of the craft. His solution was to buy the Old Stone Inn, a legendary Simpsonville, Ky., restaurant near Louisville. The historic eatery needed refreshing, and Danielson needed to "get in touch with the food again." Nearly a year into owning his first restaurant, "I'm a happy guy. Cooking at this level was just what I needed."
As if you weren't busy enough, you decide restaurant ownership was good to add to your to do list?
I know, sounds crazy, right? I love what I do at Churchill, the energy of it, especially the Derby. But it's really taken me out of very hands-on cooking. We're running a big business, so it's very hard to cook here and play and create. Chefs need to have an outlet where the creative process happens.
Now that I'm in Old Stone Inn every day, it really fuels the creative process for me. I learn a lot there that I try and take back to Churchill and from Churchill to Old Stone.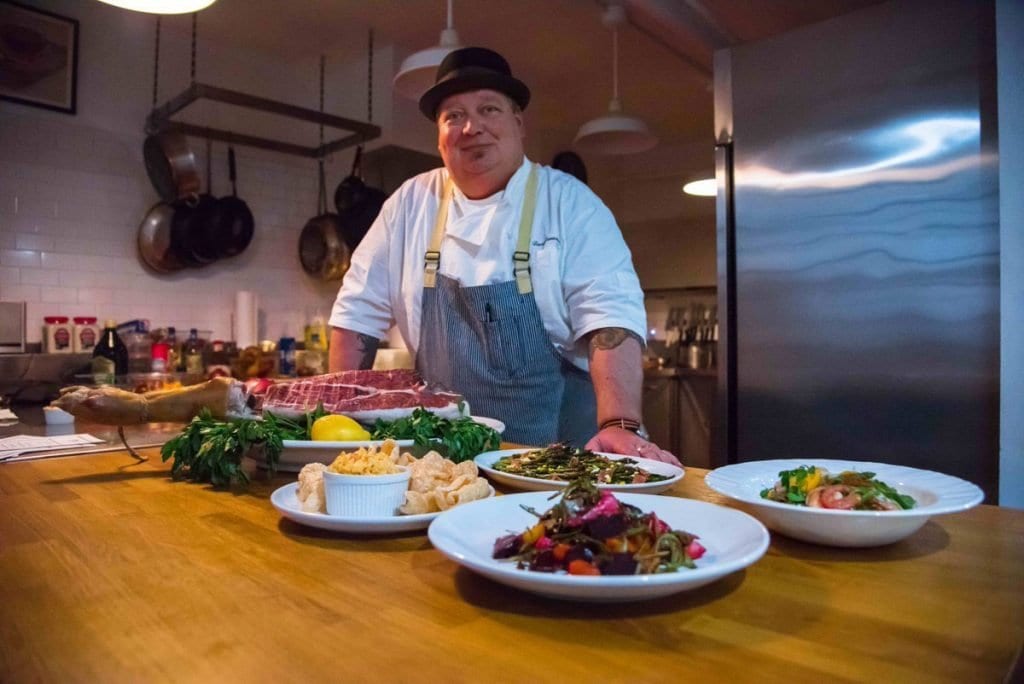 What made you choose Old Stone Inn as opposed to another restaurant or create your own concept?
Old Stone had been a special occasion restaurant, but we came in and made it more accessible. We started working with a lot of local farmers, made the Tavern menu lighter, and focused the dining room menu on southern cuisine. Then we hired great staff and started working to providing great service and atmosphere.
(As an owner), I wanted to create a culture like I experienced when I was younger and working in places like the Charlie Trotter's in Chicago and the Ritz Carlton and Bouley in New York. It was amazing to watch the magic of a single group of people in a kitchen all working toward one goal. I wanted to make sure we captured that.
What does that look like at Old Stone Inn?
During family dinner at 4 p.m., we talk about what we're cooking that night. I know by looking at my phone who's coming in, what room they'll be in, whether one person is a vegan and whether it's somebody who's coming back. We make every effort to match the right servers with the right guests. If somebody's big into wine, we put our most knowledgeable people with those customers. We think about the guest experience from before they get there until they leave.
You've modernized the restaurant some in ways you planned at the start, and in others that evolved.
Of course, we have CVaps in the kitchen, three of them. And we're always developing new recipes that will allow us to get more out of them. We're also cooking smarter with them. We have roasted chicken on the menu, and instead of roasting it whole and overcooking the breast to get the thighs done, we break them down, bring each to temp in the CVap, hold them and finish them perfectly when they're ordered.
We've also added (a display cooking) area in the dining room where we plate food right in front of guests. On the wall next to that station are grow tubes where (aquaponics) greens are picked right when a guest orders a salad. How cool is that? That was something we added after we opened.
Just to prove that your insanity for cooking and feeding people at Churchill Downs comes with you to Old Stone Inn, please tell readers about opening week at the restaurant.
Oh, yeah. We opened during Breeder's Cup. (He grins.)
A two-day event at Churchill Downs attended by 112,000 people.
Yeah, it was busy. (Shrugs shoulders and grins.)
And you cooked at Old Stone during Kentucky Derby Week, too, right?
Of course! I had to be there for our first Derby! As soon as the race ended, I hopped into a golf cart that took me to my car in a parking spot closest to the track exit. We come in at 2 a.m. that day, so it's not like we're fighting for parking that early! I drove out to Old Stone and cooked for guests that night, and once my chefs at Churchill got finished, they came out to Old Stone and I cooked for them until midnight. That's fun for me. And I'll do it again next year.
Follow Chef David Danielson