Guest Blog by Sarah Fritschner Coordinator, Louisville Farm to Table
Indeed, whole animal butchery is taking chefs and consumers by storm. Certainly, from
4505 Meats
in San Francisco to the
Meat Hook
in New York, chefs are reducing the cost of humanely- and locally-raised meat by buying whole animals. Similarly, consumers are learning the source of their meat. Ultimately, we eat more interesting food when using whole animals.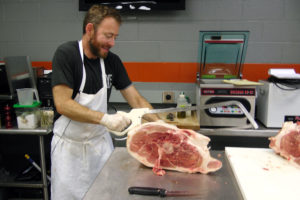 Snout to Tail Event
Certainly, Winston Foodservice understands the whole animal trend. Consequently, we partnered with
Louisville Farm to Table
and
Idea Festival
to bring a more intimate understanding of whole animal cooking to Louisville chefs and consumers. Notably, they received hands-on instruction and a copy of
Brian Polcyn's
book
Salumi
. Additionally, the event featured a meal of European-style aged pork, milk-braised pork with grits, and a green salad topped with lardons. Luckily, Louisville is ground zero for pork products. Obviously, there's a focus on heritage breeds.
Whole Animal Experts
Notably, the primary presenter was
Jay Denham
. In fact, Jay is a veteran of Louisville restaurants and a partner in Woodlands Pork and The Curehouse. In brief, they raise heritage breed hogs in the diverse ecosystem of Appalachia. Additionally, they cure the meat in methods inspired by Europe, particularly in Italy and France. Specifically, Jay taught sessions on seam butchery and curing practices. Similarly, Tyler Morris taught fresh charcuterie methods. As a matter of fact, Tyler worked at Louisville's Rye on Market, New York's
Craft,
and The
Breslin
. Notably, The Breslin focuses on "nose-to-tail" usage.  Significantly, offering handmade terrines, sausages, and charcuterie.
Feedback
Clearly, participants found the class valuable. Particularly, the event explained techniques, procurement, and working with pork. Additionally, many many attendees expressed interest in attending other whole-animal workshops.
A note from Winston Foodservice: We'd like to thank Sarah for her post. Certainly, we look forward to hosting more events like this!