No matter what type of commercial kitchen you're operating, there's a holding cabinet that can benefit you. Holding cabinets are a crucial part of any kitchen that serves hot food. They save time and labor. Consequently, holding cabinets can increase your bottom line.
What is a holding cabinet?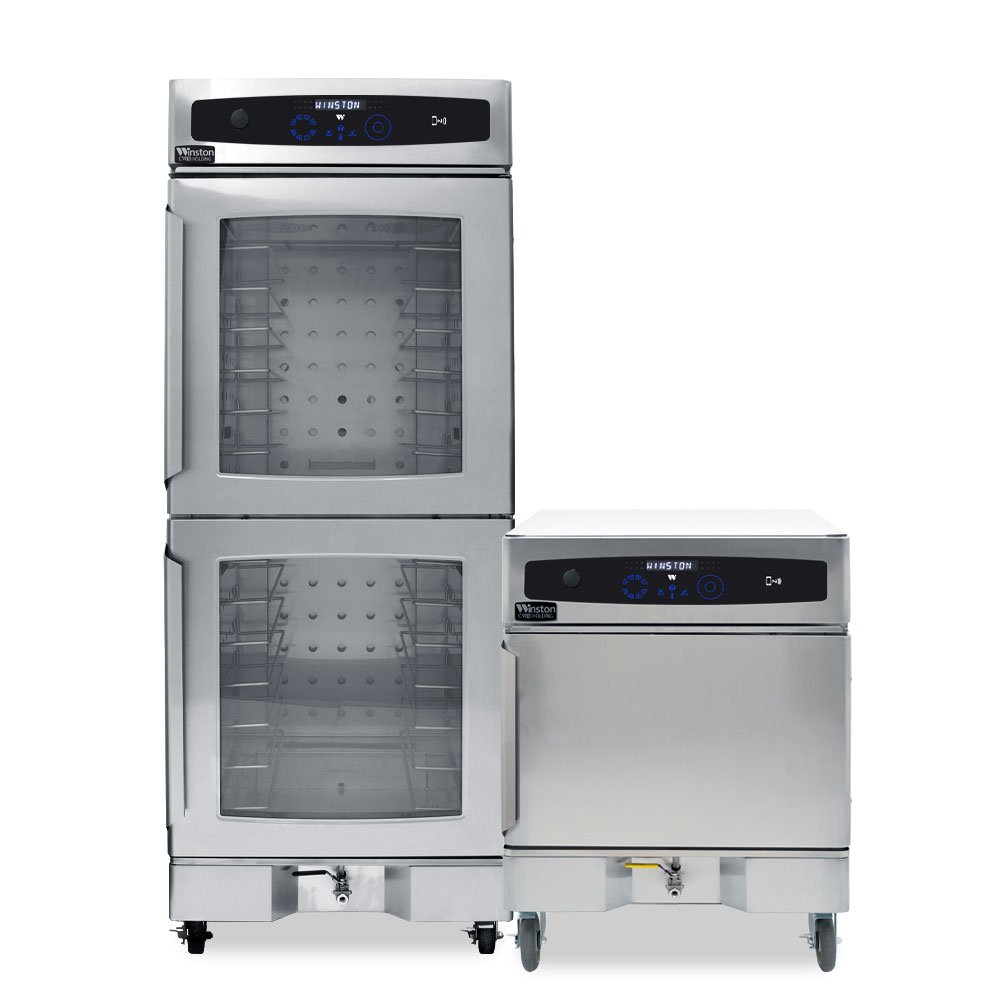 Basically, holding cabinets are heated appliances designed to hold cooked foods at a safe serving temperature. Some holding cabinets do this well and some do not. Of course, the quality depends on the manufacturer and design.
Notably, people sometimes refer to holding cabinets as hot boxes, warmers, insulated warmers, hold and serves, warming cabinets, and other titles. Nonetheless, their function is the same.
Winston's CVap® technology started as a holding technology. Colonel Sanders (yes, really) challenged our founder Winston Shelton to invent a cabinet that could hold his famous chicken for an extended time. Critically, the chicken had to maintain the infamously high quality that Sanders demanded. Shelton was up to the challenge.
Although the Colonel didn't live to see the final product, CVap technology was the result. It revolutionized the foodservice industry. Nearly four decades later, CVap is still the pinnacle of holding cabinets.
All holding cabinets have the same job; keeping food hot until it's served. Clearly, some do this better than others. It's dependent on their design. Holding cabinets fall into four basic categories:
Dry holding cabinets

Passive humidity cabinets
Humidified holding cabinets

Controlled vapor holding cabinets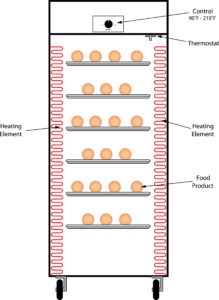 Dry cabinets
Dry cabinets are heated metal boxes. They're relatively cheap, compared to other designs. Consequently, they don't perform well. Heat causes evaporation. With no water reservoir in the cabinet, the evaporation is from the food itself. Food can only be held for a brief time before it starts to dry out. Since evaporation is also a cooling process, the food's temperature can't help but fluctuate. Dry cabinets can work for operations that only need brief holding periods. They work for operators who, frankly, don't prioritize food quality.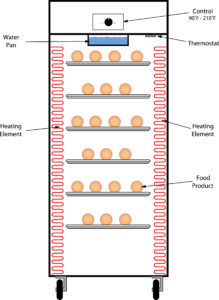 Passive humidity cabinets
Passive humidity cabinets are a step up the sophistication ladder. These cabinets feature a small water reservoir within the cabinet. Typically, passive cabinets don't control the water temperature of the reservoir. Consequently, they don't do a fantastic job at precisely maintaining food temperature. But they do provide a humidity source. Food isn't the sole source of evaporation. Passive cabinets offer a longer hold than dry cabinets. Therefore, they cost a little more than dry cabinets.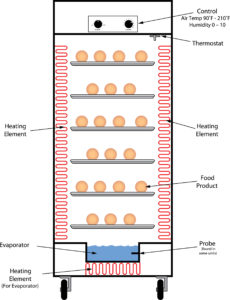 Humidified holding cabinets
Humidified holding cabinets are another level up on the cabinet hierarchy. These offer a larger water reservoir than passive cabinets. Although many humidified cabinet makers boast an ability to control relative humidity (RH), that's an empty claim. Controlling RH frankly doesn't have much effect on food temperature or quality. It's true, humidified cabinets are an improvement on both dry and passive cabinets. But they also typically come with a bigger price tag. Humidified cabinets aren't bad. They're just really not worth their premium price.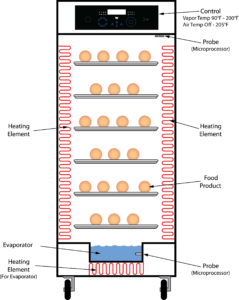 controlled vapor holding cabinets
Ultimately, the mac daddy of holding cabinets is controlled vapor holding cabinets. Namely, CVap holding cabinets. CVap cabinets feature a dual heat system of moist and dry heat. Consequently, they precisely control food temperature and moisture evaporation. As a result, they offer some of the longest holding times in the industry. Depending on the food product, CVap cabinets can hold for hours, with minimal loss of food quality.
What Can I Use a
Holding Cabinet
Holding Cabinet
For
As the name implies, holding cabinets are used for keeping food hot while serving. Although they're found in all sorts of commercial kitchens, they're particularly well suited for high-volume operations. These include fast-food establishments and institutional kitchens (schools, hospitals, prisons, etc.).
Notably, holding cabinets cannot be used to reheat food – that's a food code violation. But used with a little forethought, holding cabinets can reduce labor by allowing staff to prepare food ahead of rush periods. Depending on which type of cabinet you choose, holding cabinets can help you serve fresh hot food to all your patrons.
How to
Select the Right
Select the Right
Holding Cabinet
When it comes to selecting the right cabinet for your commercial kitchen, there are several factors to consider. In the interest of transparency, we're only talking CVap holding cabinets here.
How much traffic do you see in a typical day? Is it spread throughout the day, or does it come in rush periods? If your volume isn't particularly heavy, you may be able to thrive with a smaller CVap unit, such as a holding drawer or half-size holding cabinet. There's no point in paying for more capacity than you need. On the other hand, higher-volume operations may want to consider larger cabinets, such as an HOV5-14UV or HOV3-14UV. Clearly, larger cabinets increase your holding capacity, so you can maintain food at high quality throughout meal periods.
How much room is available in your commercial kitchen? If you're in a confined space, such as a food truck or concession stand, you obviously don't have a lot of room to work with. Smaller CVap cabinets, such as warming drawers, holding bins, or under-counter holding cabinets are a good solution. Likewise, larger spaces can accommodate bigger cabinets, from the half-size HOV7-05UV up to the HOV5-14UV. CVap holding cabinets don't require vent hoods, so there's no need to utilize that valuable space. Optional stacking kits give you the option of stacking two cabinets, doubling the footprint capacity. There's a perfect size for any operation or workspace.
What food products are on your menu? CVap holding cabinets provide an extended hold on any food products. CVap truly excels at moist foods, such as soup, pasta, and seafood. The moist vapor environment inside CVap cabinets really interacts with the food's moisture, locking in freshness for a long time. Foods that you wouldn't consider particularly moist, such as pizza, burgers, or steaks will also hold fresh for an extended time. Nothing can hold forever, but these foods will hold for a substantial time before losing quality.
At the upper end of the scale are crisp foods, such as french fries. Again, CVap provides a respectable hold. But the high differential temperature required to properly hold crisp foods will inevitably cause food evaporation to creep up. This shortens the time before quality starts degrading. Don't get us wrong, CVap cabinets still provide a respectable holding time. But it's important to realize that even the best cabinets have their limits.
Does your operation offer baked goods? CVap holding cabinets are also excellent proofers. You can proof and hold in the same cabinet, getting double duty from the same footprint.
The brutal reality of today's world is that everything is getting more expensive. Geopolitical turbulence (we're looking at you, Russia), persistent pandemics, and supply chain strain is ratcheting up the cost of everything. This is particularly true of stainless steel. Naturally, stainless steel is the primary component of virtually every holding cabinet.
Money is always an issue. But at rocky times like these, you may be tempted to go with the cheapest cabinet you can get, namely a dry or passive cabinet. But you need to look beyond the initial cost. Buying the cheapest cabinets will save money up front, but over the life of that cabinet, the decrease quality of the food served from it will add up costs over time. In the end, it may cost you more than you saved by buying the el-cheapo cabinet.
CVap cabinets' precision and elevated food quality really are the better option. We admit, CVap isn't the cheapest brand out there. But it is the best. CVap in your commercial kitchen gives you the assurance that you are serving food at the absolute peak of quality.
Winston offers CVap holding cabinets in three feature levels, tailored to fit a range of budgets.
Our lowest tier is Series 3. The 3s feature simple membrane controls. They're easy to operate, even for untrained staff. Although they're the simplest CVaps, they still deliver the precise hold that people expect from CVap cabinets.
Next up are our Series 5 cabinets. The 5s have capacitive touch controls, desktop programming, a USB port for programming uploads and data downloads. Eight programmable channels cover about every type of menu. Convection fans minimize hot and cold zones with the cabinet.
The top of the line are our Series 7 cabinets. Series 7 have all the bells and whistles as the Series 5s, plus a few more. Wireless NFC programming enables you to reprogram the cabinet with the wave of your Android phone. Convection fans can be turned on and off. And a probe option gives you accuracy the is simply unrivaled.
As you can see, there's a CVap holding cabinet to suit every budget.
Sometimes you have to move it, move it. CVap cabinets come stock with casters, so moving them around your kitchen, whether to clean or to rearrange, is no problem. If you need to really move it around, consider adding the optional transport package. This includes 5" heavy-duty casters, push-pull handle, cord wrap, and evaporator cover. It's perfect for commercial kitchens that need to move hot food from one area to another, such as from a school kitchen to a classroom.
Ultimately, It's Up to You
Nobody knows your operation as you do. In the end, you are the best judge of what you need. But if you need a little guidance, contact us. We'll be glad to discuss your needs and options and suggest the best solutions for your commercial kitchen.