Caterers, like others in the hospitality industry, face their share of challenges. Among
them are assuring food safety, maintaining food quality, and providing fast
service. Critically, falling short in any of these areas can damage your reputation and threaten
your business. Winston's CVap® equipment can provide solutions
Maintaining Safe Food Temperatures
According to the CDC, one of the top causes of foodborne illness is allowing food to remain at an unsafe temperature for too long. Consequently, the importance of maintaining safe food temperatures cannot be overstated. In fact, being the source of an illness outbreak can crush a business. Undoubtedly, CVap equipment is a powerful tool for serving food safely. CVap Cook and Hold and Retherm Ovens are engineered to efficiently transition food temperature through the danger zone well within FSIS guidelines. Indeed, all CVap holding and cooking equipment can reliably maintain food at safe temperatures for extended periods, without quality loss.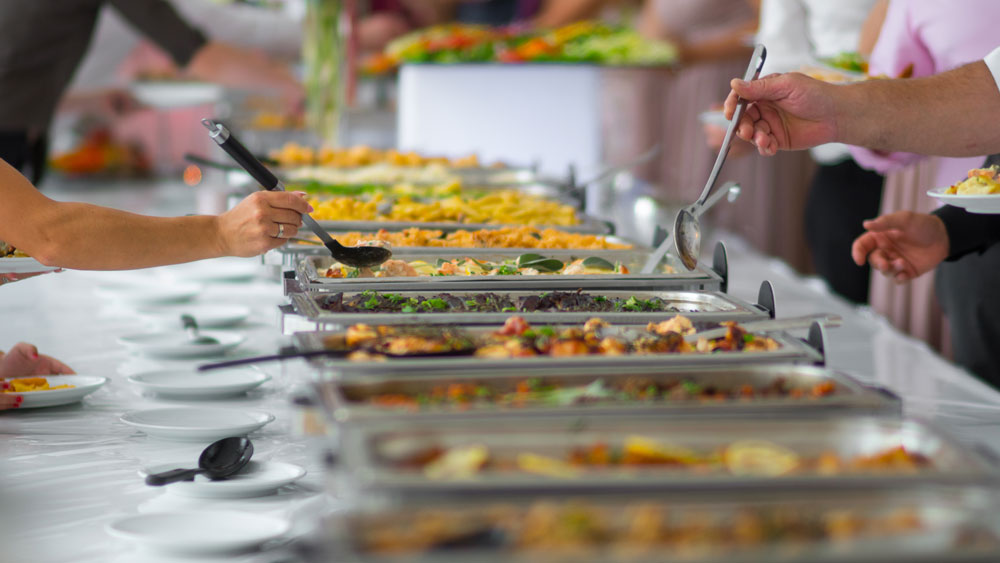 Bringing the Power of Heated Vapor to Caterers
Unique technology sets CVap equipment apart from other brands. All food is comprised mostly of water. Consequently, food's high water content causes food moisture to behave like water when heated. Uniquely, CVap utilizes heated water vapor as its primary heat source. Thermodynamics dictates that once food temperature equalizes with the vapor temperature it cannot fall below it. CVap offers food temperature precision that is unmatched by our competitors. Additionally, add an optional food probe (Series 7 models) to collect food temperatures and utilize CVap's integrated temperature collection feature to document all your HACCP data.
Although one might think that vapor heat would result in soggy food, that's not the case. In fact, CVap technology also utilizes a second, dry air heat. Accordingly, this air heat serves to control moisture evaporation from the food's surface. Consequently, air heat allows you to select the texture of food, from moist to crisp. Together, the vapor heat and air heat work in tandem to cook and maintain food exactly as desired.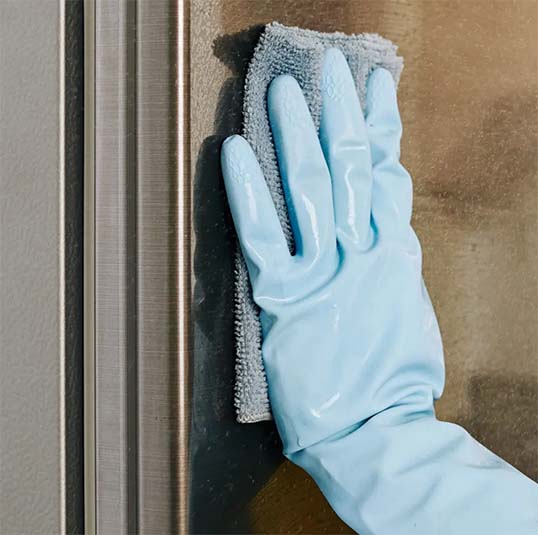 According to the CDC, the other critical risk to food safety is contamination. Of course, contamination risks encompass areas throughout your operation. But keeping equipment clean is critical to reducing contamination risks. To that endeavor, CVap equipment is designed for easy cleaning.
To that end, rails and flues are easily removable. Stainless steel interiors are accessible and durable. Undoubtedly, daily cleaning assures equipment is free of illness-causing chemicals and residue. Indeed, not only does cleaning protect your patrons, but it also protects your warranty.
Serving Quality and Quantity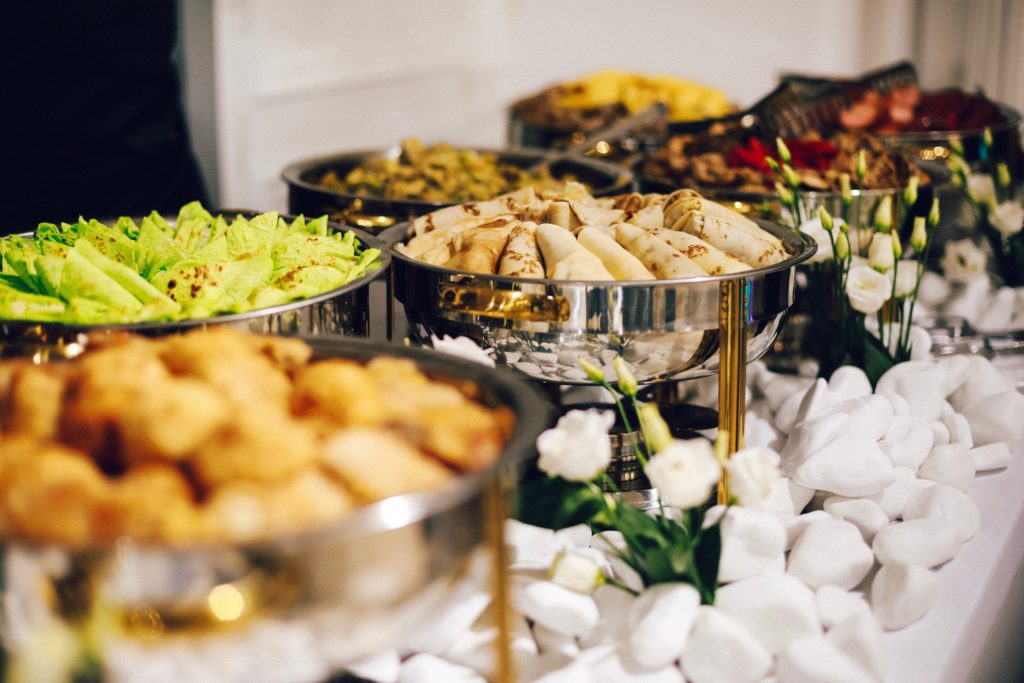 Indeed, caterers face the constant challenge of serving large numbers quickly. Clearly, they must do so without sacrificing food quality. Undoubtedly, nobody wants the infamous rubber chicken meal. Of course, CVap equipment offers capacities as large as 14 full-sheet pans. Clearly, large capacities, paired with precise food quality control, means you can serve dozens of meals quickly. Since CVap equipment maintains peak quality for extended times, you can prepare well ahead of serving, and still maintain just-cooked freshness.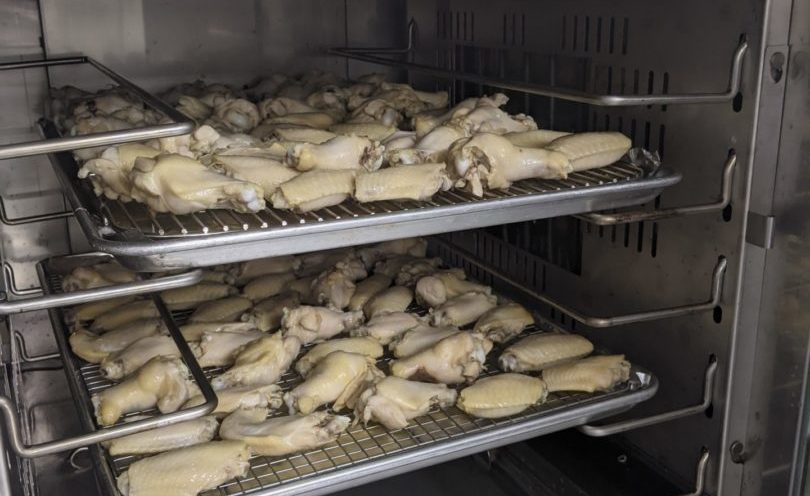 Staging is another helpful process. For this purpose, food can be cooked and held at a precise setpoint and then finished in a few minutes on a grill or plancha. Undoubtedly, staging is perfect for proteins. You can achieve sous vide temperature precision. Food's interior will be uniformly cooked, end to end and top to bottom. Finishing provides the seared exterior or grill marks diners expect. All can be done quickly, improving serving time.
Hiring and keeping competent staff has always been a challenge for caterers. Undoubtedly, the pandemic and its aftermath have exacerbated that struggle. Indeed, the nature of catering businesses tends to attract younger workers, such as high school and college students. Consequently, high turnover is a given. Skill levels can vary widely. Accordingly, equipment must be easy to use and require minimal training.
CVap ovens and holding cabinets have eight preprogrammed channels. Of course, these channels encompass the most common cooking and holding processes. Each channel can be re-programmed to custom-fit your menu. Additionally, controls can be locked to prevent unauthorized setting changes. Undoubtedly, push-button simplicity makes CVap easy to use, even for untrained new hires.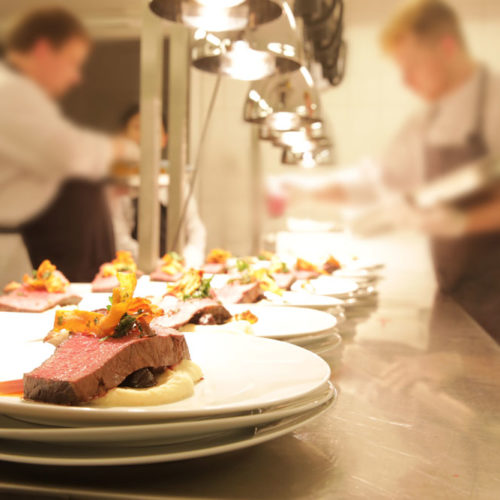 Because CVap automates so many tasks, it can even reduce the amount of labor necessary to execute events. In fact, ovens transition to an automatic hold, meaning no babysitting is needed. Without a doubt, extended hold times maintain high food quality until the staff is ready to serve. To be sure, overnight cooking and delayed startup mean your equipment is working even when nobody's in the kitchen.
Serving sous vide? In fact, a  single CVap oven can match the cooking capacity of a kitchen full of immersion circulators. Add in the fact that sous vide bags are optional in CVap, and you've got a serious labor (and space) saver.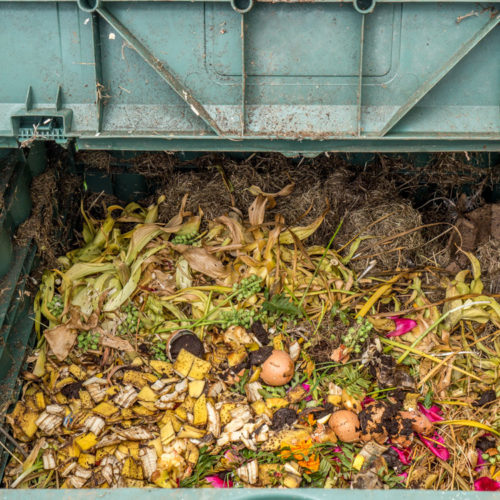 Food waste is a huge problem across all sectors of the hospitality industry. For caterers, it's a particularly daunting challenge. Food is money. Nobody can afford to waste it. But no caterer wants to host an event and run out of food. Walking that fine line of providing enough, but not wasting is a never-ending fight. Having to throw out food that's of questionable integrity is even more painful.
CVap can help reduce waste. Our ovens can be programmed for high-yield cooking, resulting in better yields and more servings per primal cut.
Sizes and Configurations to Suit Every Caterer's Situation
Catering jobs come in all sizes, from small gatherings to large venues. In fact, CVap ovens and holding cabinets are available in a wide range of sizes, from the large 14-pan to the under-counter 4-pan model. Indeed, CVap Hold and Serve Drawers are designed for small spaces, perfect for kiosks, food trucks, and serving stations. Though they're small, they deliver the same high performance as our larger CVap models.
Of course, mobility is a frequent necessity for caterers. To that end, CVap equipment features casters, making it easy to shift it where you need it. Optional transport packages enhance mobility with heavy-duty wheels, push-pull handles, evaporator cover, and cord wrap. The fact that CVap equipment doesn't require a vent hood or permanent plumbing means you can use it about anywhere with sufficient power available. Prepare food in the kitchen and roll it to the serving area without unloading. It's easy with CVap.
Critically, Winston offers CVap in the size, configuration, and option levels that caterers need, whatever your volume or budget.
Need help deciding what equipment is best for your catering business? Contact us for one-on-one help to equip you to succeed. We're happy to help!